Humanize Your Brand to Keep Customers Coming Back
Companies should build an emotional connection with their customers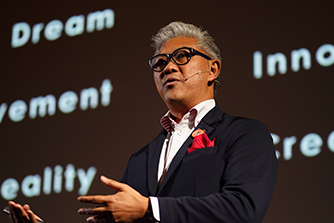 Dan Zonmani, Global Brand
Marketing Officer for LINE Corp.
While a product can offer consumers a range of practical features and benefits, it's often the emotion that the product's brand evokes that keeps customers coming back.

Perhaps no one knows this better than Dan Zonmani, Global Brand Lead for LINE Corp., the dominant messaging app in Japan, Thailand, Taiwan and Indonesia. LINE, which launched its messaging app in 2011, is expanding well beyond messaging and its well-known catalog of stickers and emojis. It's been branching out into such lifestyle services as TV, digital payments, banking, insurance, loans and more.

Zonmani, a featured guest speaker at the recent Fujitsu World Tour 2018 Asia Conference Bangkok, stressed the importance of companies creating an emotional connection with their consumers, which he called "humanizing" their brands.

"For those who might have a little bit of doubt about what branding is, it can be explained simply," he said. "You need to balance between the benefits that the product offers and what the product makes you feel. Without emotional bonding, the brand becomes a commodity."
Getting Emotional about Branding
Absent an emotional attachment to the brand, consumers will use the product only when they need it. But if they develop a fondness, even a love for the brand, consumers sometimes will buy the product when they are not using it. "You need to have that positioning to plant that into the consumers' heads," Zonmani said.

He pointed to a range of companies that have historically sought to humanize their brands with human–or humanoid–symbols or mascots. For example, KFC fried chicken restaurants have Colonel Sanders. The McDonald's fast-food chain created Ronald McDonald the clown. And British mogul Richard Branson "disrupted the whole airline industry by showing how crazy, how daring, how much fun it could be if you fly on his airline," observed Zonmani, adding, "it's the same planes all airlines have."

In addition to mascots and brand ambassadors, modern companies find other ways to humanize their brands. For example, Starbucks' baristas ask customers their names to personalize their cups before delivering the order. This humanizing gesture can be effective even if the baristas occasionally misspell the customer's name, he said.

Zonmani also mentioned that conference organizer Fujitsu emphasizes human-centric innovation for its digital transformation technologies.

Fujitsu says its human-centric approach stresses the benefits its technology can bring to society and how it can improve peoples' lives, while reducing the threat new technology poses to workers and their jobs.

Why do we need to humanize our brands?" Zonmani asked. "Why does the technology, for example, that Fujitsu provides to your business help your brand to become more human?"

It's because companies that humanize their products will have a greater opportunity to deepen their relationship with their customers. And this gives them a leg up on competitors.

That's why companies shouldn't just try to sell products with their usual communication techniques that don't humanize their brands. "Even if you are a cement company, somewhere, somehow you want to be human. Even our government wants to be human, so your brand must establish a connection with its customers," he said.

LINE, for example, uses its chat rooms to connect users to a range of other services. "We call it a Smart Portal because we learn and understand human needs," Zonmani said. One of LINE's success stories is its stickers. They are not just dry and static digital art. They are a language of their own, with gestures and emotional and cultural connections to users. Zonmani said.

The strategy has been successful in the markets where LINE has a commanding market share for its messaging platform, such as Thailand. There, LINE can boast of 44 million users out of a total internet population of 50 millions, according to Zonmani. Internet users spend nearly one-third of their total time online with LINE.


Technology and Empathy
Zonmani had noted earlier in his presentation that people should not only think of technology as a sophisticated spaceship, a sleek new iPhone or a shiny, red Tesla car. Technology is also rubber bands or spoons and forks or even how people use banana leaves to wrap food.

"Technology is the use of scientific knowledge of a practical purpose application, whether it's for industry or is in your daily life," he said. "You don't need a fancy word. Technology was created to make things simple." And down through history, human needs have been met by technology.

But between needs and technology, which one comes first? Zonmani asked. He suggested that needs and technology feed on each other. "When you have needs, you have technology. Technology then builds needs and keeps on going." And future needs become bigger, faster or more miniaturized because they have been satisfied by existing technology.

Zonmani then repeated an observation that Thana Thienachariya, Senior EVP and Chief Marketing Officer for Thailand's Siam Commercial Bank, had made in another presentation–that with fintechs and other new players entering the financial services market, it seems "you can bank anywhere except at the bank."

It means that technology can fulfill the consumers' needs for financial services without necessarily involving a bank. Consumers will gravitate toward financial services providers that fulfill their needs and for which they have some sort of emotional connection. "The point is, the need comes from human beings," said Zonmani. "He (Thienachariya) touched on it toward the end, in speaking about empathy. Empathy is very important for companies to develop. They must try to understand their customers' feelings, Thienachariya said. Zonmani agrees.

"Most importantly for this, human beings make decisions on fact of feeling," Zonmani said. "Human beings have that feeling; that's why people say they prefer brand A to brand B. It is people perception towards the brand which come from all experiences they get from their relationship with brand functionally and emotionally. This is where technology can help humanizing your brand to remain close to your users."