Human Centric AI
AI is a core technology which enables many complex processes to be conducted independently of human judgment. Now, deep learning is often featured in the media. But it is not the whole story of AI, just an important piece of the puzzle. Our human cognition is continuously generated from complex interactions between our sensory organs, nervous system, brain and external environments. To achieve an AI, we have to replicate and bring together a range of cognitive capabilities: perceiving, reasoning, making choices, learning, communicating, and moving and manipulating.
Fujitsu is developing key technologies under a comprehensive framework (see diagram). We call it Human Centric AI, Zinrai. Fujitsu is incorporating component technology such as machine learning, deep learning and visual recognition, into its digital solutions and services.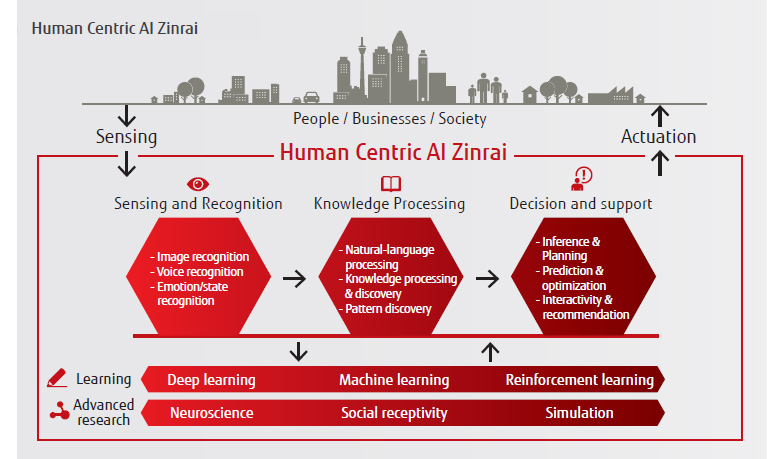 Many people see AI as incompatible with human life. They see it as a rival to human intelligence, and many have been warning of the dangers of the technology. Fujitsu sees it differently. We believe that AI technologies will be complementary to people's lives. When it comes to AI, taking a human centric approach is more important than ever. The key will be to naturally integrate the technology into human activity - so as people can be saved from repetitive routine work, while at the same time be given maximum support in making decisions about the things that matter.
Fujitsu believes the most critical mission of technology is to empower people and help everyone live a fuller life. We are working to realize a future in which people and AI autonomously collaborate and achieve previously unthinkable breakthroughs. We call it Human Centric AI.
AI system Zinrai collaborates with people to help everyone live a fuller life and advance business
Find out more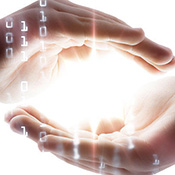 Want to know more?
Top of Page