Industry, Government and Academia establish partnership for sustainable urbanization
Agency for Science, Technology and Research(A*STAR)
Singapore Management University
The purpose of the CoE is to solve local urban challenges; bringing together expertise across three organizations to develop solutions that can be applied globally. Fujitsu is playing a key role in the joint research and commercialization of the outcome.

Dr. Hazel Khoo, Deputy Executive Director of the Science and Engineering Research Council, A*STAR

Human Centric Innovation
The Agency for Science, Technology and Research, Singapore Management University and Fujitsu have together established the Urban Computing & Engineering Centre of Excellence (CoE). Researchers from each of the three parties develop data analytics and modelling and simulation technologies, using HPC and analytics infrastructure from Fujitsu and real urban data sets from Singapore. This enables the CoE to create sustainable solutions to solve multiple social challenges in the modern urban environment.
---
The journey toward a Smart Nation
The Agency for Science, Technology and Research (A*STAR) is one of the government agencies that fosters world-class scientific research and talent to drive economic growth and transform Singapore into a vibrant knowledge- based and innovation-driven economy. As an agency for the Ministry of Trade and Industry in Singapore, it focuses on leveraging cutting-edge technological capabilities to solve social issues, such as rapid urbanization, and boost economic performance. Singapore is building the World's first Smart Nation by harnessing technology to the fullest with the aim of improving the lives of citizens, creating more opportunities, and building stronger communities. A*STAR is playing a key role in Singapore's Smart Nation journey.
Establishing the Urban Computing & Engineering Centre of Excellence
A*STAR engages with enterprises and universities to tackle business and social issues. Fujitsu is one of these partners, providing high-performance computing (HPC) solutions. A*STAR has also collaborated with the Singapore Management University (SMU), which too has a long-term relationship with Fujitsu.
These three parties began a discussion on how they could contribute to solving urbanization issues. They came together to invest 54 million Singapore dollars to create the CoE which is designed to investigate and address the challenges frequently faced by highly urbanized cities.The CoE is also supported by the National Research Foundation(NRF).
In particular, the CoE identified two key areas to explore: Dynamic Mobility Management, which examines and improves the dynamics of commuter traffic in urban spaces, as well as managing crowds under extreme conditions; and Maritime and Port Optimization, which looks at the design of integrated logistics of shipments.
"Our three parties each made a commitment to exploring urban challenges, so it was a good fit," added Steven Miller, Dean of Information Systems at SMU. "The main challenge was in getting these three different types of organizations to work effectively together and to understand our respective responsibilities."
A*STAR, SMU and Fujitsu have different roles and cultures, which made the collaboration challenging at the beginning. However, as all shared the same goals and commitment, this united and motivated the CoE executives and employees. Also, they began to recognize and appreciate that each member brings different talents and expertise to the team.
"Fujitsu took the lead on the design of our Urban Computing Platform, as it has tremendous depth in advanced computing," continued Miller. "Then we all worked together on identifying what problems we should address and on communicating with external parties to understand the real-world user requirements." Fujitsu also brings its expertise in big data, mobility and HPC to the CoE. A*STAR contributes capabilities in big data, simulation technologies, and behavioral science. Furthermore, SMU's expertise includes Artificial Intelligence based methods and software systems for planning, scheduling and decision making.
Using Singapore as a living laboratory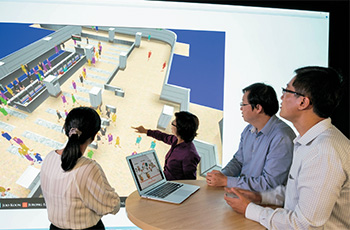 The CoE now employs about 80 people with diverse backgrounds and skills. It has built an Urban Computing Platform equipped to handle the complex analytics, using a combination of PRIMERGY servers and PRIMEFLEX for Hadoop. This Urban Computing Platform also enables the CoE to conduct large-scale test-bedding with external partners. The analytics engine runs on FUJITSU SPATIOWL Solution, which can process and assimilate a significant amount of temporal and spatial data, enabling the CoE to develop new algorithms on how to influence behavior and thus mitigate congestion. This data comes from using Singapore as a living laboratory to collect traffic, geographic and other information.
"Crowd traffic has its own rhythms and unusual patterns of sudden changes, like the weather, making it difficult to predict. There are multiple factors to consider in order to optimize mobility capacity in the short term without building new roads and infrastructure, which can only be done in the long term," remarked Miller. "We take the current situation and explore how to better accommodate rising numbers and sudden surges in the existing infrastructure, through the R&D efforts of the CoE using Fujitsu's HPC." By harvesting data from three areas: a shopping center, a convention center and a taxi-sharing field test, the CoE is demonstrating how to feed real world infor-mation into the system and quickly model potential outcomes. This in turn generates solutions for performance improvement that can be translated back into reality by the government or business organizations and eventually productized and made available to other countries and organizations.
The Maritime Port Optimization solution is designed to help vessels in the Singapore Strait access quicker routes by predicting hotspots and problematic situations, thus improving vessel turnaround time. It also helps optimize port operations in cargo flow and handling. In turn, the position of the port of Singapore as a world leading hub is strengthened.
"It all ties into the Singapore government's recent Smart Nation initiative, which aims to integrate technology to solve social and urban problems," comments Dr. Hazel Khoo, Deputy Executive Director of the Science and Engineering Research Council, A*STAR. "Our work at the CoE will have a direct impact on how we live our lives and conduct business in the modern world."
With the first phase of the project well under way and the second phase to kick off soon, the CoE has already established itself as a leading source of research, combined with tangible solutions, for the very real issues facing urban environments.
"We are proud to partner with Fujitsu to set a good global example of how the private sector, university-based R&D and national government-based R&D can work together," concluded Miller. "Urban issues by definition have multiple stakeholders and jurisdictions; putting together the CoE has given us a good understanding of how to effectively manage these complexities."
Services, Products and Solutions
Customer Profile
Agency for Science, Technology and Research(A*STAR)
Singapore Management University
Technical data subject to modification and delivery subject to availability. Any liability that the data and illustrations are complete, actual or correct is excluded. Designations may be trademarks and/or copyrights of the respective manufacturer, the use of which by third parties for their own purposes may infringe the rights of such owner.
Want to know more?
Top of Page