FUJITSU Cloud Services Management
Reducing the cost and complexity of managing Hybrid IT
Managing a growing portfolio of cloud services alongside existing on-premise IT systems is top priority for CIOs and their teams. They are looking to reduce the cost and complexity of a growing portfolio of services – regardless of whether the cloud services are deployed by the IT department or procured by business units. 
The FUJITSU Cloud Services Management addresses the key challenges of managing a hybrid IT landscape of cloud and non-cloud systems while delivering savings in operational management costs of up to 70%.
FUJITSU Cloud Services Management builds on and replaces the FUJITSU Cloud Integration Platform we announced in November 2013, providing new functions and a portal for the unified management of usage status, contracts, and costs across an entire company.
Become a cloud enabler
Business units should be empowered to exploit cloud services, being supported with the right framework to maximize return on investment and minimize risk. IT departments need to adapt and play a greater role as cloud enablers who broker services for the business.
FUJITSU Cloud Services Management
FUJITSU Cloud Services Management enables you to support innovation across your business, delivering highly responsive ICT.

It puts you in control, allowing you to manage and integrate new services with existing infrastructure so that you as the IT department are monitoring and managing all business-critical IT
It includes a complete set of integration tools that will help you to remain flexible when sourcing and adopting new cloud services
It provides the platform for you to act as a cloud aggregator and enables the business to adopt a 'Bring Your Own Cloud' approach in a safe and simple way
It includes a portal for the unified management of usage status, contracts, and costs across an entire company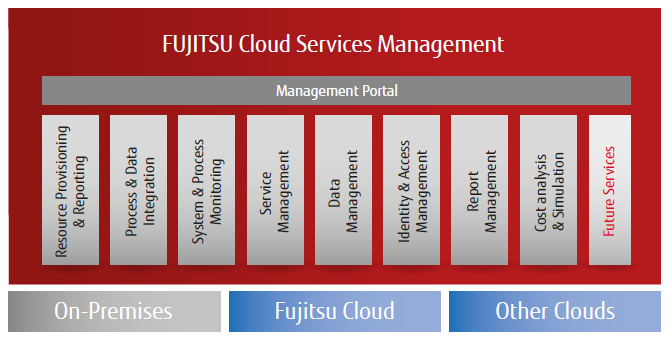 Management Portal
Manage the unified end-to-end service of hybrid IT, aggregate cloud management services for easier adoption of could for business units and manage all cloud services consistently.
Resource Provisioning and Reporting
Simplify and centralize provisioning of cloud and non-cloud resources via a central service catalog.
Process and Data Integration
Deploy, manage and connect cloud and on-premise solutions to establish an integrated flow of services and systems to deliver support for new or improved business processes.
Data Management
Simplify back-up and recovery of data across cloud and non-cloud systems from a single portal, minimizing storage footprint while ensuring data is encrypted at rest and in transition.
System and Process Monitoring
Optimize the performance of cloud and non-cloud environments with a single view of resources and processes.
Service Management
Benefit from end-to-end service management across cloud and non-cloud environments for managing, coordinating and optimizing all aspects of service delivery in a hybrid IT environment.
Identity and Access Management
Control authentication, authorization and access across all cloud and in-house services to reduce risk.
Report Management
Get a clear view about service levels and expenditure across your IT estate including billing data from services hosted on both private and public clouds.
Cost Analysis and Simulation
Model 'what if?' scenarios and forecast the potential costs before new services are deployed or existing ones are altered.
Future Services
New functions and a portal for enterprise-wide unified management of usage status, contracts and cost are in development.
Why choose Fujitsu Cloud Services Management?
The cloud-based FUJITSU Cloud Services Management delivers the key elements needed for the effective adoption of cloud alongside existing IT services: 
An aggregation solution to pull all IT services together while reducing costs of IT operational management by up to 70% 
A powerful cloud-based integration engine 
A platform for managing all your IT services in a consistent manner
A portal for the unified management of usage status, contracts, and costs across an entire company.
A trusted service provider with more cloud choice
Our cloud portfolio includes trusted-public, private-hosted, private-cloud and hybrid-cloud -
Infrastructure as a Service
(IaaS) offerings as well as our integrated
Platform as a Service
(PaaS). Though Infrastructure as a Service reduces the effort and in-house skills needed to set up and manage compute, storage and networks, the system needs to be managed – with
Fujitsu's Managed Hosting
, you can pass that task over to us.
Integration experts that will guide and support you
We can help you to integrate on-premise and cloud-based services because of our 30 years of experience in delivering enterprise-class services for global organizations.
Överst på sidan