- World Tour 2017 : Fujitsu Russia

About Intel
Intel (NASDAQ: INTC) is a world leader in computing innovation. The company designs and builds the essential technologies that serve as the foundation for the world's computing devices. As a leader in corporate responsibility and sustainability, Intel also manufactures the world's first commercially available "conflict-free" microprocessors. Additional information about Intel is available at 
newsroom.intel.com
 and 
blogs.intel.com
and about Intel's conflict-free efforts at 
conflictfree.intel.com
.
About Citrix
Citrix (NASDAQ:CTXS) is leading the transition to software-defining the workplace, uniting virtualization, mobility management, networking and SaaS solutions to enable new ways for businesses and people to work better. Citrix solutions power business mobility through secure, mobile workspaces that provide people with instant access to apps, desktops, data and communications on any device, over any network and cloud.
With annual revenue in 2014 of $3.14 billion, Citrix solutions are in use at more than 330,000 organizations and by over 100 million users globally.
Learn more at
www.citrix.co
.
About Brocade
Brocade® (NASDAQ: BRCD) networking solutions help the world's leading organizations transition smoothly to a world where applications and information reside anywhere. From data centers and enterprise campus networks to the service provider core, these solutions are based on a strategy for simplifying network infrastructures through innovative technologies.
Headquartered in San Jose, California, Brocade has approximately 4,100 employees worldwide and serves a wide range of industries and customers in more than 160 countries. Today, it leads the Storage Area Network (SAN) market with the industry's most reliable, energy-efficient offerings. In addition, Brocade provides innovative Ethernet fabric technology and high-performance Ethernet networking solutions as part of a complete switching, routing, and application delivery portfolio.
To meet the increasing requirements of distributed and mobile computing, Brocade is extending its proven data center expertise throughout the entire network. This approach helps organizations achieve their most critical consolidation, virtualization, and cloud computing initiatives through a commitment to:
Unmatched simplicity to overcome complexity
Non-stop networking to maximize business uptime
Application optimization to increase business agility
Investment protection to provide a smooth transition to new technologies
Brocade combines a proven history of innovation with standards leadership to enhance its strategic partnership with Fujitsu. Together, we offer open, best-in-class solutions for the broadest range of IT environments.
Learn more at www.brocade.com.
CISCO
Cisco (NASDAQ: CSCO) is the worldwide leader in IT that helps companies seize the opportunities of tomorrow by proving that amazing things can happen when you connect the previously unconnected.
At Cisco customers come first and an integral part of our DNA is creating long-lasting customer partnerships and working with them to identify their needs and provide solutions that support their success.
The concept of solutions being driven to address specific customer challenges has been with Cisco since its inception. Husband and wife Len Bosack and Sandy Lerner, both working for Stanford University, wanted to email each other from their respective offices located in different buildings but were unable to due to technological shortcomings. A technology had to be invented to deal with disparate local area protocols; and as a result of solving their challenge - the multi-protocol router was born.
Since then Cisco has shaped the future of the Internet by creating unprecedented value and opportunity for our customers, employees, investors and ecosystem partners and has become the worldwide leader in networking - transforming how people connect, communicate and collaborate.
www.cisco.com

Veritas
Veritas is working with Fujitsu to allow organizations to "harness the power of their information". With over 44ZB of information set to exist in the world within 5 years companies are spending billions of dollars, finding, moving, analyzing and understanding their data so they can use it to their advantage. The unique, long standing relationship between Veritas and Fujitsu is working with some of the world's largest organizations to transform their business.
Наше видение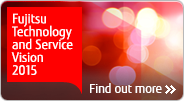 Fujitsu: технологии и услуги

Вверх страницы