- World Tour 2015 : Fujitsu Russia

Become a Sponsor
We are delighted to offer you the opportunity of becoming a sponsor for this top-quality international event in 2015. Why not take advantage of this opportunity and present your latest products and solutions to an international audience of specialists. We are expecting more than 10,000 people to attend; they will include IT decision-makers, data center experts, project managers, IT architects and IT department staff.
The motto "Human Centric Innovation" will present products, solutions and services in 2015 which will help companies, their employees and society as a whole to benefit from the potential offered by worldwide networking and new technologies. Together with our partner companies, our aim is to illustrate our comprehensive support for information and communication technology. Unlike any other corporate event worldwide we will be effectively demonstrating how such innovative information and communication technology can change our business world and society.
We will provide information to those attending the Fujitsu World Tour 2015 in the form of exhibitions, presentations and expert talks in 19 cities in countries around the globe.

You too can be involved as a sponsor and help shape the Fujitsu World Tour 2015!
| | | | | |
| --- | --- | --- | --- | --- |
|   | |   | |   |
Наше видение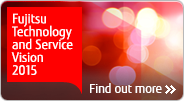 Fujitsu: технологии и услуги

Вверх страницы