Demonstration Center
The demonstration center is at the heart of the exhibition area and showcases the best of Fujitsu's innovative technology, solutions and services. The area is divided into zones to enable you to find what you're looking for more easily.
We have examples of how technology can improve business efficiency and help you to digitalise, demos of services specifically tailored for different business sectors, biometric security, and a co-creation area to show you how we can work together to innovate and solve business challenges.
Digital Workplace Services
The workplace has evolved. And there's no turning back. Digital technology platforms are transforming the way that we work. The blurring of the consumer and enterprise worlds is enabling us to become more efficient, productive and collaborative. But while the digital age offers huge opportunities, it also brings new workplace challenges.
IT and business leaders must find new ways to meet the needs of their people in the workplace, so they're able to respond to agile competitors and meet the demands of customers. And all this must be done while reducing costs and meeting compliance requirements in increasingly complex IT environments. A new model for delivering workplace services is needed – one that enables organizations to unleash the potential of everyone in the enterprise.
Fujitsu Digital Workplace Services brings together our workplace and support services: Workplace Anywhere, Social Command Centre and Intelligent Engineering (Technical Support).
Fit for digital transformation with workload-optimized servers
One size certainly doesn't fit all. FUJITSU Server PRIMERGY / PRIMEQUEST systems are the industry's most complete x86-based portfolio, and the latest models expand choices even more. With versatile, rack-optimized servers that offer best-in-class performance and energy efficiency. Robust tower systems that are quiet and easy to run – and most of which can even be rack-mounted with a conversion kit. Or systems with massive scale-out power that you can rely on for high performance computing, hosting and hyper-converged stacks.
Fujitsu Storage Solutions
In a digital world where data is the heart of business operations, imagine you can afford the very best in storage – whatever the size of your business. Imagine storage technology that supports growing volumes of digital business data and gives you non-stop, secure access. Imagine storage systems that can leverage the new economics and efficiencies of flash technologies. Imagine automated backup and archiving solutions protecting your business data against system failures and ransomware whilst reducing the costs and efforts for data protection. Transform your storage landscape into a genuine enabler for digital business growth, efficiency and continuity. Discover ETERNUS storage solutions for a digital world. It's storage unchained!
FUJITSU Integrated System PRIMEFLEX
PRIMEFLEX is a pre-defined, integrated and tested combination of servers, storage, network connectivity and software. Fujitsu's PRIMEFLEX integrated system family includes both, classical converged and hyper-converged systems. It comprises ready-to-run factory-installed solutions and reference architectures which are easily adjusted to customer-specific requirements. Along with its reference architectures, Fujitsu makes detailed configuration and installation descriptions available as a standard. Optional deployment and integration services ensure a smooth integration into the on-site environment. To ensure simplified operation and maintenance, Fujitsu provides support at solution level, and further data center services including managed and hosting services.
Customers expect access to fast, digital services on their own terms: anytime, anywhere and with a seamless user experience. Cloud-first strategies are now common, as organizations try to satisfy this demand with new technologies such as mobile, advanced data analytics, AI and IoT. Addressing demands placed on IT infrastructure, such as blending and integrating a range of cloud and digital services, also provides a growing challenge. A well-integrated Hybrid IT environment is key to meeting these needs; enabling new business models and applications for the digital age.
Join us in the demonstration centre to experience:
Cloud Platforms: Drive digital transformation with your perfect balance of Cloud Platforms - including Fujitsu Cloud Service K5.
Hybrid IT Services: Enabling digital technology adoption and multi-cloud integration - featuring Hybrid IT Orchestration and Managed Services.
Hybrid IT Modernization: Seamlessly migrate from traditional data centre to agile Hybrid IT. Exploit cloud-native technologies for competitive advantage.
Data Center Management and Automation
IT infrastructures keep evolving the co-creation of mainframe, the open world, automation solutions and services. The evolution of virtualization, energy efficiency and monitoring, cloud computing, computing fabrics, more applications, high speed networks and data need to be secure and managed to fulfill the requested service levels. To enhance data center efficiency, IT infrastructures need to be automated.
Our comprehensive Data Center Management and Automation offering can be utilized on premise or as a managed service or out of the Fujitsu cloud. We support you in finding the most beneficial solutions for you. Our broad expertise made available as how-to-descriptions, best practices, blue prints and preconfigured solutions ensure cost-efficient implementations with short time-to-production.
Enabling Digital Hotspot – Mastering Digital Transformation
In today's dynamic, connected and hyper-competitive markets, disruption is a fact of life.
For your organization to thrive or even survive you must master four disciplines of digital transformation:
Mastering Business Innovation: Unlocking opportunities for ongoing competitive advantage, establishing new business models to target markets, attract customers, and launch products and services.
Mastering Customer Experience: Attracting, engaging and delighting customers – face-to-face, across multiple channels and through intermediaries. At World Tour we highlight how you can use SMART Data and Analytics to become truly customer obsessed.
Mastering Enterprise Productivity: Empowering employees to work in new ways and become more productive, through flexible organizational models and automated processes, enabled by adaptive technology. At World Tour see how we can work with you to achieve this through Oracle HCM, ServiceNow, Application Transformation, Microsoft Office 365, S4/HANA and SAP Leonardo.
Mastering Wellbeing and Compliance: Ensuring the wellbeing of your customers, employees and partners, and remaining legal and compliant, to safeguard your reputation and protect your bottom-line.
Get this right and, you'll become adaptive in the face of change: You'll delight customers and engage your people to drive revenues and profits whilst growing your reputation and advocacy.
But you don't have to do this on your own. We bring the approaches, technology, expertise, scale and partner ecosystem to help you master digital transformation – co-creating and shaping tomorrow, with you.
Enterprise Platform Services
Highly reliable Mainframe technology forms for many customers the backbone of their overall IT environment and is used as an enabling technology for their digital transformation.
Fujitsu offers a comprehensive portfolio of innovative Enterprise Hardware and Software Infrastructure as well as Services incl. Third Party Services.
Connected Retail – Customer 360
The 360 degree customer journey demos how seamless customers can bridge between their online and offline world shopping experience in an all integrated connected retail world. The demo starts in a private kitchen environment building a shopping list online and then do the in store shopping. FUJITSU Market Place for Grocery is the overarching omni-channel POS solution tithing the different channels together.
Co-creating tomorrow's bank and insurer
Today's financial services providers face challenging times. With tightened regulation, increased competition and rapidly changing customer demand it is vital to create new ways to, improve customer experience, increase efficiency, reduce costs, build trust.
The value of digital transformation in banking
With over 40 years' experience in the banking IT sector, we can help you digitally transform your business. Explore our digital banking IT solutions and find out how we help you to simplify your banking processes, improve your customer digital experience, and how to prepare for the open banking era.
Fujitsu Insurance Digital Transformation
Explore our insurance technology solutions and see how our broad range of digital transformation offerings achieve 360 customer view of risk, reduce the cost of fraud, and enable your IT to support customer goals at scale.
Intelligent Mobility Solutions
Innovation and new business models are changing the way people think about travel and transport. Services like autonomous vehicles and ride sharing will accelerate the move away from personal transport ownership towards viewing mobility as a service to be consumed by passengers. Through digital innovation, Fujitsu is helping transport organizations and passengers to embrace new mobility services that will deliver the next generation of travel.
Discover more about how our passenger centric intelligent mobility solutions can unlock capacity, boost performance and enhance the travel experience. Explore our intelligent mobility interactive solutions map.
Co-Creating the Digital Factory
Manufacturing is being transformed. To keep pace, it's vital to de-centralize your production processes and achieve a tight and fine-grained integration of smart services and your value chain. Digital is central to achieving that objective successfully. At Fujitsu, we are helping manufacturers like you to transform the way they think about their business. We're helping to integrate your customers, suppliers and partners into your global supply chain and achieve dynamic control of every facet of your complex operational needs.
Become inspired about exciting topics and trends such as Industry 4.0, Digital Factory and IIoT. Learn about new solutions for industry as well as concrete application scenarios.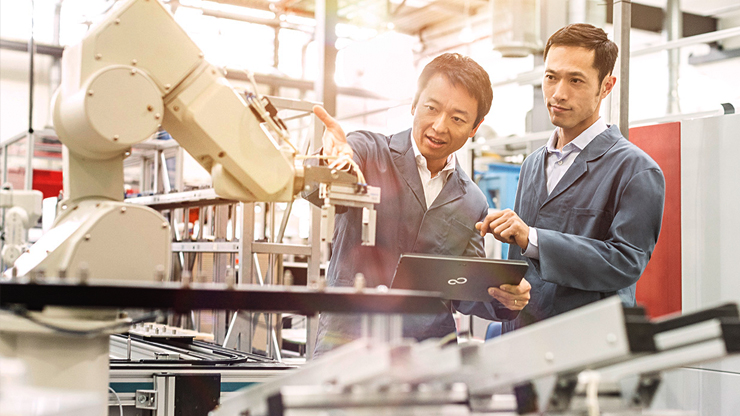 Fujitsu Enterprise and Cyber Security
As digital technologies continue to advance rapidly, and cyber crime becomes ever more prevalent and sophisticated, you need to ensure your infrastructure and operations are not compromised. Fujitsu intelligence-led security gives you the tools and technologies you need to robustly manage your cyber security.
Fujitsu Enterprise and Cyber Security SOC in a Box
The SOC in a Box provides the life experience of an up-and-running Security Operation Center. Customers can request a 'DIG' into their business to see how vulnerable they are and where the threats are. Managed Security Services experts provide Passive Threat Assessments and Cyber Threat Intelligence for customers.
Fujitsu Identity and Access Management
Users have dozens or more usernames and passwords for on-premise systems and cloud services and in many cases utilize various identity management systems. Fujitsu Identity and Access Management ensures that the identities of all users in heterogeneous IT environments are safe and under control. Fujitsu Privileged Access Management secures the usage rights of administrators and developers – main goals of cyber-attacks and data breaches.
Fujitsu Biometrics
Biometric technologies confirm an individual's personal identity, by measuring and matching specific biological traits such as palm-vein patterns, iris patterns, fingerprints and voice. Fujitsu helps in selecting the best-suited biometric technology for your particular budget, environment, requirements and other criteria, for optimal results. Take a look at Fujitsu PalmSecure – Biometric Authentication, Fujitsu Biometrics-as-a-Service powered by ImageWare® Systems GoVerifyID® and the Fujitsu support for Fast Identity Online (FIDO)