Work with Fujitsu and its clients to innovate the future of working spaces in the financial, public and retail sector
Pilot contract, Web Summit ticket, expert coaching, access to network*
Get in the Ring and Fujitsu are looking for innovative startups with solutions that innovate the future of working within the financial, public and retail sectors. Fujitsu holds a number of clients that are looking to integrate digital solutions that can improve the interaction with customers and current processes.
Fujitsu is a leading Japanese information and communication technology (ICT) company offering a full range of technology products, solutions and services. Approximately 155,000 Fujitsu people support customers in more than 100 countries. Fujitsu uses its experience and the power of ICT to shape the future of society with its customers. It is currently the world's fifth-largest IT services provider measured by IT services revenue and largest IT services provider in Japan.
Since it was founded back in 1935, Fujitsu has been innovating information and communication technologies (ICT) the world over. A long line of landmark achievements and product milestones have made Fujitsu what it is today – a leading company in the ICT space. Fujitsu sees that there are a lot of new, young and inspiring startups that deliver outstanding solutions and technologies which are interesting for our customers as an extension of our current portfolio. Fujitsu wants to maintain the startup ecosystem by connecting startups to corporates and supporting their growth.
APPLY NOW
THE CHALLENGE
We are looking for startups and scaleups with digital business solutions that want to collaborate with Fujitsu and its clients. We are interested in sector specific (Financial Services, Retails, Public) solutions in the following technology domains: AI and automation, analytics and digital customer interaction tools. We are looking for solutions in the following application areas such as listed below. We are also explicitly open for other sector solutions based on these technologies. (see picture)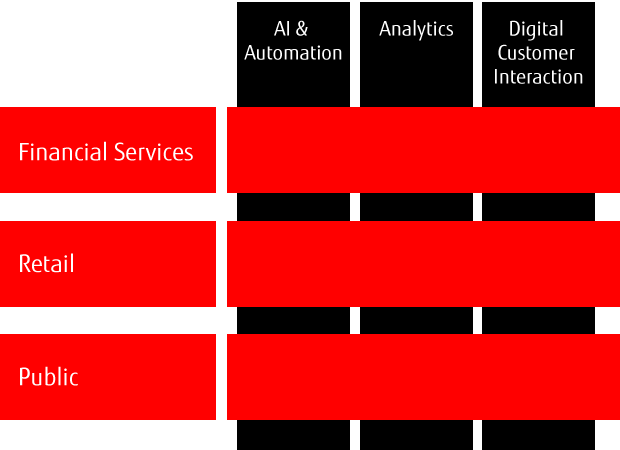 Financial: Solutions related to fraud management, asset management, compliance as well as wallets or onboarding tools to interact with the end customer.
Retail: Solutions related to smart inventory and forecast management, personalized customer experience, connected and digital kiosks or fitting rooms as well as frictionless checkout and fraud detection.
Public: Solutions related to predictive maintenance for government buildings, fraud prevention in the social welfare system as well as easy tools such as chatbots to interact with the public
WHAT'S IN IT FOR YOU
Pilot project with Fujitsu and one of its clients

Join the Fujitsu delegation to the Web Summit in Lisbon from November 4th-7th
Expert coaching
Access to network
ADDITIONAL CRITERIA
You should
Have a working prototype or further
Have a solution that supports corporates, be end-user focused and collaborative
See a natural fit to grow your business with Fujitsu
TIMELINE
Application deadline: The deadline for applications is September 9th at midnight (UTC+2).
Announcement of selected startups: The announcement of selected startups to join towards the Web Summit will be done latest September 19th.
Web Summit: Selected startups will receive a ticket to join the Fujitsu delegation towards the Web Summit in Lisbon from November 4th-7th. This includes a booth to showcase your startup towards the public.
Pilot selection phase: The selection process for the pilot will start after the Web Summit. After initial discussion and meetings at least one startup will be selected for a pilot, which will run early 2020.