Acompanhe o ActivateNow 2020 e conheça a visão de Nuno Fórneas, Executive Board Member no Banco CTT sobre TechOps – The Road for a Banking Platform
14 – 15 October 2020
Estamos a entrar numa nova era de prestação de serviços bancários. Embora a presença física ainda lá esteja, sofreu grandes mudanças. No Fujitsu ActivateNow, Nuno Fórneas, membro do Conselho Executivo do Banco CTT, partilhará os três pilares em que os bancos se devem focar atualmente.
Registe-se para ter acesso a este conteúdo. ActivateNow é um evento global online que irá criar uma plataforma para reconstruir a esperança, a confiança, a liderança e a acção credível de líderes nos sectores público e privado.
Ao registar-se nas keynotes de 14 de Outubro (que decorrem entre as 10h e as 12h), terá acesso a diversas breakout sessions. Registe-se nas keynotes que pretende assistir e as mesmas ficarão ao seu dispor a partir de 14 de Outubro, para que as veja quando for mais relevante e conveniente para si.
#FujitsuActivateNow


Nesta sessão, fala-se da ambição de criar processos tão frictionless quanto possível, que comecem e acabem no cliente. E que por isso integram desde os colaboradores nas lojas, alguns parceiros externos do banco, as equipas de operação em back-office e os próprios RPA, onde a Fujitsu também participou.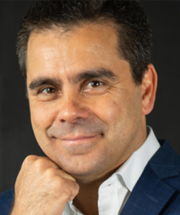 Nuno Fórneas
Executive Board Member, Banco CTT, Portugal
Nuno Fórneas
Executive Board Member, Banco CTT, Portugal
Nuno Fórneas, Executive Board Member at the Banco CTT, holds a degree in Electrotechnical and Computer Engineering from the Instituto Superior Técnico (IST), as well as an MBA in Economics and Management, from Lisbon School of Economics and Management (ISEG). He also completed several executive training on Banking, Professional Services and Design Thinking at institutions such as INSEAD, HARVARD Business School and Stanford University.
He began his professional career at Banco de Portugal. Later he joined Millennium BCP where he played several IT roles, over the 7 years he collaborated with that institution. After the MBA he switched for the IT consultancy side where he worked for 22 years, at Novabase and Glintt, companies in which he served as an Executive Committee member.
In January of 2020, he returned to the banking industry as Banco CTT Executive Board Member, as CIO/COO
Programa Regional
Keynote Sessions Europeias
Junte-se a Paul Patterson, SVP, Head of Northern and Western Europe, e ao CIO da Costa, Phil Scully, na discussão dos eventos de 2020 e das alterações duradouras que estes trouxeram ao modo como trabalhamos e vivemos.
Christian Leutner, Chefe de Negócio de Produtos na Europa da Fujitsu, revela a importância de dominar a sua tecnologia para prosperar num mundo orientado pelos dados.
Oiça também Joseph Reger, CTO da Fujitsu para a Europa Central e de Leste, e a sua perspectiva acerca do modo, como a tecnologia pode ajudar a combater a pandemia
Histórias de 2020
Oiça em primeira mão de grandes empresas europeias e organizações do sector público à medida que reflectem sobre as lições de 2020 e pensam sobre aquilo que o futuro nos pode
Extenso programa on-demand
Mais de 30 breakout sessions on-demand de especialistas em diferentes assuntos:
Reimaginar as possibilidades para as experiências dos colaboradores, as operações diárias e a experiências dos clientes.
Explorar as mudanças na vida pessoal e profissional decorrentes dos eventos de 2020.
Alcançar a transformação das indústrias, desde o retalho aos serviços financeiros e à mobilidade, sem esquecer a indústria e os serviços públicos.
Impulsionar a agilidade e a eficiência através de inovações tecnológicas essenciais, das Hybrid IT à multi-cloud e do 5G à cibersegurança..
Transformar o sector público ao longo de cinco sessões para explorar a inovação tecnológica no governo, nos cuidados de saúde e na mobilidade.
Responder a áreas de interesse especial através da inovação, desde a personalização à activação de uma cultura digital e de bem-estar.
Mergulhe nas Expert Talks, onde pode explorar os desafios específicos da sua organização e encontrar soluções através do envolvimento directo com especialistas da Fujitsu.