Sposób działania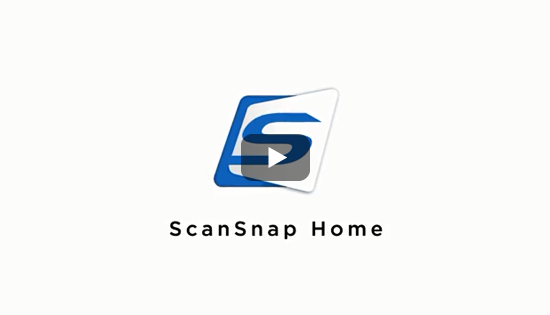 ScanSnap Home to oprogramowanie stworzone specjalnie na potrzeby skanerów ScanSnap. Umożliwia łatwe zarządzanie różnymi rodzajami danych pozyskanych podczas skanowania, a także ich edycję i wykorzystanie. Oferuje wszystkie najczęściej używane funkcje, umożliwiając porządkowanie dokumentów, rachunków, wizytówek, zdjęć i wielu innych zasobów w jednym miejscu.
Dokumenty
Tagi umożliwiają szybkie i łatwe znalezienie potrzebnych informacji, takich jak rachunek czy plan spotkania.

Rachunki
Funkcja rejestrowania wydatków zapewni Ci kontrolę nad miesięcznym budżetem.

Wizytówki
Oprogramowanie porządkujące zeskanowane informacje według nazwy firmy lub innych danych pozwoli Ci błyskawicznie znaleźć poszukiwany kontakt.

Zdjęcia
Teraz możesz przygotować własny album i podzielić się cennymi wspomnieniami z rodziną i przyjaciółmi.

* Oprogramowanie ScanSnap Home jest kompatybilne ze skanerami ScanSnap iX1500, iX500, iX100, S1300i, S1100i i SV600.
Wszystkie funkcje skanera ScanSnap w jednym miejscu
Narzędzie ScanSnap Home usprawnia wykonywanie powtarzalnych czynności, takich jak sortowanie, zapisywanie i porządkowanie oraz łączenie zeskanowanych danych z innymi aplikacjami. Im więcej z niego korzystasz, tym dokładniej ScanSnap Home rozumie Twoje potrzeby, aby lepiej Ci pomagać.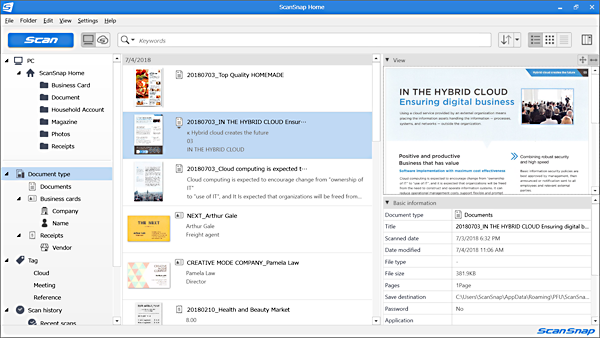 Łatwość skanowania dużych ilości materiałów
Szeroka gama inteligentnych funkcji automatycznego przetwarzania obrazu pomaga w skanowaniu różnorodnych dokumentów w dużych ilościach — od kolorowych zdjęć po dwustronne dokumenty w orientacji poziomej. Dostępne jest szereg funkcji inteligentnej obróbki/przetwarzania obrazu, takich jak automatyczne wykrywanie koloru, automatyczne wykrywanie rozmiaru, automatyczny obrót, prostowanie i usuwanie pustych stron. Wszystkie te funkcje współpracują ze sobą, umożliwiając skanowanie bez regulowania ustawień.

Koniec z czasochłonnym wymyślaniem nazw plików
Oprogramowanie proponuje nazwy plików, używając do tego słów znalezionych w skanowanych dokumentach, na przykład nazw firm lub sklepów. W miarę jak liczba zeskanowanych materiałów rośnie, program coraz dokładniej wydobywa informacje, a do tego zapamiętuje i wykorzystuje korekty wprowadzane w nazwach plików.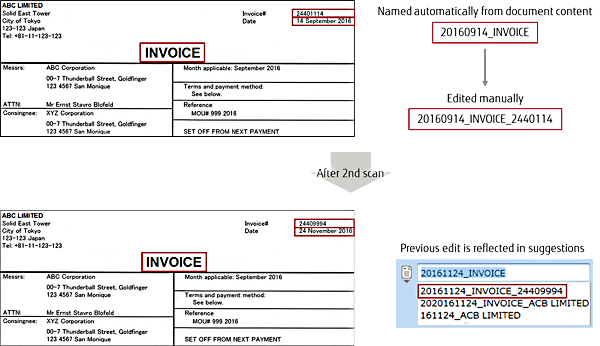 Mniej czasochłonne wprowadzanie poprawek
Poprawki, które wprowadzisz w nazwach firm przypisanych do wizytówek, zostaną uwzględnione podczas skanowania kolejnych materiałów danej firmy, co pozwoli Ci uniknąć uciążliwego wprowadzania tych samych zmian.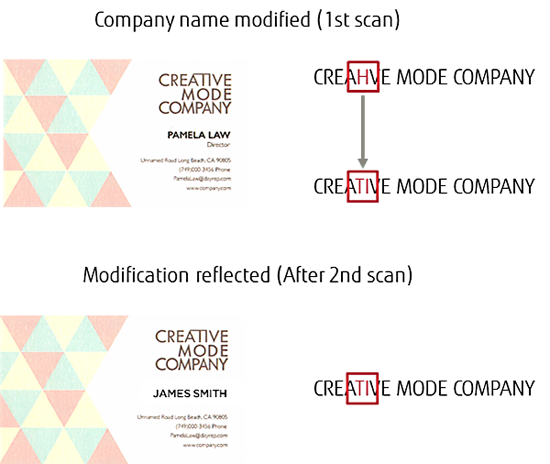 Mniej czasochłonne znajdowanie plików
Oprogramowanie samo rozpoznaje zeskanowane dane i dzieli je na cztery kategorie: dokumenty, rachunki, wizytówki i zdjęcia. Oznacza to koniec mozolnego, ręcznego sortowania danych.
Oprogramowanie oferuje funkcję wyszukiwania słów kluczowych, która pozwala na szybkie przeszukiwanie dużych zbiorów danych. Rozpoznaje ono informacje zawarte w plikach PDF i JPEG, a także pozwala tworzyć foldery i tagi. Dzięki temu znalezienie potrzebnych informacji jest prostsze niż kiedykolwiek wcześniej.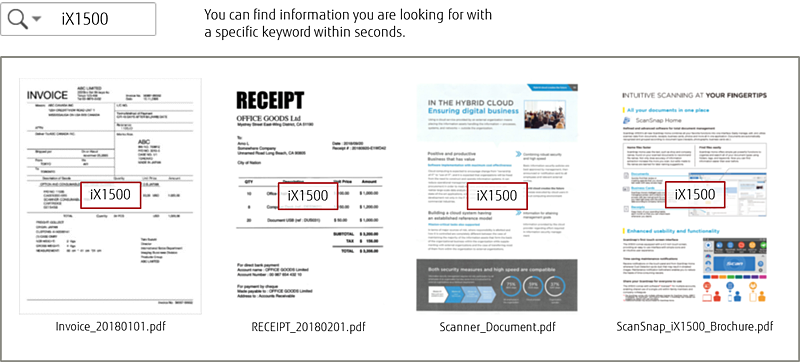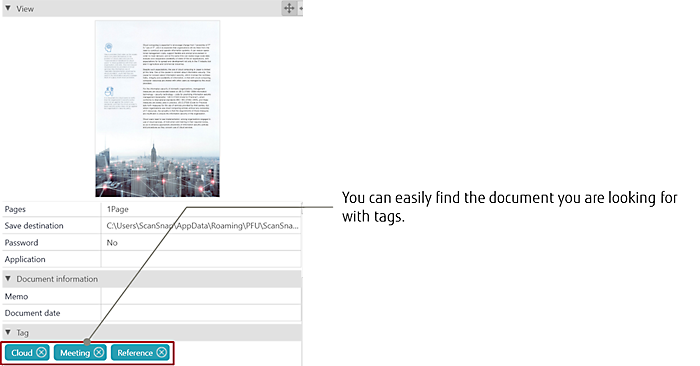 Wymagania systemowe
Zapoznaj się z danymi technicznymi poszczególnych modeli ScanSnap.
Dokument/wizytówka (obsługiwane języki)

| | |
| --- | --- |
| Dokument | angielski, niemiecki, francuski, włoski, hiszpański, portugalski, rosyjski, chiński uproszczony, chiński tradycyjny, koreański, japoński, szwedzki, norweski, fiński, turecki, holenderski, duński, grecki, węgierski, polski, czeski, rumuński, arabski, wietnamski, tajski, indonezyjski |
| Wizytówka | angielski, niemiecki, francuski, włoski, hiszpański, portugalski, rosyjski, chiński uproszczony, chiński tradycyjny, koreański, japoński |
Rachunek (obsługiwane kraje/języki/waluty)
Kraj
Język
Waluta
USA
angielski
USD
Kanada
angielski
CAD
francuski
Wielka Brytania
angielski
GBP
Niemcy
niemiecki
EUR
Francja
francuski
Włochy
włoski
Hiszpania
hiszpański
Portugalia
portugalski
Rosja
rosyjski
RUB
Australia
angielski
AUD
Chiny
chiński uproszczony
CNY
Tajwan
chiński tradycyjny
TWD
Korea Południowa
koreański
KRW
Singapur
angielski
SGD
Japonia
japoński
JPY
*Poniższe aplikacje umożliwiają przesłanie danych z konwencjonalnego oprogramowania.
Windows: ScanSnap Organizer V4.1 lub nowszy, CardMinder V4 lub 5 oraz ScanSnap Receipt V1.
Mac: ScanSnap Organizer V1.1 lub nowszy, CardMinder V1 lub 5 oraz ScanSnap Receipt V1.