Przegląd
PaperStream NX Manager to oprogramowanie serwerowe umożliwiające łatwą integrację z różnymi systemami i aplikacjami klienta. W środowiskach, w których wykorzystywanych jest wiele skanerów, umożliwia scentralizowane zarządzanie funkcjami uwierzytelniania użytkownika, menu zadań i innymi parametrami skanowania. Pozwala to znacznie obniżyć koszty instalacji i obsługi, a także zapewnia większą wydajność i wsparcie procesów biznesowych.
Tworzenie i dystrybucja zadań
Skanowanie ze skanera
Skanowanie z komputera/urządzenia przenośnego/klienta uproszczonego
Różne metody uwierzytelniania użytkownika
Wysyłanie zeskanowanych obrazów do systemów klienta
Monitorowanie stanu skanowania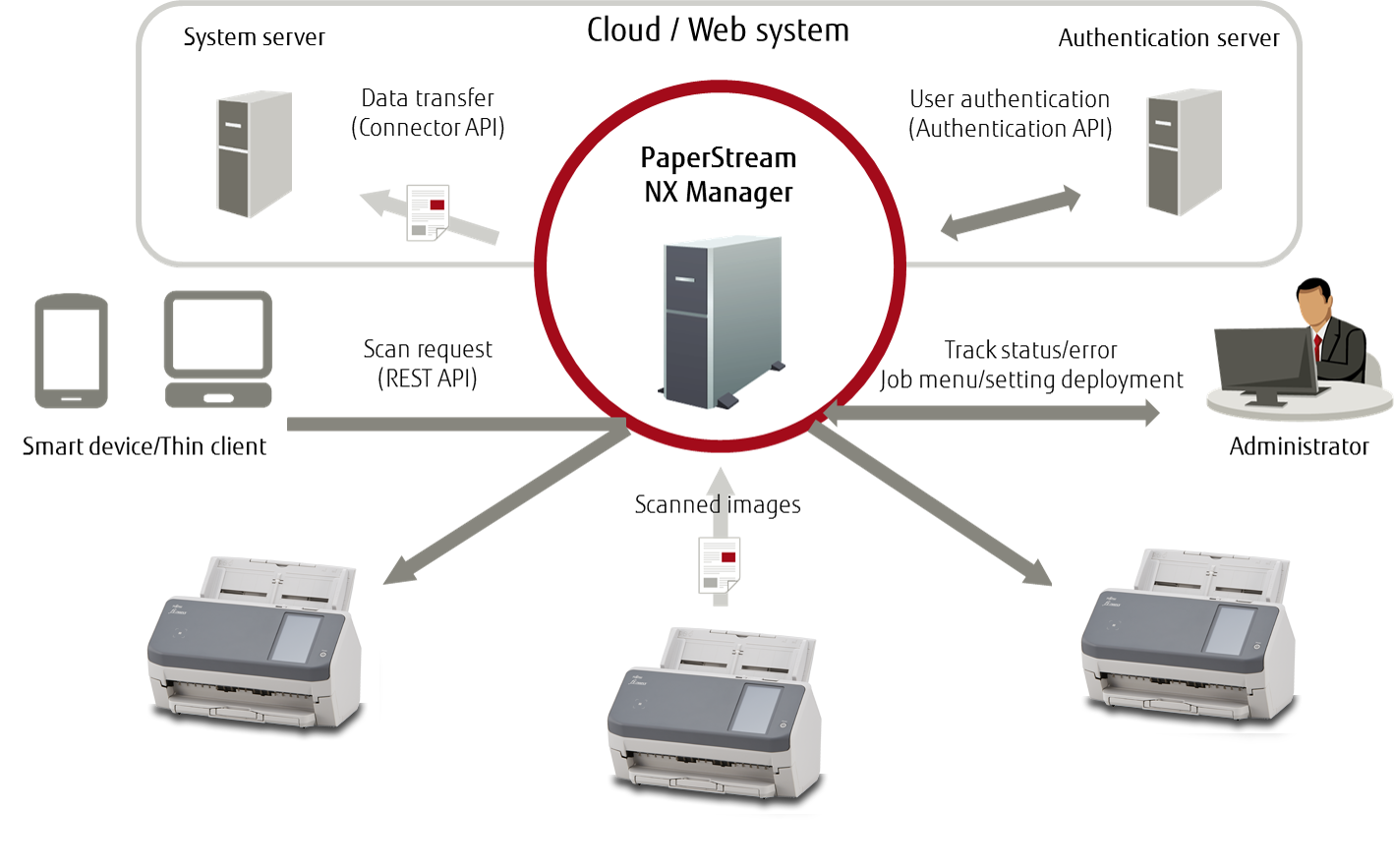 Funkcje
Większa wydajność dzięki możliwości dostosowania zadań
Administratorzy mogą tworzyć i dystrybuować grupy zadań (profili) dla różnych grup użytkowników aby ułatwić im wybór dedykowanych ustawień. Można utworzyć do 100 grup zadań.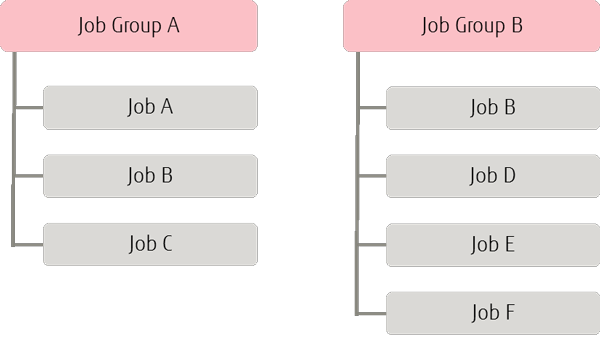 Zadania można dostosowywać, wybierając dla nich między innymi niepowtarzalne nazwy, opisy i ustawienia formatu plików. Podczas wybierania ustawień dla poszczególnych zadań użytkownicy mają do wyboru formaty: dokument PDF*1, jednostronicowy dokument PDF*1, plik TIFF, wielostronicowy plik TIFF lub JPEG*2.
*1 Pliki PDF z możliwością wyszukiwania i pliki PDF/A nie są obsługiwane.
*2 Dostępne wyłącznie w przypadku obrazów kolorowych i w skali szarości.
Skanowanie ze skanerów i urządzeń przenośnych
Użytkownicy mogą skanować i zapisywać dokumenty bez użycia komputera. Obsługa bez użycia komputera pozwala zmniejszyć ilość prac przygotowawczych i obniżyć koszty konserwacji komputerów.
Możliwe jest skanowanie z aplikacji webowych lub mobilnych z poziomu cienkich klientów czy urządzeń przenośnych. Bardzo prosta integracja pozwala na rozszerzenie zakresu urządzeń, z których można skanować do systemów biznesowych.
*Wymaga integracji z wykorzystaniem REST API.
Uwierzytelnianie użytkowników w celu wydajniejszego i bezpieczniejszego wprowadzania danych
Użytkownicy mogą skanować i zapisywać dokumenty bez użycia komputera, co znaczenie obniża czas konfiguracji stanowisk skanujących oraz pozwala zredukować koszty zakupu i utrzymania stacji roboczych.
*Wymaga integracji z wykorzystaniem Authentication API.
Różne metody uwierzytelniania wyświetlane na ekranie skanera fi-7300NX: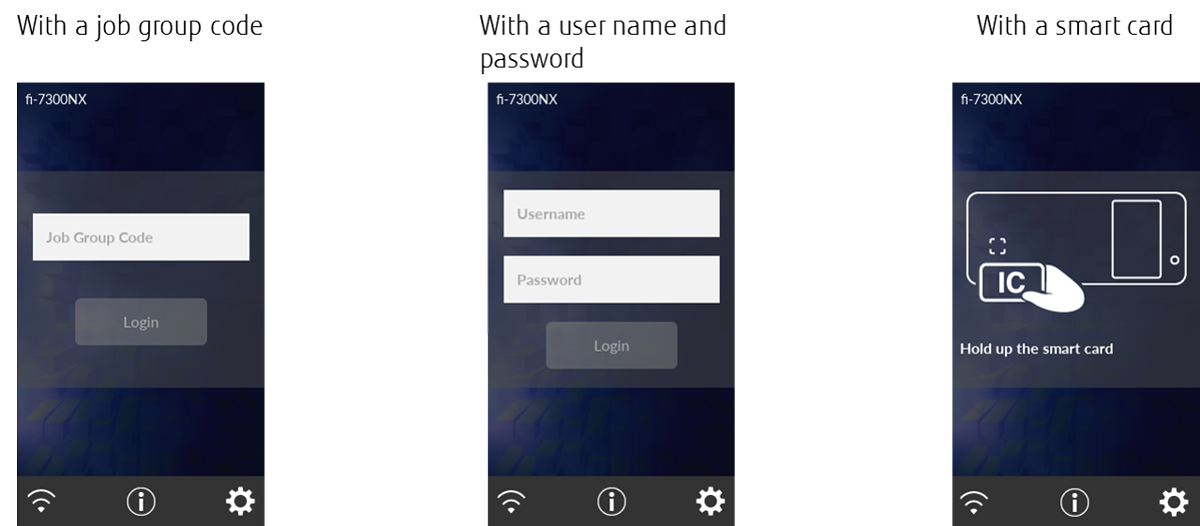 Wysoka jakość obrazu umożliwia wydajne wykorzystanie danych
Funkcje przetwarzania obrazu dostępne w ramach sterownika PaperStream IP są także dostępne w oprogramowaniu PaperStream NX Manager. Sterownik automatycznie generuje wyjątkowo przejrzyste obrazy, które nie wymagają dalszej korekty np. na potrzeby procesów OCR.
Proste zapisywanie danych w różnych lokalizacjach
Oprogramowanie PaperStream NX Manager pozwala użytkownikom zapisywać zeskanowane obrazy w wybranych przez nich miejscach tj. SharePoint lub SharePoint Online, serwer FTP lub FTPS albo e-mail. Dodatkowo z wykorzystaniem Connector API, skanowane obrazy mogą trafiać bezpośrednio do innych procesów biznesowych.
Łatwe zarządzanie zadaniami dla administratorów
Dzięki możliwości podglądu statusu operacji dla użytkowników, oprogramowanie PaperStream NX Manager oferuje monitorowanie i zarządzanie wszystkimi rejestrami skanowania. Dodatkowo użytkownik jest informowany o wystąpieniu potencjalnego błędu przy generowaniu plików wyjściowych, co daje gwarancję płynności i niezawodności procesu skanowania.
Dane techniczne
Oprogramowanie
System operacyjny
Windows Server 2012
Windows Server 2012 R2
Windows Server 2016

.NET Framework
.NET Framework 4.5.2
.NET Framework 4.6
.NET Framework 4.6.1
.NET Framework 4.6.2
.NET Framework 4.7.1
Serwer webowy
IIS 8.0 lub nowszy.
Inne oprogramowanie
SQL Server 2014 Express Edition(1)
Przeglądarka
Internet Explorer 10
Internet Explorer 11
Sprzęt
Procesor
Czterordzeniowy procesor 3,5 GHz lub lepszy
Pamięć
16 GB lub więcej
Miejsce na dysku
120 GB lub więcej wolnego miejsca na dysku
Inne
Liczba obsługiwanych urządzeń
Do 1000 skanerów
Liczba obsługiwanych użytkowników
Łącznie do 3000 użytkowników na serwer
Liczba zarządzanych zadań
Do 1000 zadań
Jeśli na komputerze nie zostało jeszcze zainstalowane oprogramowanie SQL Server 2014 Express Edition, zostanie ono zainstalowane wraz z oprogramowaniem NX Manager.