FUJITSU Image Scanner SP-1130N
2nd Generation SP Series. Day to day budget conscious scanning
Streamlining processes, delivering Organisational Intelligence
Organisations are coming to realise that digitising their paper processes can have hugely beneficial impacts. More efficient processes lead to lower costs and higher productivity while extracting maximum value from the information they have access to - increasing their Organisational Intelligence - can be the catalyst for wider, deeper business transformation.
The 2nd generation SP Series scanners are designed to meet the essential scanning needs of budget-conscious organisations, or those taking their first steps towards a structured scanning approach:
Automate capture routines; scan, extract and release all at the touch of a button
Streamline operations by integrating captured data into business workflows
Easily create searchable PDFs, or editable Word, Excel and PowerPoint files
Optimise scanning architecture – use any scanner from any PC
PaperStream software allows SP Series users to enjoy a premium capture experience, while Fujitsu's heritage and market-leading technology give assurance of quality and dependable reliability.
Dependable, day-to-day scanning
The SP Series comes with a number of key features that help streamline work processes, support digital transformation and leverage Organisational Intelligence.
Integrate, automate, streamline
TWAIN or ISIS compatibility means users can integrate scanned data into their workflows directly, or via PaperStream Capture's process automation. Setting up routines to scan, extract and release with just the click of a profile can streamline processes and improve efficiency.
Automatic Profile Selection
When a known document format is recognised the system will automatically name, sort and distribute the scanned images and extracted metadata in the relevant pre-defined way – e.g. invoices will always go into Finance Systems, with supplier name and invoice number included as part of the filename.
Automatic image clean-up
PaperStream IP's market-leading image processing automatically cleans up images for downstream processes such as OCR, delivering dependable quality output even from documents that are soiled, creased or patterned.
Fits into any working environment
The compact design makes the SP Series perfect for any office space with limited space, and its quiet design means it won't disturb others who are busy at work.
Ad-hoc scanning
The ABBYY Finereader software embedded within PaperStream Capture recognizes the texts in scanned images and converts them to searchable PDFs or other formats such as editable Word, PowerPoint or Excel files.
LAN support for liberated connectivity
Thanks to PaperStream IPNet, users can quickly connect to any scanner on the network, from any computer – liberating them from the limitations of short USB cables.
One-touch operation
Profile-driven operation means the SP Series requires minimal user training and reduces both scanning procedure and user error. The quick scan button also allows immediate scanning using the default scan profile.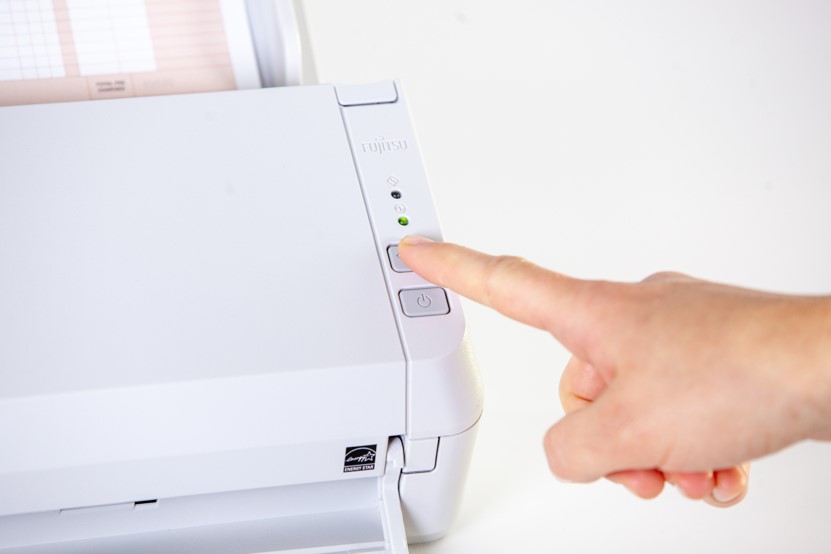 Dependable solutions for organisational productivity
Market-leading technology, over 50-years experience and a reputation for quality and reliability have made Fujitsu the world's most trusted scanner brand.
PaperStream IP
This TWAIN/ISIS compatible driver supports downstream processes such as OCR by automatically cleaning up images without the need for complicated setting adjustments. Its PaperStream IPNet capability can liberate users from needing to be directly physically connected to the scanner by utilising LAN connection. Organisations can now be more flexible in how they deploy their scanning architecture.
PaperStream Capture
The full version of our Capture software offers users the same powerful, automated scanning experience as our premium scanner range.
Ideal for desktop placement


Compact design
The SP-1130N is compact in size, so it can be used at the desk or at reception where space is limited. Even with its compact size, it is equipped with a brake roller to accurately separate each page, and an ultra-sonic sensor to accurately detect multifeed, so the user can scan without worrying about potential problems.
20 ppm scanning speed model
The SP-1130N helps users finish scanning tasks in a short time without stress, with its 30 ppm (A4 color, duplex 200 / 300 dpi) performance. The automatic document feeder (ADF) holds up to 50 sheets(2) at a time, and the scanning speed is maintained even at 300 dpi.
Support plastic card scanning
The SP-1130N is able to handle various documents from thin to thick paper (50-209 g/㎡), as well as plastic cards(3) for various tasks and applications. In the case of over-the-counter services, application forms and plastic ID cards can be scanned at the same time to avoid customers waiting.
Specifications
Product Name
SP-1130N
Scanner Type
ADF (Automatic Document Feeder), Duplex
Scanning Speed (1) (A4 Portrait)
(Color (2)/Grayscale (2)/Monochrome (3))
Simplex: 30 ppm (200/300 dpi)
Duplex: 60 ipm (200/300 dpi)
Image Sensor Type
Single line CMOS-CIS x 2 (front x 1, back x 1)
Light Source
RGB LED x 2 (front x 1, back x 1)
Optical Resolution
600 dpi
Output Resolution (4)
(Color / Grayscale / Monochrome)
50 to 600 dpi (adjustable by 1 dpi increments), 1,200 dpi (driver) (5)
Output Format
Color: 24-bit, Grayscale: 8-bit, Monochrome: 1-bit
Background Colors
White
Document Size
Maximum
216 x 355.6 mm (8.5 x 14 in.)
Minimum
52 x 74 mm (2.0 x 2.9 in.)
Long Page Scanning (6)
3,048 mm (120 in.)
Paper Weight (Thickness)
Paper
50 to 209 g/m2 (13.4 to 56 lb) (7)
Plastic Card
0.76 mm (0.0299 in.) or less (8)
Paper Chute Capacity (9)(10)
50 sheets (A4 80 g/m2 or Letter 20 lb) / 60 sheets (A4: 64g/m²)
Expected Daily Volume
4,500 sheets
Multifeed Detection
Overlap detection (Ultrasonic sensor)
Interface
USB (12)(13)
USB 3.2 Gen 1x1
Ethernet
10BASE-T,100BASE-TX,1000BASE-T
Power Requirements
AC 100 to 240 V ±10 %
Power Consumption
Operating Mode
18 W or less
Power Saving Mode
2 W or less
Auto Standby (Off) Mode
0.3 W or less
Operating Environment
Temperature
5 to 35 °C (41 to 95 °F)
Relative Humidity
20 to 80% (non-condensing)
Environmental Compliance
ENERGY STAR®, RoHS
Dimensions (14) (W x D x H)
298 x 135 x 133 mm (11.7 x 5.3 x 5.2 in.)
Weight
2.5 kg (5.5 lb)
Supported Operating System
Windows® 11, Windows® 10, Windows® 8.1, Windows® 7, Windows Server® 2022, Windows Server® 2019, Windows Server® 2016, Windows Server® 2012 R2, Windows Server® 2012, Windows Server® 2008 R2, macOS, Linux (Ubuntu)
Included Software / Drivers
PaperStream IP for SP Series (TWAIN/TWAIN x64/ISIS), WIA Driver (15), PaperStream Capture, Software Operation Panel, Error Recovery Guide, ABBYY FineReader for ScanSnap™ (16), Scanner Central Admin, ABBYY™ FineReader Sprint™, PaperStream IPNet. SP Series Online Update
Image Processing Functions
Multi image output, Automatic color detection, Automatic page size detection, Blank page detection, Dynamic threshold (iDTC), Advanced DTC, SDTC, Error diffusion, Dither, De-Screen, Emphasis, Dropout color (None/Red/Green/Blue/White/Saturation/Custom), sRGB output, Split image, De-Skew, Edge filler, Vertical streaks reduction, Digital endorser, Background pattern removal, Character thickness, Character augmentation, Character extraction, Automatic Profile Selection
Included Items
AC adapter, USB cable, Setup DVD-ROM
Actual scanning speeds are affected by data transmission and software processing times.

Indicated speeds are from using JPEG compression.

Indicated speeds are from using TIFF CCITT Group 4 compression.

Selectable maximum density may vary depending on the length of the scanned document.

Limitations may apply to the size of documents that can be scanned, depending on system environment, when scanning at high resolution (over 600 dpi).

Capable of scanning documents with dimensions exceeding that of Legal sizes. Resolutions are limited to 300 dpi or less when scanning documents > 355.6 mm (14 in.) to ≦ 863 mm (34 in.), 200 dpi or less when scanning documents > 863mm (34 in.) in length.

Thicknesses of up to 127 to 209 g/m2 (34 to 56 lb) can be scanned for A8 (52 x 74 mm / 2.1 x 2.9 in.) sizes.

ISO7810 ID-1 type compliant. Capable of scanning embossed cards with total thicknesses of 1.24 mm (0.049 in.) or less.

Maximum capacity depends on paper weight and may vary.

Capable of setting additional documents while scanning.

Numbers are calculated using scanning speeds and typical hours of scanner use, and are not meant to guarantee daily volume or unit durability.

Scanning speeds slow down when using USB 1.1.

When using USB, device must be connected to the USB hub connected to the PC port. If using USB 3.2 Gen 1x1 (USB 3.0) / USB 2.0, USB port and hub compatibility is required.

Excludes the ADF paper chute and stacker.

Functions equivalent to those offered by PaperStream IP may not be available with the WIA Driver.
Consumables & Options
F1 Scanner Cleaning Wipes (72 Pack)


Pack of 72 F1 Cleaning Wipes for Fujitsu scanners.
Scanner Cleaning wipes Impregnated with manufacturer approved F1 cleaning fluid.
Suitable to clean glass, plastics, rubbers and metals in Fujitsu Document scanners.
SKU: CON-CLE-W72

Consumable Kit: 3708-100K


Includes 2x Pick Rollers and 1x Brake Roller.
Estimated Life up to 100K scans*
SKU: CON-3708-100K

PaperStream Capture for SP series


Upgrades PaperStream Capture Lite to PaperStream Capture, including 1-field metadata extraction from barcode, OCR / text recognition, PDF and PDF/A file format creation.
SKU: PA43201-2502

PaperStream Capture Pro Workgroup Scan License


Upgrades PaperStream Capture to PaperStream Capture Pro, adds powerful professional features and includes 1 Year software support & maintenance.
SKU: PA43404-A665

PaperStream Capture Pro QC & Index License


Enables a workstation to act as a dedicated QC & Index Station. Includes 1 Year software support & maintenance.
SKU: PA43404-A705

PaperStream Capture Pro File Import License


Enables multi-source file import into PaperStream Capture Pro (Bitmap, TIFF, JPEG, JPEG2000, PDF, PDF/A) captured on other devices. Includes 1 year software support & maintenance.
SKU: PA43404-A715

Silex DS-510 (EU-UK)


Gigabit 2-port USB2.0 Device Server.
Enables Fujitsu document scanners to be connected to an Ethernet Network and shared by multiple users.
Windows®. Features 10/100/1000Base-T, 2x USB2.0 ports (Type A). Includes mains plug and 3 year Warranty.
SKU: E1293
Warranty & Service Plans
1 Year Standard Warranty


Advance Exchange - Next Business Day.
Included in the price of a new scanner product.
Valid for 1 year from date of purchase.

3 Year Extended Warranty (Office)


Advance Exchange - Next Business Day.
Extends the 1 Year Standard Warranty to 3 Years.
Includes replacement of defective product and two-way shipping costs.
SKU: U3-EXTW-OFF

1 Year Warranty Renewal (Office)


Advance Exchange - Next Business Day.
Renews an expired Standard Warranty or Extended Warranty for 1 year. Includes replacement of defective product and two-way shipping costs.
SKU: R1-EXTW-OFF
Videos