Financial certainty in
an uncertain world
Why buy if you can lease? Why lease if you can pay for a service only when you use it? Similar to the choices people now have on car use – buying, leasing, paying by the kilometer on Lyft or Uber – outright ownership of IT resources, with its technology lock-in and upfront investment, is just one of many financing options for business. Under pressure to deliver new services with unprecedented speed, organizations need to be able to pivot quickly to roll out new services, and agility in IT is a key enabler for these fast responses. What organizations want are flexible, transparent models to finance their IT, based on leasing or pay-per-use models. For many, cloud is the method of choice to source and consume IT infrastructure and services flexibly, which is why cloud spending hits new highs every year.
The problem is, this flexibility has to date been outside the data center, with pay-per-use models the domain of the cloud, and out of reach for on-premises IT. But not anymore. Fujitsu is now helping organizations to achieve pay-per-use agility across their entire IT landscape, including in their on-premises data center, with a cloud-like consumption-based model: uSCALE.
Grow without the risk:
Fujitsu uSCALE
As organizations use the data at their disposal to derive business insights, and to identify and explore new opportunities, it is vital for IT infrastructure to be led by the business strategy – with flexible investments and budgeting. uSCALE makes it easier to become a data-driven enterprise. You can move ahead with confidence on new initiatives which, without pay-per-use pricing on IT, might require too much upfront investment and be too much of risk for the business.
The Fujitsu uSCALE pay-per-use consumption service supports your business transformation with scalable IT resources that are measurable, cost transparent and aligned to business needs. It is totally your decision what volume of resources you commit to. You can start big or small: whichever way you go, uSCALE flexibility is yours.
Conventional Financing
FUJITSU uSCALE
Actual usage
Actual usage and basis for monthly fee
Invested capital
Flexible commitment (volume lock) What's your business value?
Be agile
Additional capacity is installed on your premises ready to use. Economies of scale kick in for every unit consumed.
Improve cash flow
Minimize your upfront spend and invest into promising new business.
De-risk
Minimize cost risks of new platform acquisitions: no need to lock into long-term investment.
Keep consumption transparent
Easily charge resource use back to lines of business. All departments benefit from economies of scale.
Minimize admin
No need for an entire purchase request process every time you scale up.
uSCALE is already delivering success for business, as real-world outcomes show. A data protection & management specialist is now able to test the rollout of platform services where demand is uncertain, because the pay-per-use uSCALE model removes the need for a huge investment in resources. In another case, Fujitsu's consultancy-led approach with uSCALE has given a multi- national manufacturer the confidence to roll out Robotic Process Automation (RPA) with a pay-per-robot solution, resulting in better commercial flexibility and knowledge, and paving the way for automation success. Elsewhere, a security services provider is using uSCALE to drive its transition to hybrid IT, using uSCALE's flexible charging model to shift workloads seamlessly between private and public clouds.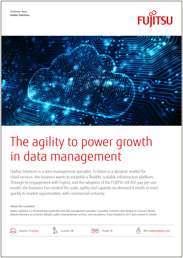 Download Case Study
Explore your digital potential with Fujitsu
With uSCALE, you can build a mix of on-premises and cloud IT with maximum financial flexibility –
and increase your financial certainty in an uncertain world.
Contact us