<!-Subtext (optional)->
Migrate and Transform
Multi-Cloud Transformation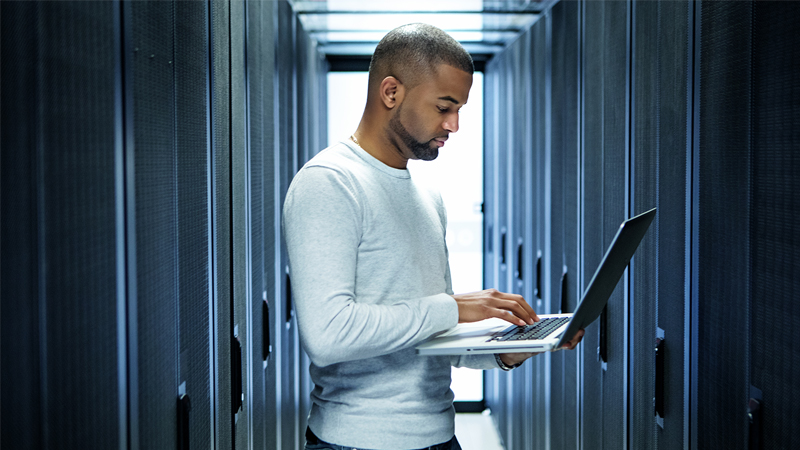 Fujitsu Multi-Cloud Transformation Services
Migrate to a multi- cloud environment and future-proof your business against rapid market change
At a time when digital initiatives are driving business change at a rapid pace, it might seem like demands on your IT department are pulling your systems and people in different directions:
Meeting new challenges fast but with a decreasing, inefficient budget.
Accelerating cloud-native innovation of modern applications and services, whilst maintaining visibility and management.
Adopting the latest technologies to remain relevant, whilst avoiding cloud isolation in terms of skills and resources.
If these challenges look familiar, outdated infrastructure could be holding you back. It's costly, rigid and siloed – so it's time to make your move,
with Fujitsu Multi-Cloud Transformation.
Making your move to cloud
By moving to cloud, you can free yourself from conflicting pressures – and achieve a range of business benefits, including: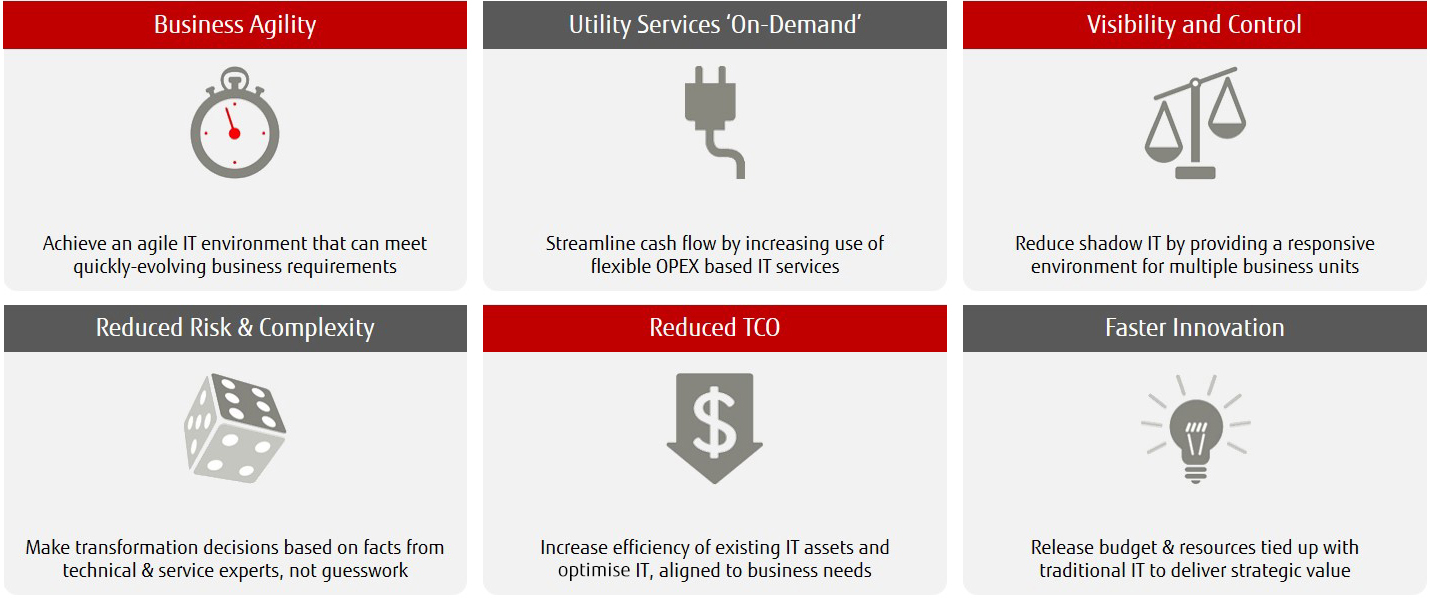 "What should I move to Cloud?"
We usually see three key technology initiatives in organisations looking to move away from their traditional infrastructures:

Provisioning more
solutions from the cloud

Exiting traditional data
centres wherever possible

Optimising and
integrating what remains
Knowing which elements to move can be complex and daunting – especially when some of these are 'mission-critical' to your core services.
To understand all dependencies, constraints and risks, we recommend a thorough assessment of your environment before making any changes.
Fujitsu Multi-Cloud Transformation makes it possible to take even the most crucial and sensitive systems to the cloud with total confidence.
"Which Cloud should I move to?"
A common question for organisations moving to the cloud – is "which platform?" for their workloads, systems and applications.
With the diversity of business, service and technical requirements often involved - a single, standard cloud solution is rarely the answer.

The steps you should take
From building your business case and assessing your environment, to migrating your workloads and continuously managing them – your Multi-Cloud Transformation roadmap needs to be carefully managed throughout.
We recommend working through the following steps with our expert help. Click below to explore each one in more detail.
ResultsChain
Building your business case | Forecasting future benefits
Fujitsu Multi-Cloud Transformation - Click to explore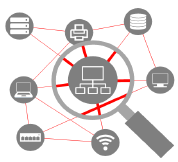 YourCloud Framework
Understand your business challenges, drivers and outcomes and define your cloud strategy using Fujitsu's Results Chain.
Define a plan to align your business, people and culture, governance, platforms, security and service & operations to the strategy.
Assess
Discover your existing IT datacentre environment
Assess suitability for migration or transformation to a Multi-Cloud environment
Recommend remediation actions to support migration or transformation
Build Total Cost of Ownership (TCO) profile and investment / rate of return implications utilizing Fujitsu's Cloud Economics methodology
Migrate
Define move groups and plan the migration
Architect & Design, and Build & Configure the target environment
Validate the target environment, and Test workloads pre and post migration
Migrate to your new Multi-Cloud environment
Transform
Modernise your business application, through:
Replacement using standard COTS or SaaS
Redesign to optimise and leverage multi-cloud environments
Rebuild leveraging latest tools and frameworks (cloud-native)
Manage
Provide day to day management of your Multi-Cloud environment, workloads and application, allowing you to focus on the things that are important to your business
Optimise
Ensure you are getting the most out of your Multi-Cloud environment and are running in the most cost effective way
Utilise Fujitsu's Shinkansen Service Development to continually meet your changing requirements
Exploit optimisation tools optimise your ongoing service and ensure continuous innovation
Why choose Fujitsu's Multi-Cloud Transformation services?
We recognise that the best mix of traditional data center environments and public/private cloud requirements will always be different for each customer, which is why our Multi-Cloud transformation services provide flexibility and impartiality.
We have one of the most mature transformation methodologies in the industry, which has been specifically designed to minimise the risk of complex enterprise transformation.
Our methodology harnesses our deep experience across hosting, cloud provisioning, server and storage, security, networking and applications.
Experts from all these subjects are integrated together, to bring you a multi-disciplined approach that ensures the blueprint and your future environment is aligned to what is achievable and to your business needs.
By removing the risk and complexity of transformation, we can help you to create and run cost-efficient, flexible Multi-Cloud IT.
Move on from the mainframe with PROGRESSION from Fujitsu
The day will come when you can no longer delay the migration of your ageing mission-critical mainframe systems to new open systems platforms. In order to meet your escalating business demands, modernisation will become imperative.
To find out more, visit our Fujitsu Progression page or watch this video!
Learn more
Abhishek Pradhan – APAC Head of Portfolio, Hybrid IT
"Ultimately, cloud is an enabler. The technology brings true transformation value when combined with other applications, data and customer experience. It has never been more exciting to collaborate with our customers and partners to continually drive strategic enterprise-wide business transformations and innovate at a velocity higher than ever before."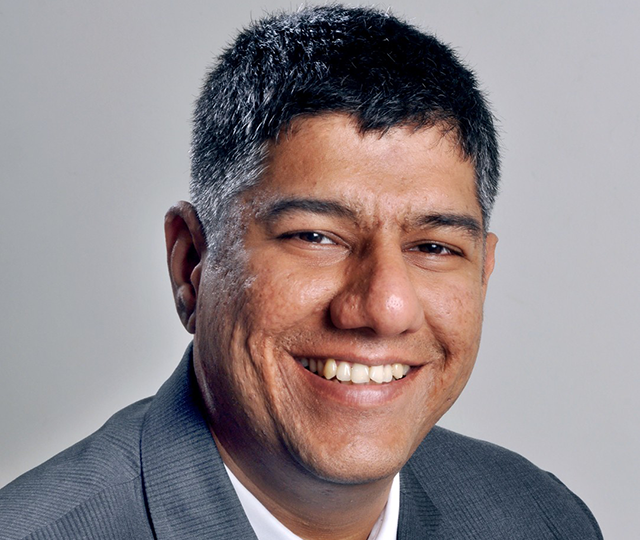 Get in touch
Let us assist you in solving your business challenges.
Thank you. We have received your request and will get back to you shortly.