Blockchain
Blockchain and Distributed Ledger Technology (DLT) carries the potential to revolutionise the way that businesses transact with their customers and with each other. By enhancing the speed, security and flexibility at which enterprises transfer, store and manage virtual goods, companies across a wide range of industry sectors can dramatically improve the efficiency and experience of their current processes, while enabling the creation of new business models.
Building your use case for DLT and Blockchain
Blockchain and Distributed Ledger Technology (DLT) are heralding creative potential and seem to be driving exceptional levels of innovation. The technology has the capacity to deliver a new kind of trust implementation to a wide range of services in our financial markets, supply chains, consumer and business-to-business services, publicly held registers and Internet of Things.

It is the combination of all these technologies that make Blockchain and DLT unique. Its benefits include:

Accessibility
As many nodes store the whole history of transactions, it is most likely that information access is ensured at any time.

Transparency
No single organisation can control access to data, which increases transparency significantly.
Data privacy
Blockchain solutions use cryptography to secure information. This is usually a public key infrastructure.

Security/trustworthiness
From the outset, blockchain has been designed to meet the highest security standards, based on the general assumption that untrustworthy participants will attempt to join the network. DDoS or similar attacks are unlikely as no single point of attack exists.
The Potential for Blockchain technologies
It is however important to remain vigilant. Blockchain has the intrinsic potential to become the most disruptive technology and approach in the next decades as it evolves further.

According to Gartner, Inc., the business value-add of blockchain will grow to slightly more than $176 billion by 2025, and then it will exceed $3.1 trillion by 2030. In addition, 9/10 Enterprises will do a blockchain project.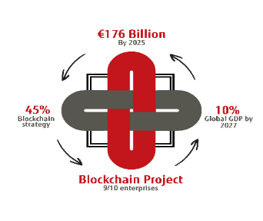 According to researches, respondents said that their organisations are busy setting up blockchain labs (59%) with dedicated resources and putting together a blockchain interdisciplinary task force (60%), in addition to investing in start-ups, forming alliances and leveraging accelerators. Furthermore, 51% of respondents said their firm had defined a blockchain strategy. 45% said their organization was developing blockchain strategy.  

According to World Economic Forum, 10% of global GDP would be stored using blockchain by 2027.
Blockchain Innovation Centre
On 22nd of March 2018, Fujitsu inaugurated its international Blockchain Innovation Center in Brussels, Belgium. Located in the heart of Europe, the center underscores Fujitsu's commitment to blockchain and other distributed ledger technologies as a means to revolutionize the way consumers and enterprises buy, sell and exchange goods and services and for organizations to transform their commercial and operational models.

The new center undertakes research with external partners, collaborating on specific projects to explore the technology's potential. With growing interest from customers in better understanding blockchain technology and its impact on business, Fujitsu aims to develop blockchain beyond financial services – where it has already created widespread disruption to business models – as a new architecture for information systems and sectors of all kinds. Blockchain has the potential to be applicable to a variety of areas where a ledger-based audit trail is needed, including logistics, supply chain, public ledgers such as real estate ownership, voting ID and smart contracts.
Blockchain and Smart City services
One particular area of expertise that Fujitsu plans to develop in the Innovation Center is the use of blockchain for the design and implementation of Smart City services, focusing not only on technology, but also on important aspects of the city of the future, such as sociological and demographic factors, societal organization, economic functioning and ecological challenges. The center will support and encourage research, development and innovation both for Brussels and for other cities, through the funding of innovative projects by companies, research organizations and the non-commercial sector.
Frederik de Breuck, Head of EMEIA Blockchain Innovation Center, said: "We believe that blockchain will play a crucial role in the development of Smart Cities. According to the National League of Cities, more than half the world's population currently lives in urban areas, and this proportion is expected to increase to 66 per cent by 2050. This trend will place increased demands on local governments and give rise to new ecosystems with multiple challenges to address - from public safety, infrastructure, transportation and housing. This development will drive the need for cities to adapt and evolve into Smart Cities, which combine ICT with infrastructure and architecture to address social, economic and environmental problems. The use of blockchain technology, with its potential in public ledger and voting ID, and its capacity to automate processes and auditing in smart contracts, will doubtlessly play an important role in this changing ecosystem."
Learn more about what Fujitsu has done with Blockchain technology
Let's Chat
Speak with one of our Emerging Technologies Experts to see how we can address your business needs
Thank you. We have received your request and will get back to you shortly.