Fujitsu workplace technology - supporting you in your Covid-19 response
COVID-19 has rapidly developed into a global crisis requiring everyone to take action. With our digital workforce solutions we can help you meet your remote workforce needs.
In this uncertain time, Fujitsu can offer practical advice and support on how you can engage and support your workforce to stay safe and be productive.
Whether it's enabling people to work from home or understanding how to best support your customers, technology has a critical role to play in coping with these unprecedented times. We are here to help.
Here you will find valuable insights from our teams and partners, providing tangible guidance on safely and securely driving productivity within your workforce.
As remote working is becoming the new norm, learn how to scale your remote needs during this time of rapid change. Our services can enable remote workforce readiness and ensure your workforce is operating safely and securely whilst driving a collaborative and productive way of working.
Fujitsu is experienced in working with customers in crisis and with a wide range of advanced skills, we can complement your teams to help you rollout solutions faster. Whether you are utilising our solution experts or field force for rapid deployment we can quickly step up and help you deliver.
With our Workspace with Intelligence solution, we can use no code / low code approaches to quickly build new applications, or provide simplified access to existing applications accessible from any device. This will enable your workers to remain productive and support your customers in new ways.
Where your staff are isolated and need access, we can quickly enable them to work safely and productively remotely using our Modern Management solutions based on Microsoft Intune or VMWare Workspace One to securely provide access from a wide range of personal or corporate devices.
If you need to provide secure remote access to internal systems, or need to rapidly increase the capacity of your existing on-premises remote working solutions we can help by deploying our Virtual Workspace based on Citrix using AWS or Microsoft public clouds to scale at pace.
Collaboration has never been more important than now with your workforce spread across a variety of locations. Fujitsu can support the deployment of Office 365 with Teams or even migrate you to Teams if required, to ensure your workforce remains able to workshop, chat, call, co-author and most of all stay connected and engaged.
Communication is also critical when working remotely. Our Unified Comms as a Service enables workers to communicate via voice and video meetings while be able to collaborate on documents.
Fujitsu Selfoss is like having an on-demand IT support staff ready and waiting for you. Available to customers of any size – with one office in one country, or hundreds of sites around the globe. Selfoss portal allows us to quickly set up next business day onsite support service to provide eyes and hands on a T&M basis for user problems the service desk cannot fix.
Latest Expert Opinion Articles
Industry Research and Insights
Digital technology has been an enabler to support this essential, life-saving rapid change and will also play a role in supporting sustainable development for society in general, and more specifically in the workspace environment – wherever that should now be.
With every industry and function affected in a different way, we want to provide expert advice that can guide the sectors in this journey of transformation. We don't know what the future will bring but here are some futuristic day in the life scenarios that can provide useful insights on how organisations can prepare.
Sundar Viswanathan – Head of Portfolio, Digital Workplace Services
"It is now proven that a happy, productive and collaborative workforce delivers delightful customer experiences. Our mission is to work in partnership with our customers and partner eco-system to build smart, borderless and adaptive workplaces that support the work life shift experienced by the workforce and provide unparalleled user experience."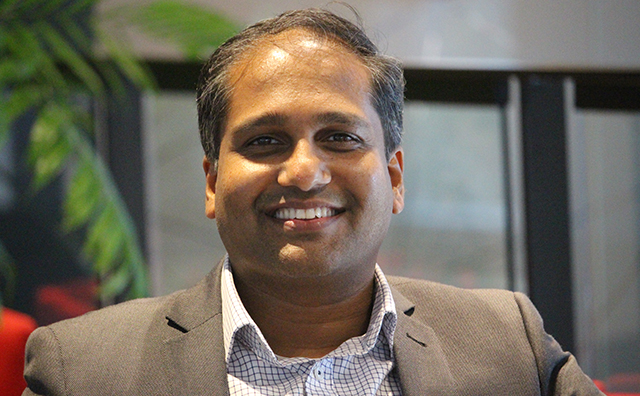 Get in touch
Let us assist you in solving your business challenges.
Thank you. We have received your request and will get back to you shortly.