Network-wide Optimization
End-to-end optimization of the whole ICT infrastructure leveraging FUJITSU Intelligent Networking and Computing Architecture (FINCA)
Software-Defined Connected Infrastructure (SDCI)
Fujitsu believes that future computing environments will be evolved into virtualized and distributed computing nodes connected across networks. The physical layer of computing nodes will be virtualized and managed and controlled optimally by intelligent software. Fujitsu calls this future vision for networking and computing infrastructure 'Software-Defined Connected Infrastructure'. To realize this vision we have developed an architecture we call 'FUJITSU Intelligent Networking and Computing Architecture'.
FINCA: the SDCI architecture
In FINCA, ICT is categorized into three areas based on the characteristics and requirements: data centers, WANs and smart devices. It is managed by separating each area into two layers: a virtual infrastructure and distributed service platform. This architecture enables the optimized and dynamic control of all ICT resources in response to the customers' business changes and service level requirements. As a result, customers can enjoy optimized services on-demand, anywhere and anytime, with improved quality of experience (QoE). Network operators can see end-to-end service quality and performance from datacenters to smart devices, and predict any network issues in advance, realizing a highly reliable and high quality network operation.
Integrating FINCA technologies to develop Network Functions Virtualization
With the advances in virtualization technologies, a new architecture called Network Functions Virtualization (NFV) has emerged. NFV virtualizes routers, switches and firewall on an industry-standard server, combined with software-defined networking technology to provide a real-time view of the entire network service. The FINCA architecture covers WANs as well as data centers. Fujitsu can realize NFV by integrating and optimizing the technologies in computing and networking.
Network-wide Optimization
Based on the FINCA architecture, Fujitsu has provided three products respectively for data center and WANs. In 2015, we plan to release a range of NFV products. In the second half of 2015, products in the smart device category will be introduced to realize end-to-end optimization of the total network from datacenters and WANs to smart devices.
---
FUJITSU Intelligent Networking and Computing Architecture
Fujitsu has proposed the 'FUJITSU Intelligent Networking and Computing Architecture' as a new architecture for next-generation ICT infrastructure. In alignment, Fujitsu plans to release products that will conform to this architecture across various areas of technology.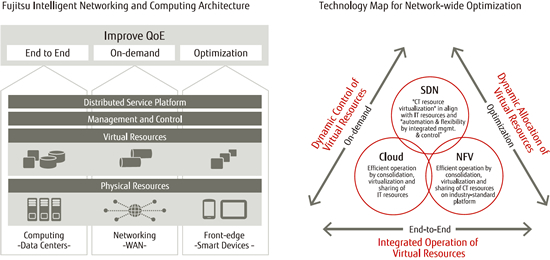 Large Image (234 KB)


Managed Infrastructure Services
Fujitsu's Managed Infrastructure Services provides a cost effective, reliable and flexible ICT infrastructure to customers. This infrastructure may be owned by the customer or Fujitsu on their behalf. Our services comprise Data Center Services, End User Services, Service Desk, Technical & Maintenance Services, Infrastructure as a Service, and Network and Communication.
Fujitsu's network services for inter-site communications, deliver a carrier-class network infrastructure combining cost competitiveness and security with high performance. (For a full description, please see the 'Mobility and Empowerment')
Fujitsu Wide Area Network (WAN) provides global connectivity. This includes Managed WAN, Managed Virtual Private Networks, Managed Wavelength and Managed Firewall Services together with Campus LAN Distributed LAN services.

Software
The penetration of broadband networks has led to an increase of digitized data flowing through networks. As a result, a variety of services are now provided over networks, such as IP telephony and video distribution services. As next-generation networks become increasingly important to society, network infrastructure has become large and complex. This has created a host of crucial issues for service providers. Issues include network operation and management and problem resolution methods, in addition to quality assurance for network services and infrastructure operation and management. To solve these issues, Fujitsu provides network service management software that enables operation and management and quality assurance for next-generation networks.
FUJITSU Network Proactnes series
Network Service Management Software for Enterprise
Dynamic Resource Management Software
Network Operation and Management Software
FUJITSU Software Systemwalker Network Manager
FUJITSU Software Systemwalker Network Assist
Network Service Management Software
Fujitsu supplies a comprehensive range of network products, including communications systems for carriers and network devices for enterprises. The former constitutes the backbone of our ICT-driven society, such as core networks, metro networks, and access networks. The latter is used to integrate internal networks within enterprises.
SDN/NFV related Software
Carrier Router
Fujitsu and Cisco CSR series
Fujitsu and Cisco XR12000 series
Optical Network System
Radio Access Network System
Router
LAN Switch
Security
Bandwidth Control
Load Balancer
IP Telephony
Unified Communication
Note: Availability featured here may differ by region.


Download Center
---

| | | | |
| --- | --- | --- | --- |
| Deel deze pagina via | | | |
Naar boven