Visualizing Farming Data for Better, More Sustainable Rice Crops [ Asahi Shuzo Co., Ltd. ]


Sake brewer Asahi Shuzo needed to ensure a stable procurement of sake rice for its Dassai brand sake. They implemented Akisai, Fujitsu's cloud service for the food and agricultural industries. Asahi Shuzo aims to increase total production of Yamada Nishiki, a variety of rice that is hard to grow. With this cloud platform, they collaborated with farmers, and agricultural businesses, sharing data, expertise and experiences in rice cultivation, and they will be able to offer the Dassai brand to a much wider market, across the world.
"We look to expand rice yields through numerical management by analyzing farm data, just as we do in our brewery. That way, we can share Dassai with more people around the world."
Hiroshi Sakurai, President
Sharing Dassai brand sake with the world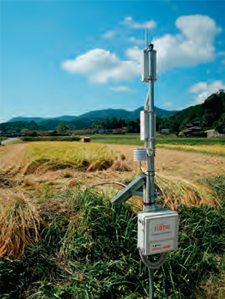 Asahi Shuzo Co., Ltd. is the brewer and distributor of Dassai, a sweet, full-bodied sake with a unique flavor that has achieved high acclaim both at home in Japan and abroad. Dassai has captivated sake fans all over the world, from the U.S., Germany and France to Monaco, Egypt and Hong Kong.
Demand for Dassai is extremely high, and Asahi Shuzo has always been challenged to keep pace with it.
Challenge to keep pace with the high demand
Dassai is a high quality sake, distinctive for its lack of impurities, and brewed from a rice called Yamada Nishiki. Over half of each rice grain is milled away, leaving only the savory center of the rice kernels. This makes Dassai a clear and full-bodied sake with glamorous aroma, however substantially more rice is needed per bottle than other sakes.
And Yamada Nishiki has always been a notoriously difficult variety of rice to produce. It is delicate and requires meticulous control of both water and fertilizer. It is not an easy rice variety for inexperienced farmers to break into either—most of the knowledge of growing it has been passed down from father to son. To make matters worse, many farmers have left the industry, and with numbers dwindling, the skills and experience to grow Yamada Nishiki were being lost.
Add to that a boom in the popularity of sake, and the pressures on supply were magnified. Asahi Shuzo took as many measures as they could. While sake is normally prepared in the winter and brewed through the spring, the company implemented a year-round brewing method to meet demand. In addition, they introduced careful measurement and data analysis into the process.
Even so, in 2013, Asahi Shuzo required 4,800 metric tons of Yamada Nishiki rice to meet its brewing needs. They fell short, only able to secure about half of this quantity. Asahi Shuzo could have raised the price of the brand, but they wanted to bring their brand to wider global market, so finding a way to secure the cultivation of the Yamada Nishiki became a priority.
Using farming data to make sake
The solution Asahi Shuzo found to meet this challenge was Fujitsu's Akisai. Akisai is Fujitsu's cloud service for the food and agricultural industries, bringing data and analytics to farm management. For Asahi Shuzo, who had already introduced some data-based methods, Akisai was a great fit.
The first step for Asahi Shuzo came in April 2014. Akisai was adopted by two rice farms, installing sensors in the paddy fields to measure air temperature, humidity, soil temperature, soil moisture and soil fertility, collecting data on an hourly basis. They also had cameras installed for fixed-point observation, capturing panoramic views of the fields every day to show daily changes. Akisai summaries of this work data now showed farmers how much of what kind of fertilizer was sprayed and when. All this was available at their fingertips, either on computer or smartphone.
Networking to expand Yamada Nishiki production yields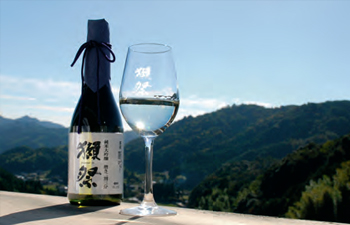 With this data, now farmers could determine the best timing for when to fertilize and harvest their crops. Armed with Akisai, now even farmers with no experience of growing Yamada Nishiki rice are supported to produce it in high enough yields.
Asahi Shuzo has begun a program of teaching courses in cultivating Yamada Nishiki rice as a new initiative for sharing data and developing knowledge in the industry. Through the data they collect using Akisai, they hope to expand the ecosystem and attract more Yamada Nishiki farmers, further increasing yields. Four new agricultural corporations are already set to join in on the movement from spring 2015.
Asahi Shuzo had a number of other supporters with high expectations for agricultural applications of ICT. For example, fertilizer manufacturers expected to find the Akisai data useful in developing fertilizers for Yamada Nishiki rice. Also, there is an opportunity to rejuvenate agriculture and local economies in remote, and mountainous regions. As the benefits of these ICT applications come into focus, agricultural ecosystems built on Akisai platforms will undoubtedly expand in the future.
---

| | | | |
| --- | --- | --- | --- |
| Deel deze pagina via | | | |
Naar boven