Transformation of Business and Work Style from a Cloud-based, Digital Service [ Alma Media Corporation ]


Alma Media, a Finnish media group, faces the challenge of declining print sales. Alma Media introduced the Cloud-based Managed Mobile services to reduce costs and increase efficiencies which means employees can work anywhere, anytime with any device of their choosing, transforming their work style. In addition, they can allocate more resources to its digital service business.
"Fujitsu has helped us with the constant development of our IT environment in a rapidly changing industry. Through the modern and reliable IT services provided by Fujitsu, we are on the right track in our efforts to achieve cost savings and an improved end user experience."
Juha Punnonen, CIO
Finding the right outsourcing partner
Alma Media is a strong regional and national media group in Finland with a range of well-known brands as the foundation of its operations. In 2003, Alma Media realized that a company of its size didn't have the resources for a fully dedicated IT department but still needed to provide IT support across its 50 locations and 1,600 users. It wanted to find a partner that could handle basic IT outsourcing, allowing it to concentrate on developing new strategic solutions. In 2004, following a tender process, it selected Fujitsu.
"There were only three vendors with the national scope to cover all our offices and, of those, only Fujitsu had an off-the-shelf, standardized package that was already serving tens of thousands of satisfied customers," explains Juha Punnonen, CIO, Alma Media. "Fujitsu took on responsibility for service desk, workplace management, networking and back-office infrastructure."
Since then, the relationship has deepened with Fujitsu taking on more responsibilities such as wireless deployments and SAP platform support. This helps Alma Media adapt quickly to the changing face of the newspaper industry. As an increasing number of readers turn to free online news sources and print sales decline, media companies are challenged to reduce costs and increase efficiencies.
"The media landscape has changed enormously since we began working with Fujitsu and the pressure to bring down costs without compromising the business is immense," says Punnonen. "Thankfully, Fujitsu has been instrumental in meeting this challenge."
Cloud, contact and mobile
Fujitsu provides ICT services to Alma Media in accordance with Fujitsu's Patja service model. This operating model offers reliable service for the customer, ensuring continued operation of the critical IT services. As part of the service, Fujitsu provides user support to Alma Media with a single point of contact for all IT concerns, providing skilled specialists for customer requirements on a 24/7 basis as well as regular automated software updates.
In addition, Fujitsu manages and operates Alma Media's datacenter services in a centralized manner, increasing the utilization of Cloud-powered services. Fujitsu also provides Alma Media with centralized SAP Contact Center services as well as a platform for the company's business critical regional newspaper online services, ensuring their availability 24/7.
"The largest value is the security that it gives us. The news industry cannot afford downtime and the morning paper has to land on the doorstep every morning. Fujitsu gives us that peace of mind," adds Punnonen. "Our papers are delivered seven days a week and people are reading the websites around the clock so the resilience provided by the Fujitsu data center is critical."
Most recently, Fujitsu has been involved in the deployment of Microsoft Office 365 and the introduction of a Managed Mobile strategy. It has also transferred help desk and server management services to offshore locations in Estonia, Poland and South Africa to further reduce costs.
Fujitsu constantly develops its existing service portfolio, bringing Alma Media various direct benefits, including increased end user satisfaction, cost-efficiency as well as improved application availability.
Moreover, Fujitsu has supported Alma Media with the expansion of its Monster recruiting portal business to several locations abroad.
Lower costs, better service
The partnership with Fujitsu has enabled Alma Media to introduce improved products and services at lower cost. For example, by migrating to the Cloud-based Microsoft Office 365, the company has reduced costs by 50% while doubling the capacity for users. And by offshoring support, costs have been lowered further while maintaining a high level of customer satisfaction. The new service model has also helped the company proactively reduce the number of help desk calls.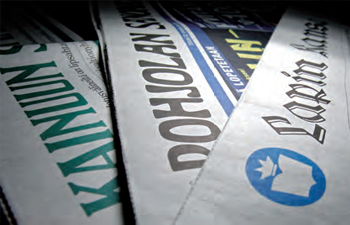 "We still have the best user support but we can make a significant impact on running costs and that come down to Fujitsu's global reach and the ability to seamlessly transition services to other locations," comments Punnonen. "And by migrating to Cloud-based services, we can make additional savings across the company. This means we can be more competitive in a cut-throat industry and that is vital."
Managed Mobile will also deliver tangible benefits. Alma Media does not want to dictate which mobile device its employees use but that raises challenges when it comes to supporting multiple vendors and models. Together with Fujitsu, the company will support all devices, which ensures optimal productivity for users.
"It is a flexible support platform that means our employees can use their devices to work from anywhere and do not have to worry if something goes wrong," continues Punnonen. "And it takes the pressure off my team and frees up resources to focus on adding strategic value to the company."
With Fujitsu as its IT service provider, Alma Media is able to concentrate more on improving its digital services business. Furthermore, the workplace and datacenter services and the new SAP Contact Center platform provided by Fujitsu enable the company to provide high-quality customer service for its subscribers and to develop new products to better meet the needs of those subscribers.
"We can sleep more soundly at night thanks to Fujitsu. It has taken on the burden of support across a huge number of critical areas and we are thus confident that if something does go wrong, it will be quickly fixed," concludes Punnonen. "And, rather than firefighting, my team can therefore focus on strategic development."
Services, Products and Solutions
The Customer : Alma Media Corporation

| | |
| --- | --- |
| Address | Helsinki, Finland |
| Founded | 1846 |
| Employees | 1,900 |
| URL | www.almamedia.com |
---

| | | | |
| --- | --- | --- | --- |
| Deel deze pagina via | | | |
Naar boven