Technology Challenges
Investing in new technologies for driving innovation while managing the complexity of existing IT systems
The traditional role of enterprise IT has been to improve - proceeding orders, managing production and supply chains and financial accounting. This style of IT is called Systems of Record (SoR). However, the growing complexity of these existing IT systems demands an enterprise to incur very high costs for just keeping the lights on.
As we move into a hyperconnected world, the value proposition of technology is changing. Its role is becoming human centric, to connect people. It also connects products, processes and physical infrastructure. The technology architecture that this capability calls for is Systems of Engagement (SoE).
An enterprise must maintain and streamline the existing SoR, while at the same time undertake to build a new SoE. How can you achieve these goals?
Read more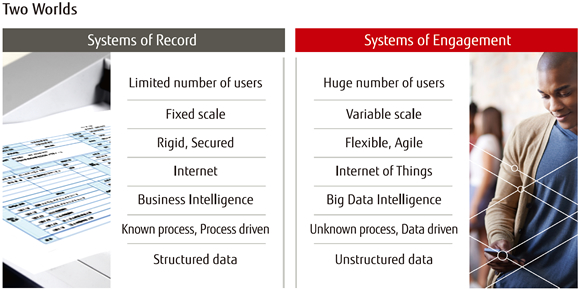 ---

| | | | |
| --- | --- | --- | --- |
| Deel deze pagina via | | | |
Naar boven