Hoe het werkt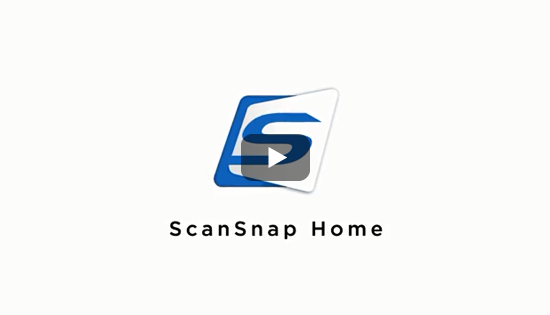 ScanSnap Home is software die speciaal ontworpen is voor scanners van ScanSnap en die u helpt verschillende soorten gescande gegevens eenvoudig te beheren, bewerken en gebruiken. In ScanSnap Home vindt u al uw favoriete functies en kunt u uw documenten, bonnetjes, visitekaartjes, foto's en nog veel meer beheren binnen één toepassing.
Documenten
Gebruik tags om snel dat recept of die vergaderingsagenda van vorige week terug te vinden.

Bonnetjes
Houd elke maand uw bonnetjes bij, zodat u altijd een overzicht heeft van uw uitgaven.

Visitekaartjes
Vind meteen de juiste contactgegevens dankzij software die opgeslagen gegevens ordent op basis van bedrijfsnaam en veel meer.

Foto's
Maak een origineel album en deel dierbare herinneringen met uw familie en vrienden.

*ScanSnap Home werkt met met ScanSnap iX1500, iX500, iX100, S1300i, S1100i en SV600.
Eén plek voor alle ScanSnap-activiteiten
ScanSnap Home maakt terugkerende taken zoals het sorteren, opslaan, ordenen en koppelen van gescande gegevens met andere toepassingen wel heel gemakkelijk. ScanSnap Home leert van alles wat u doet. Dus hoe vaker u het programma gebruikt, hoe beter het u kan helpen.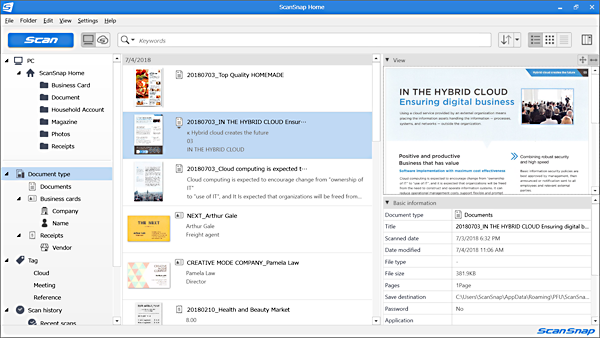 Eenvoudig grote hoeveelheden scannen
U kunt moeiteloos grote hoeveelheden documenten scannen, van kleurenfoto's tot dubbelzijdige liggende documenten. Dankzij de intelligente functies voor automatische afbeeldingsverwerking, zoals kleurdetectie, formaatdetectie, draaien en rechtzetten en verwijdering van lege pagina's kunt u alles scannen zonder instellingen aan te hoeven passen.

Minder tijd kwijt aan bestandsnamen
ScanSnap Home stelt bestandsnamen voor op basis van de tekst op uw gescande documenten, zoals winkel- en bedrijfsnamen. Niet alleen neemt de nauwkeurigheid van de informatie toe naarmate u meer scant, de wijzigingen die u aanbrengt in bestandsnamen worden ook bijgehouden voor latere naamsuggesties.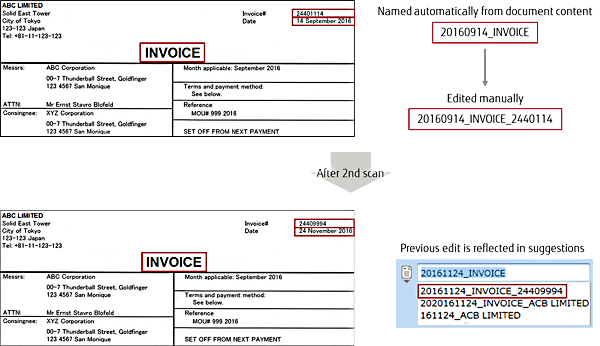 Minder tijd kwijt aan correcties
Correcties die u aanbrengt, bijvoorbeeld in bedrijfsnamen op gescande visitekaartjes, zijn terug te zien in de volgende scans die bij hetzelfde bedrijf horen. Daardoor hoeft u niet na elke scan dezelfde handelingen uit te voeren.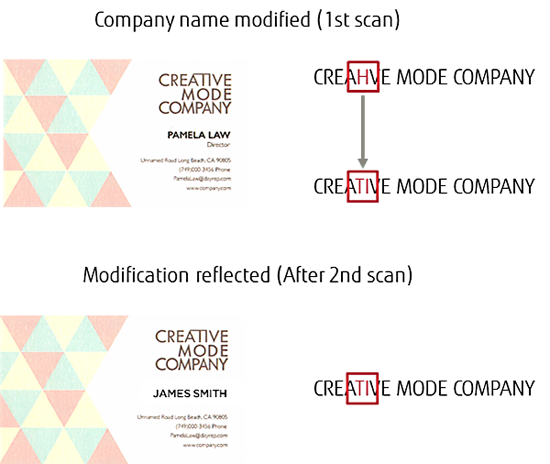 Minder tijd kwijt aan het zoeken naar bestanden
Gescande gegevens worden automatisch herkend en ingedeeld in vier categorieën: documenten, bonnetjes, visitekaartjes en foto's. U bent zelf geen tijd meer kwijt aan het sorteren van de gegevens.
Dankzij de software kunt u snel grote hoeveelheden gegevens doorzoeken op basis van zoekwoorden. Omdat de software informatie in zowel pdf- als jpeg-bestanden herkent en mappen en tags aanmaakt, kunt u informatie eenvoudig terugvinden.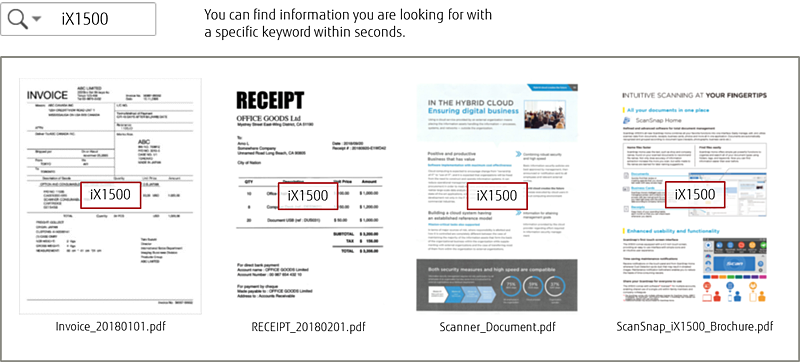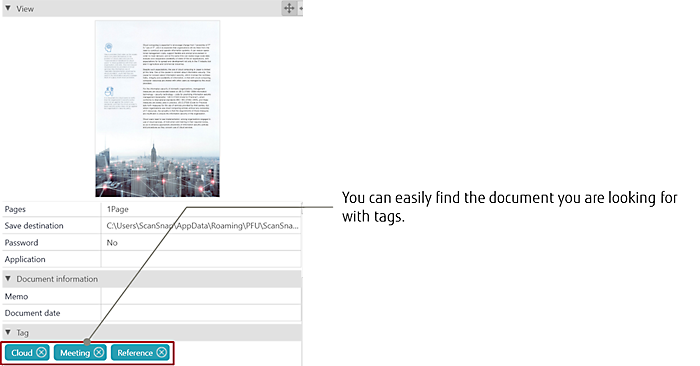 Systeemvereisten
Raadpleeg de specificaties van alle ScanSnap-modellen.
Documenten/visitekaartjes (ondersteunde talen)

| | |
| --- | --- |
| Documenten | Engels, Duits, Frans, Italiaans, Spaans, Portugees, Russisch, vereenvoudigd Chinees, traditioneel Chinees, Koreaans, Japans, Zweeds, Noors, Fins, Turks, Nederlands, Deens, Grieks, Hongaars, Pools, Tsjechisch, Roemeens, Arabisch, Vietnamees, Thais, Indonesisch |
| Visitekaartjes | Engels, Duits, Frans, Italiaans, Spaans, Portugees, Russisch, vereenvoudigd Chinees, traditioneel Chinees, Koreaans, Japans |
Bonnetjes (ondersteunde landen/talen/valuta)
Land
Taal
Valuta
USA
Engels
USD
Canada
Engels
CAD
Frans
VK
Engels
GBP
Duitsland
Duits
EUR
Frankrijk
Frans
Italië
Italiaans
Spanje
Spaans
Portugal
Portugees
Rusland
Russisch
RUB
Australië
Engels
AUD
China
Vereenvoudigd Chinees
CNY
Taiwan
Traditioneel Chinees
TWD
Zuid-Korea
Koreaans
KRW
Singapore
Engels
SGD
Japan
Japans
JPY
*Gegevensoverdracht vanuit gebruikelijke software kan uitgevoerd worden met de volgende software.
Windows: ScanSnap Organizer V4.1 of hoger, CardMinder V4 of 5 en ScanSnap Receipt V1.
Mac: ScanSnap Organizer V1.1 of hoger, CardMinder V1 of 5 en ScanSnap Receipt V1.