Overzicht
Informatiebeheersystemen vereisen dat de gebruikers bereid zijn om dergelijke systemen en opslagbanken te delen, te gebruiken, te onderhouden en te beheren. Interne informatiewerkers hebben daarom snel en eenvoudig toegang tot de relevante informatie nodig.
Gegevens - en in het bijzonder de verzameling van documenten - vormen de basis van een effectief systeem. Hoewel interne bedrijfsdocumenten vaak worden gedigitaliseerd en gedurende hun levenscyclus alleen digitaal worden bewaard, verloopt een groot deel van de externe communicatie nog via papieren media. Documenten als cheques, facturen, formulieren en correspondentie moeten eerst worden gedigitaliseerd om de informatie in te voeren in elektronische archieven en portals, of om die inhoud in elektronisch ondersteunde workflows opnieuw te gebruiken.
ECM-systemen zoals SharePoint faciliteren de mogelijkheid om gegevens te integreren, ongeacht de bronmedia. De combinatie met Fujitsu-documentscanners draagt bij aan een betere samenhang tussen media in de informatielevenscyclus. Papier en de informatie daarop krijgen echter meer waarde als en wanneer ze worden gescand en vastgelegd:
Voldoen aan regelgeving en interne bedrijfsvereisten
Lagere verwerkingskosten
Verhoogde productiviteit
Snellere verwerkingstijd
Betere verwerkingskwaliteit
SharePoint biedt een platform voor een productiever gebruik van informatie, bijvoorbeeld voor de optimalisatie van bedrijfsprocessen, visuele referentie, samenwerking en eenvoudige toegang tot documenten. Maar de doorslaggevende factor van SharePoint is de snelle en gelijktijdige bruikbaarheid van documenten, informatie en gegevens door verschillende gebruikersgroepen en voor verschillende operationele doeleinden. Dat geldt nu ook voor papieren documenten.
Beknopt overzicht
Scannen naar SharePoint maakt het mogelijk om documenten direct en intelligent te importeren in meerdere lokale of externe SharePoint-servers (inclusief indexgegevens).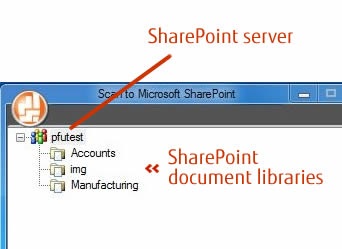 Werking
Zodra gescande afbeeldingen beschikbaar zijn voor import, wordt het SharePoint-connectorscherm weergegeven waarin u de specifieke SharePoint-server voor de import kunt selecteren.
De SharePoint-connector communiceert vervolgens direct met die server om de voor import beschikbare SharePoint-documentbibliotheken vast te stellen.
Op hetzelfde moment worden de indexgegevens opgevraagd en verzameld die voor de geselecteerde SharePoint-documentbibliotheek nodig zijn om een document te kunnen importeren.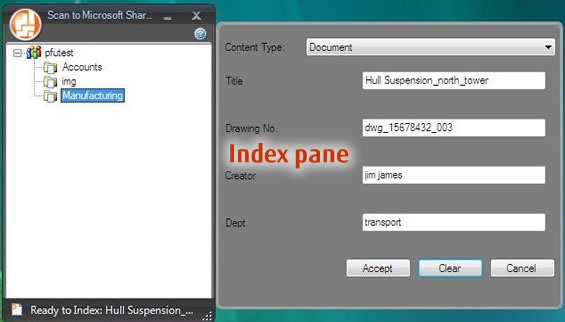 Nadat u de doeldocumentbibliotheek hebt gekozen, wordt in een indexdeelvenster om de vereiste indexgegevens gevraagd.
Na invoering en acceptatie van de indexgegevens wordt het document automatisch en naadloos naar de SharePoint-server overgezet.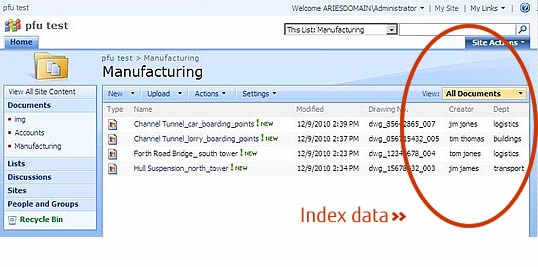 Fujitsu ondersteunt al veel langer het eenvoudig uploaden van papieren documenten naar Microsoft SharePoint Portal-oplossingen. Nu gaat het proces met deze SharePoint-connector een stap verder dan alleen scannen en de daaropvolgende handmatige bestandsoverdracht. U kunt nu ook de beoogde SharePoint-server kiezen, de bibliotheek selecteren en direct alle indexvelden zien die zijn ingesteld voor die specifieke bibliotheek. U voert de indexgegevens in en importeert een gekwalificeerd document dat anderen gemakkelijk kunnen vinden met de reguliere SharePoint-zoekfuncties.
Fujitsu-documentscanners zijn de ultieme oplossing om papieren documenten in SharePoint op te nemen.
Alle namen, namen van fabrikanten, merken en productontwerpen zijn onderhevig aan speciale handelsmerkrechten en zijn het handelsmerk van de fabrikant en/of het gedeponeerde handelsmerk van de respectieve eigenaars. Alle indicaties zijn niet-bindend. Technische gegevens kunnen zonder voorafgaande kennisgeving worden gewijzigd.