Overzicht
PaperStream NX Manager is serversoftware voor naadloze integratie met verschillende clientsystemen en -toepassingen. Met deze software kunnen gebruikersverificatie, taakmenu's en andere scaninstellingen voor omgevingen met meerdere scanners centraal worden beheerd. De installatiekosten en operationele kosten van deze veelzijdige en efficiënte software zijn significant lager dan die van traditionele systemen.
Taken maken en verdelen
Scannen vanaf de scanner
Scannen vanaf een computer / mobiel apparaat / thin client
Verschillende methoden voor gebruikersverificatie
Gescande afbeeldingen naar clientsystemen versturen
Scanstatus controleren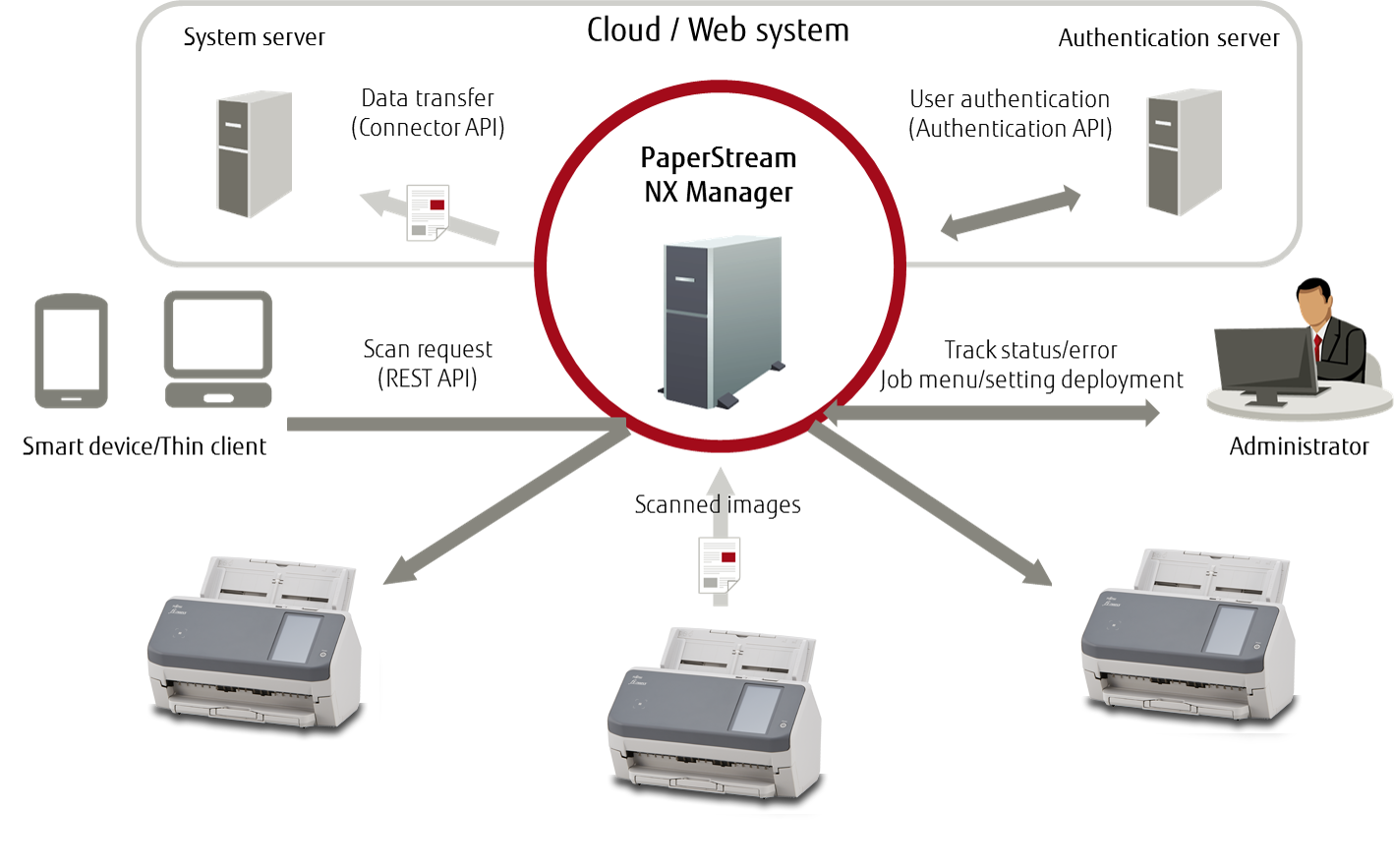 Functies
Aangepaste taken voor hogere productiviteit
Beheerders kunnen taakgroepen maken en indelen per gebruikersgroep. Gebruikers kunnen dan snel hun eigen taken selecteren, zonder lang te hoeven zoeken tussen taken van anderen. Er kunnen maximaal 100 taakgroepen worden gemaakt.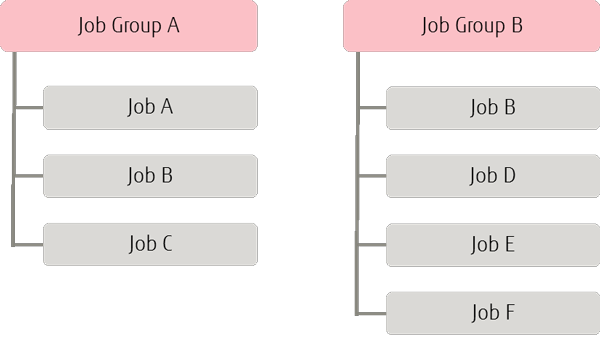 U kunt elke taak voorzien van een unieke naam, beschrijving, bestandsindeling en nog veel meer. De beschikbare bestandsindelingen zijn PDF*1, SinglePage PDF*1, Tagged Image File Format, MultiPage Tagged Image File Format en JPEG*2.
*1 Doorzoekbare PDF en PDF/A worden niet ondersteund
*2 Alleen beschikbaar bij afbeeldingen in kleur en in grijstinten.
Scannen vanaf scanners en mobiele apparaten
Gebruikers kunnen documenten scannen en opslaan zonder een computer te gebruiken. Hierdoor bespaart u kosten voor extra werkzaamheden op de computer en computeronderhoud.
U kunt ook scannen vanuit mobiele of webgebaseerde apps op mobiele apparaten en thin clients* en dankzij de naadloze integratie met bedrijfssystemen kunnen gebruikers verschillende apparaten gebruiken om te scannen.
*Gebruik van de REST API vereist.
Gebruikersverificatie voor efficiënte en veilige gegevensinvoer
Voor een efficiënte en veilige gedecentraliseerde gegevensinvoer zijn er verschillende verificatiemethoden beschikbaar, zoals een taakgroepcode, gebruikersnaam en wachtwoord en NFC*.
*Gebruik van de Authentication API vereist.
Voorbeeld op het fi-7300NX touchscreen: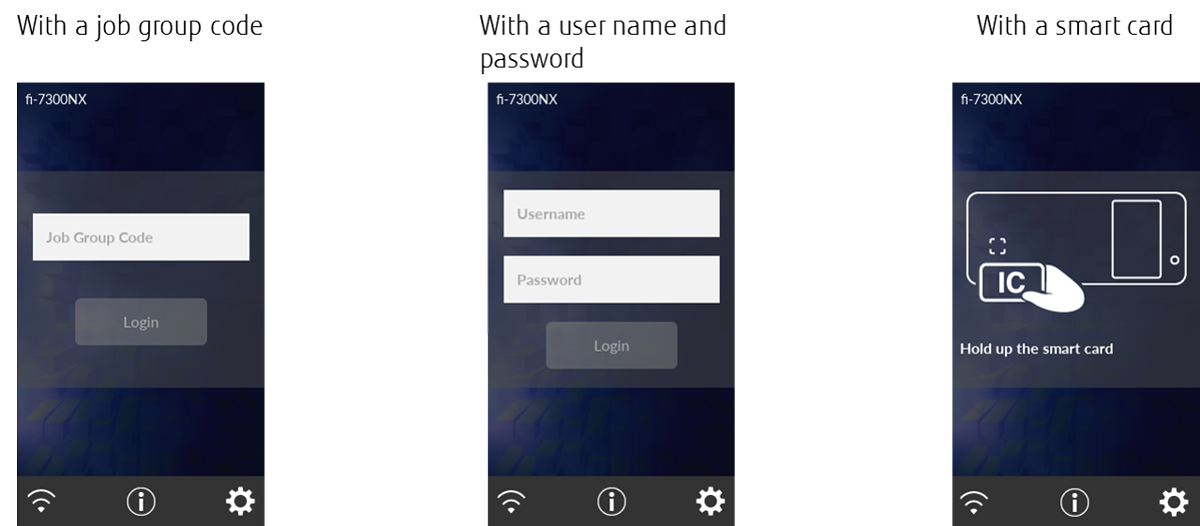 Hoge kwaliteit voor efficiënte gegevensverwerking
Het afbeeldingsverwerkingsproces van PaperStream IP is ook beschikbaar in PaperStream NX Manager. Het stuurprogramma zet afbeeldingen automatisch om in uitzonderlijk scherpe beelden, waardoor de afbeeldingen direct en zonder verdere aanpassingen geschikt zijn voor OCR-processen.
Naadloze gegevensopslag op verschillende plekken
Met PaperStream NX Manager kunt u kiezen waar u de scans wilt opslaan. Bijvoorbeeld in SharePoint, SharePoint Online, FTP, FTPS en e-mail. Als de Connector API wordt gebruikt, kunnen gebruikers de gescande afbeeldingen ook opslaan op hun eigen systemen.
Eenvoudig taakbeheer voor beheerders
Met PaperStream NX Manager kunnen gebruikers de status van het scanproces bekijken, controleren en beheren. Ze krijgen bovendien meldingen over eventuele storingen, zodat de gegevensverwerking soepel verloopt.
Specificaties
Software
Besturingssysteem
Windows Server 2012
Windows Server 2012 R2
Windows Server 2016
.NET Framework
.NET Framework 4.5.2
.NET Framework 4.6
.NET Framework 4.6.1
.NET Framework 4.6.2
.NET Framework 4.7.1

Webserver
Internet Information Services 8.0 of hoger
Andere software
SQL Server 2014 Express Edition(1)
Browser
Internet Explorer 10
Internet Explorer 11
Hardware
Processor
3,5 GHz quad-core processor of hoger
Geheugen
Minimaal 16 GB
Schijfruimte
Minimaal 120 GB vrije schijfruimte
Overig
Registreerbare eenheden
Tot 1000 scannereenheden
Registreerbare gebruikers
Tot 3000 gebruikers per server
Aantal taken
Tot 1000 taken
Indien SQL Server 2014 Express Edition nog niet is geïnstalleerd, wordt deze tegelijk met NX Manager geïnstalleerd.