Overzicht
Veelzijdige scanner speciaal afgestemd op kleine kantoren
Plaatsen en openen van de scanner

Scant beide zijden van een document in één keer
Kan overal worden geplaatst

Scanprestaties

Hoge scansnelheid van 25 ppm/50 ipm
Efficiëntie dankzij de combinatie van flatbed en automatische documentinvoer
Een breed scala van scanoplossingen beschikbaar

Wordt geleverd met PaperStream IP voor de SP-serie en PaperStream Capture Lite
Kenmerken
Plaatsen en openen van de scanner
Onvoldoende ruimte is geen probleem dankzij het compacte ontwerp van de SP-1425. Deze scanner is ontworpen voor gebruik in allerlei situaties, waaronder op plaatsen waar de ruimte beperkt is.
Scant beide zijden van een document in één keer
De ADF, die een dubbelzijdige scanfunctie heeft, en de flatbed zijn samengevoegd tot één compacte scanner.
Kan overal worden geplaatst
De scanner kan worden gebruikt voor alle zakelijke doeleinden, zoals het scannen van documenten voor administratief werk op kantoor en voor identificatie/toepassing bij een ontvangstbalie.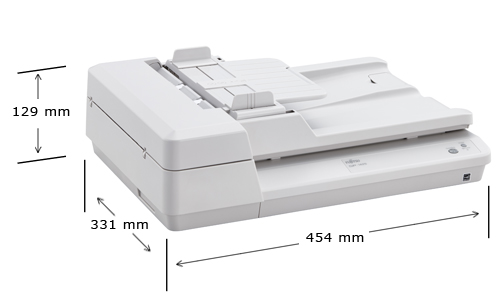 Scanprestaties
Een allround model met uitstekende bediening. De scanner met de flatbed en de ADF, die een betrouwbare papierinvoerfunctie heeft, ondersteunt uw eisen voor het verhogen van de efficiëntie binnen uw bedrijf door te voldoen aan uw behoeften voor het scannen van verschillende documenten.
Hoge scansnelheid van 25 ppm/50 ipm
Snelle scanmogelijkheid voor dubbelzijdig scannen met de ADF, 25 ppm/50 ipm (A4 staand, 200 dpi kleur/300 dpi) is ingeschakeld.
Efficiëntie dankzij de combinatie van flatbed en ADF
De SD-1425 is uitgerust met een ADF en flatbed en kan verschillende documenten scannen, van papierstapels tot kunststof kaarten * en paspoorten.


* Alleen flatbed

Nuttige scanoplossingen beschikbaar
De meegeleverde software werkt samen met uw zakelijke systeem, waardoor u deze oplossingen met gemak kunt gebruiken en zo uw bedrijf verbeteren en efficiënter maken.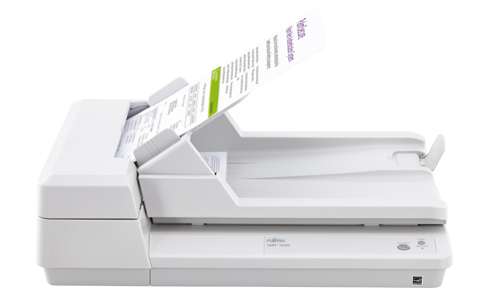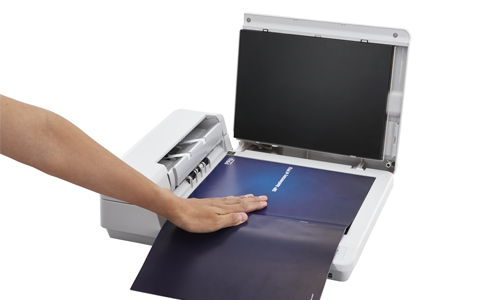 Meegeleverde software-oplossingen
Softwareprogramma's die kunnen worden gebruikt voor uw bedrijf, worden met deze scanner meegeleverd. De eenvoudig te begrijpen UI's en de geavanceerde beeldverwerkingsfunctie verbetert de efficiëntie van uw werk, om zo de productiviteit aanzienlijk te verhogen.
PaperStream IP voor de SP-serie produceert automatisch beelden van de grootste helderheid
PaperStream IP voor de SP-serie heeft hoge niveaus van beeldverwerking bereikt. Dit is een scanner driver met ondersteuning voor TWAIN/ISIS™, zodat moeiteloos verschillende documenten automatisch kunnen worden omgezet in beelden van hoge kwaliteit. Het configureren of aanpassen van de instellingen op het type of de staat van een document is overbodig. Hiermee kunnen duidelijke afbeeldingen worden gemaakt die geschikt zijn voor nabewerking met bijvoorbeeld OCR.
PaperStream Capture Lite is gespecialiseerd in routinematige scans
"PaperStream Capture Lite" brengt een naadloze koppeling met PaperStream IP tot stand, en is een gebruiksvriendelijke toepassing voor het scannen van documenten waardoor de productiviteit wordt verhoogd. Bovendien is deze toepassing gericht op routinematige scans, zoals batches scannen, en heeft eenvoudig te begrijpen UI's voor gebruikers en beheerders, hetgeen het niveau van zakelijke efficiëntie verhoogt.
Doorzoekbare documenten mogelijk gemaakt met Abbyy® Finereader™ Sprint
Een OCR-toepassing om afbeeldingen die met de SP-1425 worden gescand, te converteren naar Word/Excel®-documenten. Nadat de gescande afbeeldingen zijn geconverteerd naar deze documentformaten, kunnen ze eenvoudiger worden bewerkt als Word/Excel-bestanden dan als PDF-bestanden, hetgeen de efficiëntie verhoogt.
Specificaties
Omschrijving
SP-1425
Ondersteunde besturingssystemen
Windows® 11, Windows® 10, Windows® 8.1, Windows® 7, Windows Server® 2022, Windows Server® 2019, Windows Server® 2016, Windows Server® 2012 R2, Windows Server® 2012, Windows Server® 2008 R2, Linux (Ubuntu)
Scannertype
Automatische documentinvoer (ADF) en flatbed
Scanmodi
Enkelzijdig / Dubbelzijdig, Kleur / Grijstinten / Monochroom
Beeldsensortype
Eenregelige CMOS-CIS x 2 (1 aan voorzijde/flatbed, 1 aan achterzijde)
Lichtbron
R, G, B, LED x 2 (1 aan voorzijde/flatbed, 1 aan achterzijde)
Dubbele invoerdetectie
Ultrasone sensor voor detectie van meervoudige invoer x 1
Documentgrootte
ADF
Maximum
216 x 356 mm (8,5 x 14 inch)
Minimum
114 x 140 mm (4,5 x 5,5 inch)
Lange pagina's scannen

(1)

216 x 3048 mm (8,5 x 120 inch)
Flatbed
Maximum
216 x 297 mm (8,5 x 11,7 inch)
Minimum
25,4 x 25,4 mm (1 x 1 inch)
Papiergewicht
(dikte)

(2)

Papier
52 tot 127 g/m 2 (14 tot 34 lb)
Plastic kaart
Niet ondersteund
Draagvel
Niet ondersteund
Scansnelheid
(A4, staand)

(3)

ADF
Kleur

(4)

Enkelzijdig: 25 ppm (200 dpi / 300 dpi)
Dubbelzijdig: 50 ipm (200 dpi / 300 dpi)
Grijstint

(4)

Monochroom

(5)

Flatbed
Kleur

(4)

4 seconden (200 dpi / 300 dpi)
Grijstint

(4)

Monochroom

(5)

Capaciteit van papiergeleider (A4 staand)

(6)

50 vel (A4: 80 g/m2 of 21 lb)
Verwacht dagelijks volume
4.000 vellen/dag
Achtergrondkleuren
ADF
Wit
Flatbed
Zwart
Optische resolutie
600 dpi
Uitvoerresolutie

(7)

Kleur (24-bits)
50 tot 600 dpi (aanpasbaar in stappen van 1 dpi), 1200 dpi (driver) (8)
Grijstinten (8-bits)
Monochroom (1-bit)
Uitvoerformaat

(9)

Kleur
24-bits
Grijswaarden
8-bits
Zwart-wit
1-bit
Interne videoverwerking
65.536 niveaus (16-bits)
Interface
USB2.0 / USB1.1
Vorm aansluiting
B-type
Functie voor beeldverwerking
Beeldbenadrukking, foutdiffusie, rasteren, dynamische drempel (iDTC), statische drempel, geavanceerde DTC, SDTC, descreening, drop-out kleur (rood, groen, blauw, wit, geen, verzadiging, aangepast), automatische kleurdetectie, uitvoer van meerdere beelden, blanco-paginaherkenning, sRGB-uitvoer, beeld splitsen, verticale strepen onderdrukken, randen opvullen, automatische papierformaatherkenning
Voedingsvereisten
Wisselstroom 100 tot 240 V, ±10%
Energieverbruik
In gebruik: 16 W of minder
In slaapstand: 2,9 W of minder
In automatische stand-bymodus (uit): 0,5 W of minder
Bedrijfsomgeving
Temperatuur: 5 tot 35 °C (41 tot 95 °F)
Relatieve vochtigheid: 20 to 80% (zonder condensatie)
Afmetingen: breedte x diepte x hoogte

(10)

454 x 331 x 129 mm (17,9 x 13 x 5,1 inch)
Gewicht
4,3 kg (9,5 lb) of minder
Meegeleverde software/stuurprogramma's
PaperStream IP (TWAIN /TWAIN x64/ISIS) voor de SP-serie, PaperStream Capture Lite, Presto!™ PageManager™, ABBYY™ FineReader™ Sprint, Scanner Central Admin Agent, softwarebedieningspaneel, foutherstelhandleiding
Milieutechnische naleving
ENERGY STAR® en RoHS
Bijbehorende items
Kusseneenheid, netadapter, AC-kabel, USB-kabel, installatie-dvd-rom, infoblad snelle installatie meegeleverde voorwerpen
[Note]
Scannen van lange pagina's wordt ondersteund voor documenten met een lengte tot 3048 mm (120 inch) wanneer de resolutie is ingesteld op 200 dpi of minder.
Het papiergewicht geldt alleen voor de ADF.
De daadwerkelijke scansnelheden worden beïnvloed door de tijd die nodig is voor gegevensoverdracht en verwerking door de software.
De vermelde snelheden zijn bij gebruik van JPEG-compressie.
De vermelde snelheden zijn bij gebruik van TIFF G4-compressie.
De maximumcapaciteit hangt af van het papiergewicht.
Instelbare maximale dichtheid kan variëren afhankelijk van de lengte van het gescande document.
Bij het scannen met hoge resolutie (meer dan 600 dpi) gelden bepaalde beperkingen voor de grootte van het document dat kan worden gescand, afhankelijk van de systeemomgeving.
De bitwaarde van het uitvoerformaat geeft de waarde aan van de verwerking door het stuurprogramma.
Exclusief de papierbaan van de ADF.
Verbruiksartikelen en opties
Verbruiksartikelen
Reinigingskits voor SP-serie
Verbruiksartikelen voor SP-1425
Opties
| Onderdeel | Onderdeelnummer | Opmerkingen |
| --- | --- | --- |
| Paperstream Capture for SP Series | PA43201-2502 | PaperStream Capture for SP Series upgradet de meegeleverde versie van Paperstream Capture Lite naar de volledige PaperStream Capture-software, inclusief extractie van single-field metadata uit streepjescode of zonal OCR. De software ondersteunt het maken van PDF, PDF/A-bestandsindelingen als statische beeldbestanden en doorzoekbare PDF-bestanden. |
Garantie
Standaard Garantie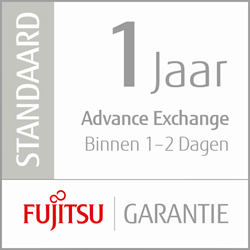 Beschrijving:
1 Jaar Advance Exchange: Binnen 1-2 dagen.
Inbegrepen in de productprijs.

Verlengde Garantie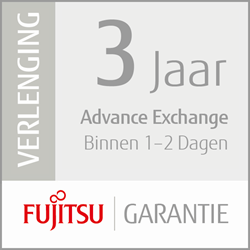 Beschrijving:
3 Jaar Verlengde Garantie: Advance Exchange - Binnen 1-2 dagen.

Bestellen op onderdeelnummer:
U3-EXTW-OFF