FUJITSU Network Scanner N1700E
Overzicht
Uitgerust met netwerkfuncties om het delen van informatie gemakkelijker dan ooit te maken
De N7100E-netwerkscanner beveiligt stand-alone netwerkactiviteiten en verbetert bedrijfsprocessen met scansnelheden van 25 ppm/50 ipm (A4 staand, 200/300 dpi), ADF-capaciteit van 50 vellen.
Eenvoudige bediening van groot aanraakscherm en toetsenbord op het scherm.
Aanpasbaar taakmenu op het aanraakscherm
Voorziet in talrijke veiligheidsmaatregelen
De toepassing kan in de scanner worden geïntegreerd met exclusieve SDK (voor Windows)
De functie Admin Tool en de Scanner Central Admin-server voor gecentraliseerd beheer
Inclusief USB-poort om apparaten aan te sluiten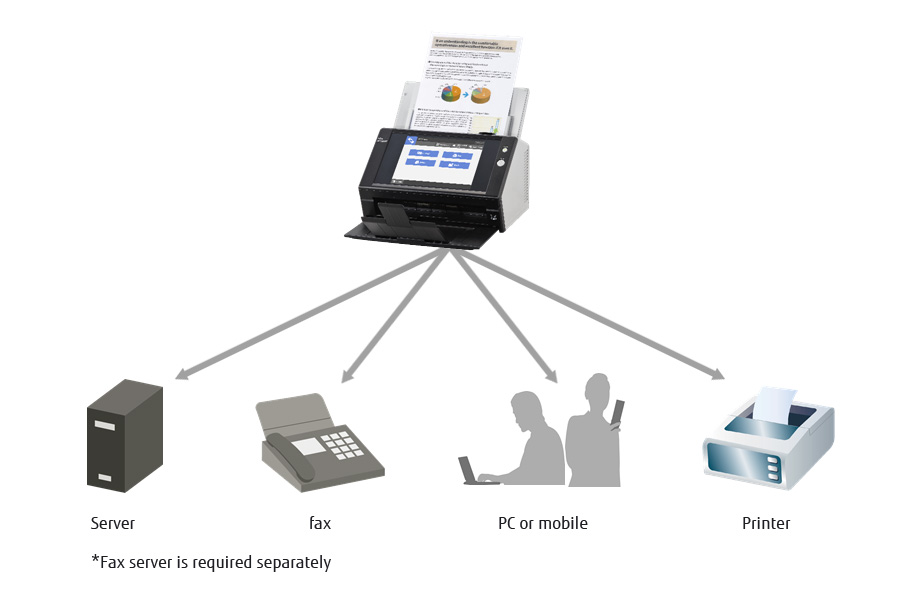 Functies
Eenvoudige stand-alone bediening met een groot beeldscherm
De N7100E is compact: de scanner, computer en het grote scherm met geïntegreerd toetsenbord zijn allemaal gecombineerd, waardoor hij prettig ruimtebesparend is. Gebruikers kunnen scannen, gegevens opslaan en verzenden zonder een computer te hoeven gebruiken.
Hoge scansnelheid die het scannen van kaarten ondersteunt
Gebruikers kunnen tijdens zware werkzaamheden snel scannen met het nauwkeurige en stabiele netwerkmechanisme dat het scannen van dun tot dik papier en plastic kaarten ondersteund.
Plastic ID-kaarten en aanvraagformulieren kunnen bij het loket gemakkelijk samen worden gescand.
Hoge beveiliging, aangepast aan de gebruikersomgeving
De scanner biedt tal van veiligheidsmaatregelen om volledige gegevensbescherming te garanderen, vooral wanneer hij door meerdere gebruikers wordt gedeeld. Deze veiligheidsmaatregelen kunnen worden toegepast naar gelang van de feitelijke behoeften van de gebruikers en hun omgeving. De scanner voert niet alleen vóór het scannen een verificatie uit, deze zorgt ook voor automatische gegevenscodering tijdens de verwerking en gegevensverwijdering na het scannen.
Aanmeldingsverificatie
Zorgt voor strenge controle over wat mensen met de scanner kunnen doen.

Codering
Gescande gegevens worden gecodeerd en tijdelijk in de scanner opgeslagen tijdens de verwerking voor e-mail, faxen, afdrukken of opslag.

Beveiliging gegevensoverdracht
De scanner ondersteunt strenge beveiligingsprotocollen: LDAPS, HTTPS en FTPS

Verwijdering van gescande gegevens
Tijdelijk opgeslagen gescande gegevens worden automatisch uit het interne geheugen verwijderd zodra de gescande gegevens zijn gemaild, gefaxt, afgedrukt en opgeslagen in een netwerkmap.

Veilige initialisatie
Wanneer de N7100E is geïnitialiseerd, kunnen beschikbare delen van het interne geheugen worden overschreven met volledig willekeurige en betekenisloze gegevens. Een nieuwe coderingssleutel wordt gegenereerd nadat gebruikersinformatie is gewist. Al deze maatregelen zorgen ervoor dat geen enkel spoor van oude gebruikersgegevens uit het open geheugen kunnen worden teruggehaald.

Perfecte vormgeving, aangepast aan uw unieke behoeften
Beheerders kunnen het taakmenu op het scherm en de scaninstellingen aanpassen aan het werk van een specifieke gebruiker of gebruikersgroep die op de scanner is geregistreerd.
Aangepaste bediening met één druk op de knop
Gebruikers kunnen de 'taakknop' in het taakmenu aanpassen. Ze kunnen op de scanner inloggen en op het touchscreen van de N7100E een taak uit hun gepersonaliseerde taakmenu's selecteren. Het aangepaste taakmenu zorgt voor efficiëntie en biedt elke gebruiker de mogelijkheid gedecentraliseerde gegevensinvoer te beveiligen.
Gepersonaliseerde toepassingen met SDK
>De toepassing van de gebruiker kan als toegevoegde software in de scanner worden geïntegreerd met behulp van de Network Scanner Control SDK (voor Windows®). Toegevoegde toepassingen worden in het taakmenu weergegeven.
USB-poort voor optionele USB-apparatuur
>De scanner ondersteunt een USB-poort, zodat het hardwaretoetsenbord, de muis en andere USB-apparatuur zoals een contactloze IC-kaart voor diverse doeleinden, zoals persoonlijke identificatie, kunnen worden aangesloten. Het toestel kan voor elke werkomgeving als flexibele terminal functioneren.
* Alleen toetsenbord/muis worden ondersteund.
Bij gebruik van andere USB-apparaten zoals de IC-kaartlezer, is de ontwikkeling van een invoegtoepassing nodig met behulp van Network Scanning Control SDK (gratis download).
* Aanvullende ontwikkeling van de ingebouwde invoegtoepassing voor het N7100E 32-bits stuurprogramma is vereist om de toepassing met de N7100E te gebruiken.
* Om aan het veiligheidsbeleid te voldoen, kan anti-virussoftware worden geïnstalleerd als een optie om de functies veilig uit te breiden.

Geavanceerde software voor efficiënt werken
Scannergebruik bewaken met Scanner Central Admin
Scanner Central Admin* is gespecialiseerd in gecentraliseerd beheer van meerdere scanners, met inbegrip van batch-updates van scannerinstellingen en firmware, alsmede bewaking van fouten en status van verbruiksartikelen. De software kan daarnaast tot 1.000 scanners per server beheren.
*Om Scanner Central Admin te gebruiken in Windows gebruik, moet een CAL (Licentie voor klanttoegang) worden aangeschaft. Voor meer informatie over de CAL neemt u contact op met Microsoft.
Specificaties
Product Name
N7100E
Scanner Type
ADF (Automatic Document Feeder), Duplex
ADF Capacity
50 x A4: 80 g/m²
50 x Letter 20 lb
Scanning Colour Modes
Colour, Greyscale, Monochrome, Automatic (Colour / Greyscale / Monochrome detection)
Optical Resolution
600 dpi
Image Sensor Type
Colour Contact Image Sensor (CIS)
Light Source
3 Colour (RGB) LED (Front & Back)
Scanning Speed (A4 Portrait)
Simplex: 25 ppm
Duplex: 50 ipm
Media Support
Standard sizes
A4, A5, A6, B5, B6, Business Card, Post Card, Letter, Legal and Custom Size.
Custom Sizes
Minimum: 50.8 mm (2 inch) x 50.8mm (2 inch)
Maximum: 216mm (8.5 inch) x 355.6mm (14 inch)
Manual Feed Paper Sizes
Paper Sizes with optional Carrier Sheet
A3, B4, Double Letter, Photographs and all the document sizes that are listed above.
Paper Weight
40 g/m² - 209 g/m²
Long Page Scanning
3,048 mm (120 ")
Card Scanning
Card with the size specified in ISO7810 (85.6 mm x 53.98 mm) with a thickness of 0.76 mm is applicable
Special Media Types
Carrier Sheet
Multifeed Detection
Paper overlapping & paper length monitoring
(Ultrasonic sensor and paper detection sensor)
Image Processing Functions
Output Filetypes
PDF, Searchable PDF, PDF / A, TIFF, Multi-Page TIFF, JPEG
Paper Separation Method
Brake Roller
Expected Daily Volume
4,000 sheets
Local Interface
USB Port
USB2.0 ports ×2 for keyboard
Ethernet Interface
Ethernet Specification
10 / 100 / 1000BaseTx
Ethernet Port Connector Type
RJ-45
Human Interface
LCD Touchscreen
8.4" TFT LCD with Touchscreen operation
Image Memory
4GB
Power Source
Mains AC
Power Requirements
100V - 240V AC ±10 % (50 / 60 Hz)
Power Consumption
Operating Mode
38 W or less
Energy-saving Mode
2 W or less
Standby Mode
0.3 W or less
Operating Environment
Operating Temperature Range
5 to 35 °C (41 to 95 °F)
Operating Humidity Range
20 to 80% (Non-condensing)
Device Colour
Black
Device Dimensions (Height x Width x Depth)
172 mm x 300 mm x 232 mm
6.8" x 11.8" x 9.1"
Device Weight (approx)
6 kg
13.3 lb
Environmental & Regulatory Compliance
ENERGY STAR® / RoHS
Recommended Windows Driver
Embedded PaperStream IP (TWAIN)
Accessoires & Opties
F1 reinigingsdoekjes voor scanner (72 Pakjeen)


Doos van 72 F1 reinigingsdoekjes voor Fujitsu scanners.
Reinigingsdoekjes voor scanners geïmpregneerd met door de fabrikant goedgekeurde F1-reinigingsvloeistof
geschikt om glas, plastic, rubber en metaal van Fujitsu-documentscanners te reinigen.
SKU: CON-CLE-W72

Set Verbruiksmaterialen: 3706-200K


Inclusief 1x invoerrol en 1x remrol.
Geschatte gebruiksduur: Tot 200.000 scans.
SKU: CON-3706-200K
Garantie & Service plannen
1 Jaar Standaardgarantie


Advance Exchange - Binnen 1-2 dagen.
Inbegrepen in de productprijs.
Geldig voor 1 jaar vanaf de datum van aankoop van het product.
Inclusief vervangen van defecte producten en verzendkosten.

Garantieverlenging van 1 jaar naar 3 jaar (Netwerkscanner)


Advance Exchange - Binnen 1-2 werkdagen
Verlengt de standaardgarantie van 1 jaar naar 3 jaar.
Inclusief vervangen van defecte producten en verzendkosten.
SKU: U3-EXTW-NET

1 Jaar Garantie hernieuwing (Netwerkscanner)


Advance Exchange - Binnen 1-2 werkdagen
Verlengt een verlopen standaardgarantie of uitgebreide garantie met 1 jaar.
Inclusief vervangen van defecte producten en verzendkosten.SKU: R1-EXTW-NET