Overzicht
Krachtige en flexibele productiescanner voor professioneel gebruik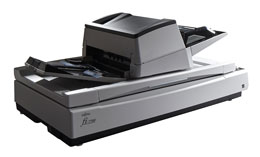 Met de fi-7700 kunt u liggende A4-documenten scannen met 100 ppm/200 ipm (200/300 dpi). De scanner is geschikt voor continu scannen omdat u maximaal 300 vellen per keer kunt plaatsen. Dit verbetert de efficiëntie bij het scannen van een grote hoeveelheid documenten. Daarnaast kan deze scanner verschillende soorten documenten scannen, zoals dun papier, plastic kaarten, tijdschriften, enveloppen en lange pagina's.
Snel scannen — tot 100 ppm in kleur of zwart-wit, liggend
Capaciteit van papiergeleider tot 300 vellen
Kan verschillende diktes en formaten verwerken
De papierprotectiefunctie voorkomt storingen door afwijkingen te detecteren in het geluid (iSOP: Intelligent Sonic Paper Protection) en de documentlengte
Flexibel ontwerp en LCD-scherm voor eenvoudige bediening
Onafhankelijke zijgeleiders voor eenvoudige uitlijning van documenten van verschillende formaten
Geleverd met PaperStream IP (TWAIN/ISIS) en PaperStream Capture
Kenmerken
Stabiel en probleemloos scannen van grote hoeveelheden documenten of verschillende soorten documenten
Het mechanisme voor stabiele papierinvoer en -uitvoer voorkomt schade aan documenten en storingen bij de papierinvoer
Scan verschillende soorten zakelijke documenten met één scanner
De rechte papierbaan zorgt voor betrouwbaar scannen, ongeacht de staat van en het type papier.


De functie Paper Picking Control houdt de beweging van elk document in de gaten en regelt de druk op de papieren in de papierbaan, voor vloeiende, ononderbroken invoer.

Door de invoermodus te wijzigen naar handmatige/enkel, kunt u eenvoudig dikke documenten scannen, zoals in tweeën gevouwen tekeningen, aankoopbewijzen met meerdere lagen en enveloppen. De papierbaan blijft recht.


Voorkom missende randen en documentschade en bescherm zo belangrijke informatie
De scheefstandcorrectie verbetert de invoerprestaties aanzienlijk en voorkomt missende randen in gescande afbeeldingen.





De papierprotectiefunctie minimaliseert het risico op documentschade en beschermt uw belangrijke documenten door afwijkingen in het geluid en de documentlengte te detecteren.
Vormgeving die tegemoetkomt aan de behoeften van de gebruiker
De fi-7700 maakt bedrijfsactiviteiten efficiënter dankzij een grote verscheidenheid aan functies die het scangemak voor de gebruiker vergroten.
Maak optimaal gebruik van de beschikbare ruimte dankzij het flexibele ontwerp
De scanner is uitgerust met een automatische documentinvoer die naar rechts of links kan worden geschoven of 180 graden kan worden gedraaid. Een gebruiker kan de te scannen documenten eenvoudig invoeren door de automatische documentinvoer aan te passen aan het kantoor of de werkplek.




Het bedieningspaneel is uitgerust met een LCD-scherm voor eenvoudig controleren van de status van de scanner.

Verminder de werklast voor en na het scannen, van het invoeren tot het verzamelen van documenten
Wanneer u documenten invoert, kunt u eenvoudig de randen van de documenten uitlijnen met onafhankelijke zijgeleiders, zelfs als de grootte van de documenten varieert.


Het uitlijnen en opbergen van documenten na het scannen kost minder tijd en moeite dankzij de stapelaarzijgeleiders. Deze voorkomen dat gescande documenten ongelijkmatig gestapeld of uitgelijnd worden.


De bijsnijdfunctie bij open klep herkent automatisch het documentformaat, zelfs wanneer de klep open is, zodat de klep niet steeds geopend en gesloten hoeft te worden bij het scannen van verschillende documenten.
Geavanceerde software voor efficiëntie van uw werk
Optimaliseer uw bedrijfsworkflow met PaperStream IP en PaperStream Capture
Het stuurprogramma van de PaperStream IP-scanner ondersteunt TWAIN/ISIS en bespaart u de moeite van het aanpassen van de instellingen voor het OCR-proces. Het stuurprogramma zet de beelden automatisch om in uitzonderlijk duidelijke beelden voor nog snellere OCR, zelfs bij het scannen van gekreukelde/vuile documenten of documenten met een achtergrondpatroon. Dankzij de intuïtieve interface kunt u met PaperStream Capture effectief en efficiënt papiergebaseerde informatie opnemen in de workflow van uw organisatie via verschillende functies voor het scannen van batches.


Streepjescodes herkennen, automatisch sorteren en indexeren
U kunt routinetaken (batches scannen) optimaliseren en de scanner zo configureren dat deze mappen maakt op basis van streepjescodes of patchcodes en gescande afbeeldingen automatisch sorteert voor opslag of indexatie. Dankzij de automatische selectie van een scanmodus op basis van patchcodes kunt u gemengde batches documenten invoeren, met verschillende soorten documenten. Voor de beeldverwerking is rekening gehouden met zowel beheerders als gebruikers. Dankzij de eenvoudige bediening en verbeterde productiviteit kost het een gebruiker minder moeite om gescande afbeeldingen te sorteren.
Specificaties
Omschrijving
fi-7700
Specificaties
Beeldsensortype
Kleur-CCD (Charge Coupled Device) x 3 (1 x voorzijde, 1 x achterzijde, 1 x flatbed)

Lichtbron
Witte LED-array x 6 (2 x voorzijde, 2 x achterzijde, 2 x flatbed)

Dubbele invoerdetectie
Ultrasone sensor voor dubbele invoerdetectie, sensor voor papierdetectie
Optische resolutie
600 dpi
Outputresolutie(1)
Kleur (24-bits)
50 tot 600 dpi
(in te stellen per dpi-toename), 1200 dpi (stuurprogramma)(2)
Grijstinten (8-bits)
Zwart-wit
Formaat uitvoer
Kleur: 24-bits, grijswaarden: 8-bits, monochroom: 1-bit
Interne videoverwerking
4096 niveaus (12-bits)
Functies voor beeldverwerking
Uitvoer van meerdere beelden, automatische kleurdetectie, blanco-paginaherkenning, dynamische drempel (iDTC), geavanceerde DTC, SDTC, foutdiffusie, descreening, benadrukking, halftoon, drop-out kleur (geen/rood/groen/blauw/wit/verzadiging/aangepast), sRGB-uitvoer, perforaties verwijderen, tab van index bijsnijden, beeld splitsen, rechtzetten, randcorrectie, verticale strepen onderdrukken, bijsnijden, rasteren, statische drempel, lange pagina's opdelen
Scansnelheid
(3)
(A4 liggend)
ADF
Kleur(4)
Grijstinten(4)
Monochroom
(5)
Enkelzijdig: 100 ppm, dubbelzijdig: 200 ipm
(200 dpi/300 dpi)
Flatbed
Kleur(4)
Grijstinten(4)
Monochroom
(5)
0,6 seconden (200 dpi/300 dpi)
Scansnelheid
(3)
(A4 staand)
ADF
Kleur(4)
Grijstinten(4)
Monochroom
(5)
Enkelzijdig: 80 ppm, dubbelzijdig: 160 ipm
(200 dpi/300 dpi)
Flatbed
Kleur(4)
Grijstinten(4)
Monochroom
(5)
0,9 seconden (200 dpi/300 dpi)
Capaciteit van papiergeleider (A4 liggend)(6)
300 vel (A4: 80 g/m² of 20 lb.)
Achtergrondkleuren
ADF
Wit/zwart (overschakelen via opdracht mogelijk)
Flatbed
Wit (overschakelen naar optioneel zwart mogelijk)
Dagelijkse bedrijfscyclus
44.000 pagina's
Documentgrootte
Minimum
50,8 x 69 mm (2 x 2,72 inch)
Maximum
304,8 x 431,8 mm (12 x 17 inch)
Scannen van lange pagina's(7)
(maximum)
304,8 x 5588 mm (12 x 220 inch )
Flatbed
(maximum)
304,8 x 457,2 mm (12 x 18 inch )
Papiergewicht
(dikte)(8)
Papier
20 tot 413 g/m² (5,3 tot 110 lb.), A8-formaat: 128 tot 209 g/m² (34 tot 56 lb.)
Plastic kaart
Maximaal 1,4 mm (9)
Interface
USB 3.1 Gen 1 / USB 3.0 / USB 2.0 / USB 1.1
Minimale specificaties pc
CPU: Intel® Core i5 2400S bij 2,5 GHz
Geheugen: 4,0 GB
Besturingssysteem: Windows® 7 SP1 (32-bits)
Software: PaperStream Capture
Fysieke specificaties
Energievereisten
Wisselstroom 100 tot 240 V, ± 10%
Energieverbruik
In gebruik: 64 W of minder, slaapstand: 1,7 W of minder, automatische stand-bymodus (uit): minder dan 0,35 W
Afmetingen (B x D x H)(10)
706 x 500 x 345 mm (27,8 x 19,7 x 13,6 inch)
Gewicht
35 kg (77,2 lb.) of minder
Milieunormen
ENERGY STAR®/RoHS 
Gebruiksomgeving
Temperatuur
5 °C tot 35 °C (41 °F tot 95 °F)
Relatieve vochtigheid
20 tot 80% (zonder condensatie)
Bijbehorende items
ADF-papierbaan, voedingskabel, AC-adapter, USB-kabel, installatie-dvd-rom

Meegeleverde software / drivers
PaperStream IP (TWAIN/ISIS), WIA Driver, 2D Barcode voor PaperStream(11), softwarebedieningspaneel, foutherstelhandleiding, PaperStream Capture, ScanSnap Manager voor de fi-serie(11), scannen naar Microsoft SharePoint(11), ABBYY FineReader voor ScanSnap(11), Scanner Central Admin
Opties
Zwart documentkussen (fi-575BK)
Ondersteunde besturingssystemen
Windows® 11, Windows® 10, Windows® 8.1, Windows® 7, Windows Server® 2022, Windows Server® 2019, Windows Server® 2016, Windows Server® 2012 R2, Windows Server® 2012, Windows Server® 2008 R2
Instelbare maximale dichtheid kan variëren afhankelijk van de lengte van het gescande document.
Bij het scannen met hoge resolutie (meer dan 600 dpi) gelden bepaalde beperkingen voor de grootte van het document dat kan worden gescand, afhankelijk van de systeemomgeving.
De daadwerkelijke scansnelheden worden beïnvloed door de tijd die nodig is voor gegevensoverdracht en verwerking door de software.
De vermelde snelheden zijn bij gebruik van JPEG-compressie.
De vermelde snelheden zijn bij gebruik van TIFF G4-compressie.
De maximumcapaciteit hangt af van het papiergewicht.
De volgende specificaties en resoluties zijn van toepassing.
200 dpi of minder: 220 inch (5588 mm)
300 dpi of minder: 215 inch (5461 mm)
400 dpi of minder: 160 inch (4064 mm)
600 dpi of minder: 106,3 inch (2700 mm)
Het papiergewicht geldt alleen voor de ADF.
Scant maximaal 3 kaarten per keer. (Opmerking: per keer kan er slechts één gestanste kaart worden gescand.)
Exclusief de papierbaan en stapelaar van de ADF.
De software kan worden gedownload vanaf de website waarvoor een koppeling op de installatie-dvd-rom te vinden is.
Verbruiksartikelen en opties
Verbruiksartikelen
Options
 

| Onderdeel | Onderdeelnummer | Opmerkingen |
| --- | --- | --- |
| Zwart documentkussen (fi-575BK) | PA03338-D960 | Zwarte flatbed-achtergrondkussens die eenvoudig door gebruikers zijn te vervangen. |
Garantie
Standaardgarantie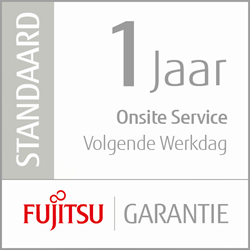 Beschrijving:
1 Jaar Standaardgarantie: Onsite Service - Respons op de volgende werkdag.
Inbegrepen in de productprijs.

Verlengde Garantie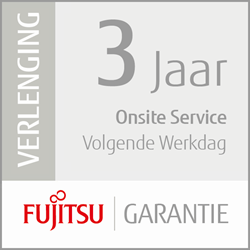 Beschrijving:
3 Jaar Verlengde Garantie: Onsite Service - Respons op de volgende werkdag.

Bestellen op onderdeelnummer:
U3-EXTW-LVP
Brons Serviceplan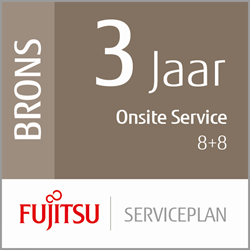 Beschrijving:
3 Jaar Serviceplan: Onsite Service - 8 uur Reactie + 8 uur hersteld.

Bestellen op onderdeelnummer:
U3-BRZE-LVP
Zilver Serviceplan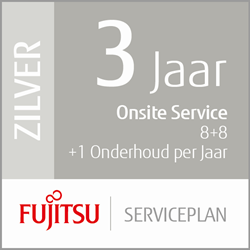 Beschrijving:
3 Jaar Serviceplan: Onsite Service - 8 uur Reactie + 8 uur hersteld +1 Preventieve Onderhoud per Jaar.

Bestellen op onderdeelnummer:
U3-SILV-LVP
Goud Serviceplan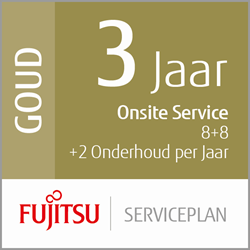 Beschrijving:
3 Jaar Serviceplan: Onsite Service - 8 uur Reactie + 8 uur hersteld +2 Preventieve Onderhoud per Jaar.

Bestellen op onderdeelnummer:
U3-GOLD-LVP
Platina Serviceplan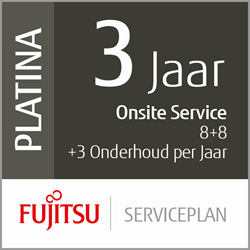 Beschrijving:
3 Jaar Serviceplan: Onsite Service - 8 uur Reactie + 8 uur hersteld +3 Preventieve Onderhoud per Jaar.

Bestellen op onderdeelnummer:
U3-PLAT-LVP
Video
Fast-track digital transformation with the Fujitsu fi-7700 and fi-7600