Overzicht
Deze compactste scanner verwerkt probleemloos gemengde batches en grote formaten
Uitgebreide invoermogelijkheden inclusief standaard A8- t/m A3-formaat, evenals gevouwen A2-documenten
en plastic kaarten
Verschillende functies zorgen ervoor dat u betrouwbaar en onmiddellijk kunt scannen;
80 ppm/160 ipm, automatische documentinvoer (ADF) voor 100 vellen, met automatische stapelaar,
scheefheidsreductiefunctie en iSOP (Intelligent Sonic Paper Protection)
LED-lichtbron
USB 3.0-connectiviteit
Wordt geleverd met geavanceerde scansoftware
PaperStream IP (TWAIN/ISIS), PaperStream Capture en Scanner Central Admin
Kenmerken
Breed scala aan media gecombineerd in de compactste scanner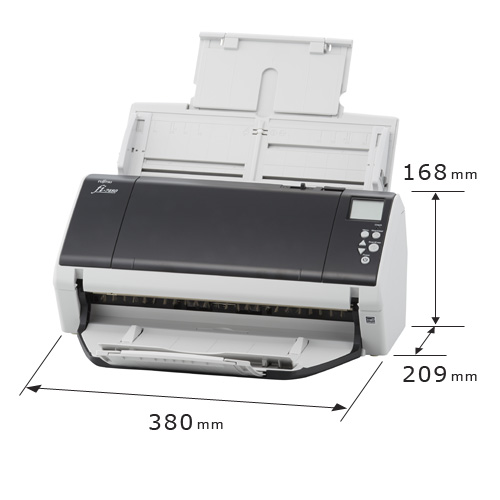 De fi-7480 is de kleinste A3-scanner in zijn klasse(1) en dus ideaal voor gebruik op kantoor. De uitgebreide invoermogelijkheden bestaan onder andere uit standaard A8- t/m A3-formaat, evenals gevouwen A2-documenten en plastic kaarten. Bovendien is er geen lastige voorsortering vereist bij het scannen van gemengde batches.
Snel scannen met snelle opstart
De fi-7480 heeft een hoge scansnelheid van 80 ppm / 160 ipm (A4, liggend, kleur, 200 / 300 dpi). Ook is het apparaat in een seconde of minder uit de energiebesparende modus (slaapstand), zodat gebruikers direct kunnen scannen en naadloos verder kunnen werken zonder pauzes of onderbrekingen.
Mogelijkheid om verschillende dunne en dikke documenten te scannen
Het apparaat ondersteunt een breed scala aan media. Het papierinvoermechanisme kan zowel dik als dun papier (27~413 g/m2) verwerken, zodat gebruikers documenten kunnen scannen zonder zich zorgen te maken over de papierdikte.
Betrouwbaar, ononderbroken scannen van grote volumes
De fi-7480 kan efficiënt een grote hoeveelheid documenten scannen. De ADF-papierbaan (invoer) is geschikt voor 100 vellen (A4-vel, liggend, 80 g/m2) en tijdens het scannen kan extra papier worden toegevoegd. Bovendien heeft het apparaat verschillende functies die betrouwbaar scannen garanderen.
Automatische stapelaar voor meer efficiëntie
Deze functie is de eerste in zijn klasse(2) en regelt de snelheid van de papieruitvoer, zodat documenten niet rommelig opgestapeld worden. Dit verhoogt de efficiëntie van het werk doordat er geen tijd wordt verspild aan het ordenen van rommelige stapels papier.
Uiterst betrouwbaar papierinvoermechanisme
Functies zoals de remrol, die elk document scheidt, en de scheefheidsreductiefunctie, die helpt bij het invoeren van gemengde batches, zijn zeer betrouwbaar en maken digitalisering eenvoudig. Daarnaast bewegen alle zijgeleiders onafhankelijk van elkaar, zodat ze eenvoudig kunnen worden aangepast aan de documentbreedte. Dit bevordert de efficiëntie van het scannen in gemengde batches.
Functies die papierinvoerfouten minimaliseren
Detectie van meervoudige invoer en iSOP-technologie (Intelligent Sonic Paper Protection) beschermen zowel de papieren documenten als de scannerhardware tegen mogelijke schade, zelfs als documenten zijn gevouwen of gekreukeld of de nietjes voor het scannen niet zijn verwijderd. Dit helpt de efficiëntie van uw werk te vergroten. Gebruikers kunnen ook handmatig invoeren (zodat de scanner wacht tot het volgende document binnen een bepaalde tijd wordt geplaatst) voor scans waarbij de inhoud van elk document moet worden gecontroleerd of voor het scannen van kwetsbare documenten die meervoudige invoer of papierstoringen kunnen veroorzaken.
Optimaliseer uw bedrijfsworkflow met PaperStream IP en PaperStream Capture
Het stuurprogramma van de PaperStream IP-scanner ondersteunt TWAIN/ISIS en bespaart u de moeite van het aanpassen van de instellingen voor het OCR-proces. Het stuurprogramma zet de beelden automatisch om in uitzonderlijk duidelijke beelden voor nog snellere OCR, zelfs bij het scannen van gekreukelde/vuile documenten of documenten met een achtergrondpatroon. Dankzij de intuïtieve interface kunt u met PaperStream Capture effectief en efficiënt papiergebaseerde informatie opnemen in de workflow van uw organisatie via verschillende functies voor het scannen van batches.
PaperStream IP (32-bits/64-bits)
Het PaperStream IP-stuurprogramma vereenvoudigt het verbeteren van het beeld tijdens het scannen van facturen, identiteitspasjes, bonnen, formulieren of ander dagelijks papierwerk. PaperStream IP verbetert automatisch de beeldkwaliteit, verwijdert ongewenste achtergronden en optimaliseert uw gescande afbeeldingen voor optische tekenherkenning. Snel en gebruiksvriendelijk. Met onze nieuwste innovatie, Assisted Scan, kan de gebruiker afbeeldingen van slechte kwaliteit vervangen door de afbeelding visueel te selecteren. Kennis van de stuurprogramma-instellingen is hiervoor niet nodig. Als stuurprogramma-instellingen toch moeten worden aangepast voor het scannen van weinig voorkomende en lastige documenten, kunnen de scanoperators de aanpassingen met onze previewfunctie in realtime zien zonder het tijdrovende proces van opnieuw scannen. PaperStream IP werkt met ISIS- en TWAIN-toepassingen.
PaperStream Capture
Met PaperStream Capture is geavanceerd scannen met Fujitsu-scanners nog nooit zo eenvoudig geweest. PaperStream Capture biedt een gestroomlijnde gebruikersinterface die weinig leertijd vraagt en de productiviteit verhoogt. Niet alleen zijn de meestgebruikte profielen (zwart-wit, kleur en automatische kleuren) beschikbaar, maar de gebruiker kan bovendien snel nieuwe profielen maken of wijzigen via een wizard. We hebben het beginscherm zo ingedeeld dat batches snel kunnen worden onderbroken of hervat. PaperStream Capture is ook geïntegreerd met de functie voor ondersteund scannen van PaperStream IP, waarmee documenten visueel kunnen worden verbeterd. Door functies voor het lezen van streepjescodes en patchcodes is taakscheiding eenvoudig en wordt de ordening van documenten verbeterd.
Optie: post-imprinter (achterzijde)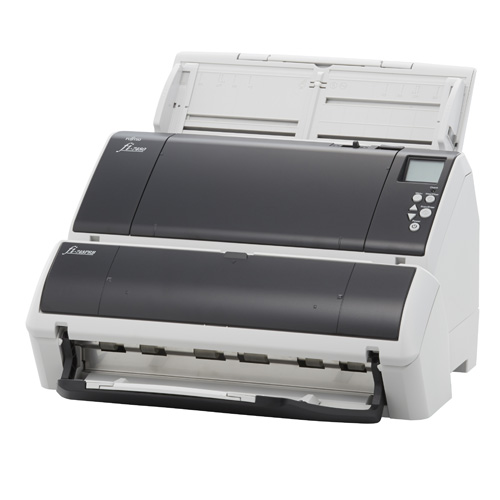 De optionele imprintereenheid drukt na het scannen identificatiemarkeringen zoals datums, alfanumerieke codes en symbolen af op de achterzijde van het originele document. Zo is het gemakkelijker om de originelen van een gescand document te vinden wanneer u deze wilt raadplegen.
Met betrekking tot de voetafdruk (exclusief shooter, stapelaar en geprojecteerde delen) van een ADF-beeldscanner voor A3-formaat met een scansnelheid van 40 ppm of meer bij liggend A4 (gebaseerd op het onderzoek door PFU LIMITED vanaf 1 december 2015)
Met betrekking tot scanners met een invoermechanisme met rechte baan (gebaseerd op het onderzoek door PFU LIMITED van 1 december 2015)
Specificaties
Omschrijving
fi-7480
Specificaties
Beeldsensortype
Kleur-CCD (Charge Coupled Device) x 2 (1 aan voorzijde, 1 aan achterzijde)
Lichtbron
Witte LED-array x 4 (2 aan voorzijde, 2 aan achterzijde)
Dubbele invoerdetectie
Ultrasone sensor voor dubbele invoerdetectie x 1, sensor voor papierdetectie
Optische resolutie
600 dpi
Indeling uitvoer(1)
Kleur (24-bits)
50 tot 600 dpi
(in te stellen per dpi-toename), 1200 dpi (stuurprogramma)(2)
Grijstinten (8-bits)
Zwart-wit
Kleurdiepte uitvoer
Kleur: 24-bits, grijswaarden: 8-bits, monochroom: 1-bit
Interne videoverwerking
4096 niveaus (12-bits)
Functies voor beeldverwerking
Uitvoer van meerdere beelden, automatische kleurdetectie, blanco-paginaherkenning, dynamische drempel (iDTC), geavanceerde DTC, SDTC, foutdiffusie, descreening, benadrukking, halftoon, drop-out kleur (geen/rood/groen/blauw/wit/verzadiging/aangepast), sRGB-uitvoer, perforaties verwijderen, tab van index bijsnijden, beeld splitsen, rechtzetten, randcorrectie, verticale strepen onderdrukken, bijsnijden, rasteren, statische drempel
Scansnelheid(3)
(A4 liggend)
Kleur(4)
Grijstinten(4)
Monochroom(5)
Enkelzijdig: 80 ppm, dubbelzijdig: 160 ipm
(200 dpi/300 dpi)
Scansnelheid(3)
(A4 staand)
Kleur(4)
Grijstinten(4)
Monochroom(5)
Enkelzijdig: 65 ppm, dubbelzijdig: 130 ipm
(200 dpi/300 dpi)
Capaciteit van papiergeleider (A4 liggend)(6)
100 vel (A4: 80 g/m² of 20 lb.)
Dagelijkse bedrijfscyclus
24.000 pagina's
Documentgrootte
Minimum
50,8 x 69 mm (2 x 2,72 inch)
Maximum(7)
304,8 x 431,8 mm (12 x 17 inch)
Scannen van lange pagina's(8)
304,8 x 5588 mm (12 x 220 inch )
Papiergewicht
(dikte)(9)
Letter
27 tot 413 g/m² (7,2 tot 110,6 lb.)
A8-vellen
128 tot 209 g/m² (34,3 tot 56,1 lb.)
Kaart
Maximaal 1,4 mm (10)
Interface
USB 3.0 / USB 2.0 / USB 1.1 (achterwaarts compatibel)
Minimale specificaties pc
PaperStream IP i5-processor van 2,5 MHz, 4 GB RAM
Fysieke specificaties
Energievereisten
Wisselstroom 100 tot 240 V, ± 10%
Energieverbruik
In gebruik: 43 W of minder, slaapstand: 1,4 W of minder, automatische stand-bymodus (uit): minder dan 0,35 W
Afmetingen (B x D x H)(11)
380 x 209 x 168 mm (14,96 x 8,23 x 6,61 inch)
Gewicht
7,6 kg (16 lb.) of minder
Milieunormen
ENERGY STAR®/RoHS 
Gebruiksomgeving
Temperatuur
5 °C tot 35 °C (41 °F tot 95 °F)
Relatieve vochtigheid
20 tot 80% (zonder condensatie)
Bijbehorende items
ADF-papierbaan, voedingskabel, AC-adapter, USB-kabel, installatie-dvd-rom

Meegeleverde software / drivers
PaperStream IP (TWAIN/ISIS), WIA Driver, softwarebedieningspaneel, foutherstelhandleiding, PaperStream Capture, ScanSnap Manager voor de fi-serie(12), 2D Barcode voor PaperStream, Scannen naar Microsoft SharePoint(12), ABBYY FineReader voor ScanSnap(12), Scanner Central Admin Agent
Opties
Post-imprinter (achterzijde)
Ondersteunde besturingssystemen
Windows® 11, Windows® 10, Windows® 8.1, Windows® 7, Windows Server® 2022, Windows Server® 2019, Windows Server® 2016, Windows Server® 2012 R2, Windows Server® 2012, Windows Server® 2008 R2, Linux (Ubuntu)
Instelbare maximale dichtheid kan variëren afhankelijk van de lengte van het gescande document.
Er kunnen scanbeperkingen van kracht zijn als er in een hogere resolutie wordt gescand (600 dpi of hoger). Dit hangt af van de scanmodus, de documentgrootte en het beschikbare geheugen.
De daadwerkelijke scansnelheden worden beïnvloed door de tijd die nodig is voor gegevensoverdracht en verwerking door de software.
De vermelde snelheden zijn bij gebruik van JPEG-compressie.
De vermelde snelheden zijn bij gebruik van TIFF G4-compressie.
De maximumcapaciteit hangt af van het papiergewicht.
Het minimum scangebied geldt alleen voor de ADF.
Kan documenten scannen die langer zijn dan Legal-formaat. Scannen van lange pagina's wordt ondersteund voor documenten met een lengte tot 5588 mm (220 inch) wanneer de resolutie is ingesteld op 200 dpi of minder.
Het papiergewicht geldt alleen voor de ADF.
Scant maximaal 3 kaarten per keer. (Opmerking: stelt niet meer dan één gestanste kaart per keer in.)
Exclusief de papierbaan en stapelaar van de ADF.
De software kan worden gedownload vanaf de website waarvoor een koppeling op de installatie-dvd-rom te vinden is.
Verbruiksartikelen en opties
Verbruiksartikelen
Printcartridge (fi-C200PC) voor fi-748PRB printkop, onderdeelnr. CA00050-0262. Levensduur: 4.000.000 afgedrukte tekens
Opties
Onderdeel
Onderdeelnummer
Omschrijving
Post-imprinter
(achterzijde)
(fi-748PRB)
PA03710-D401
Helpt bij documentbeheer door nummers, Romeinse tekens en codes op oorspronkelijke documenten af te drukken nadat ze zijn gescand.
Garantie
Standaardgarantie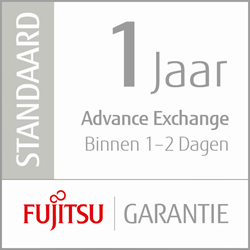 Beschrijving:
1 Jaar Standaardgarantie: Advance Exchange - Binnen 1-2 dagen.
Inbegrepen in de productprijs.

Verlengde Garantie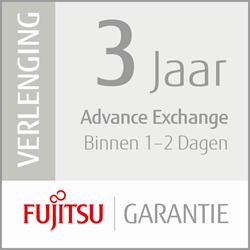 Beschrijving:
3 Jaar Verlengde Garantie: Advance Exchange - Binnen 1-2 dagen.

Bestellen op onderdeelnummer:
U3-EXTW-DEP
Brons Serviceplan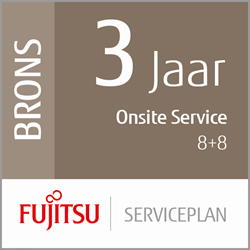 Beschrijving:
3 Jaar Serviceplan: Onsite Service - 8 uur Reactie + 8 uur hersteld.

Bestellen op onderdeelnummer:
U3-BRZE-DEP