Hoe het werkt
Een veelzijdige scanner
De efficiënte fi-7300NX scant staande A4-documenten met een indrukwekkende snelheid van 60 ppm/120 ipm (200/300 dpi) en u kunt maar liefst 80 vellen per keer laden.
Touchscreen voor scannen vanaf de scanner
Verschillende verificatiemethoden voor betere efficiëntie en beveiliging
Scannen vanaf mobiele apparaten naar ieder zakelijk platform
Drie soorten SDK's voor integratie met alle omgevingen
PaperStream NX Manager en Scanner Central Admin voor gecentraliseerd beheer
De papierbeschermingsfunctie herkent afwijkingen in de documentlengte en het geluid en zorgt dat documenten niet vast komen te zitten in de scanner
Modus voor handmatige invoer voor het scannen van gevouwen en ingebonden documenten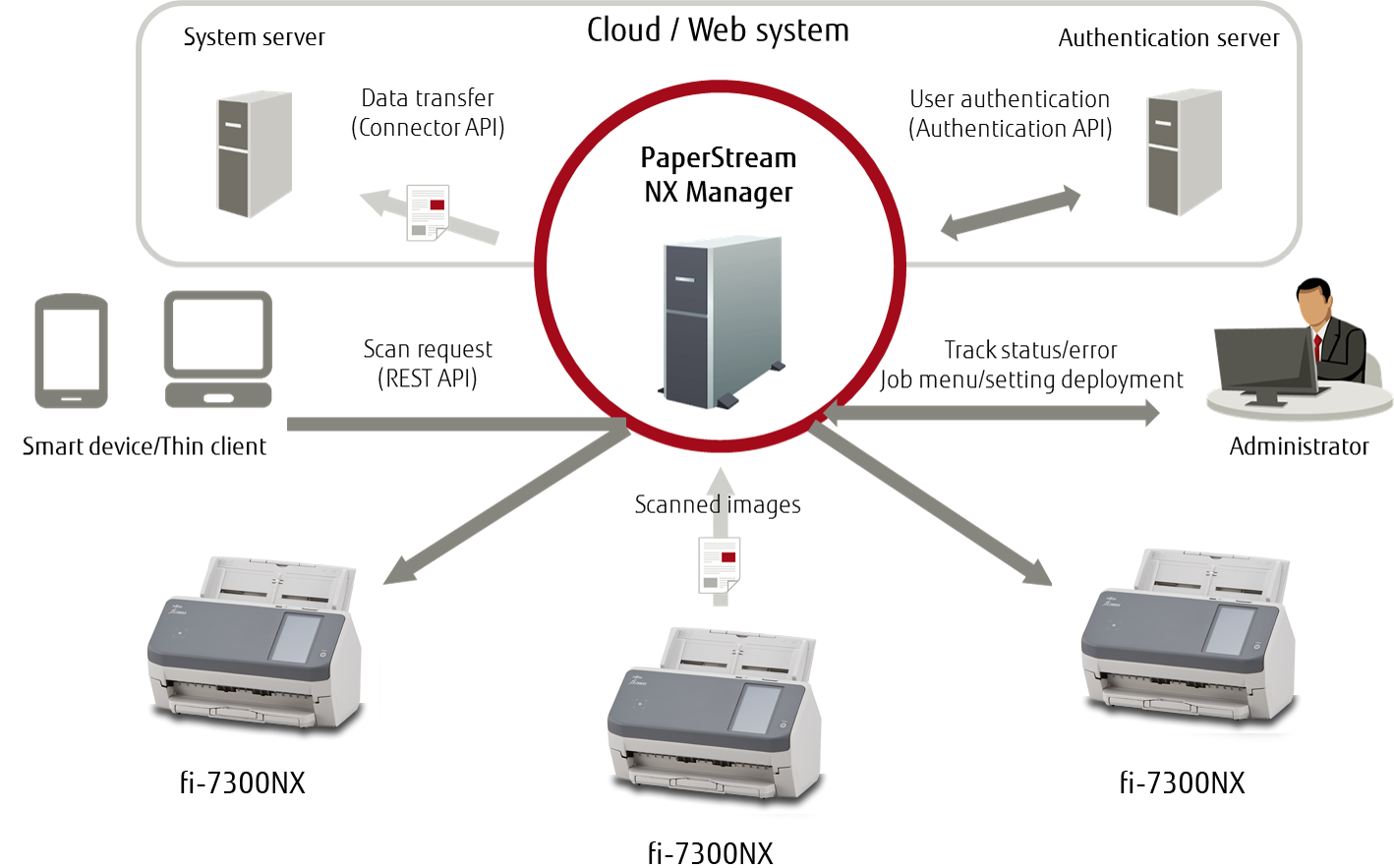 Naadloze integratie in zakelijke systemen
Deze scanner past perfect in uw bedrijf. Gebruikers kunnen een scanopdracht geven via het touchscreen van de scanner of vanuit verschillende apps op mobiele apparaten. Dankzij de SDK is rechtstreekse gegevensoverdracht naar de eigen online systemen van de klant mogelijk. De sterke gegevensversleuteling zorgt voor een veilige gegevensoverdracht.
Scannen zonder computer
Gebruikers kunnen documenten scannen en opslaan zonder dat ze een computer nodig hebben. Ze kunnen gewoon inloggen op de scanner, hun gegevens worden geverifieerd en daarna kunnen ze een taak kiezen uit de gepersonaliseerde taakmenu's op het touchscreen van de fi-7300NX. Dankzij de aangepaste taakmenu's wordt voor iedere gebruiker efficiënte en beveiligde gedecentraliseerde gegevensinvoer gegarandeerd.
De fi-7300NX ondersteunt NFC-verificatie (type-A en type-B) en gebruikersverificatie met gebruikersnaam en wachtwoord via het touchscreen. Ook is het mogelijk aan iedere scanner andere taakmenu's toe te wijzen en de scanner te gebruiken zonder verificatieproces.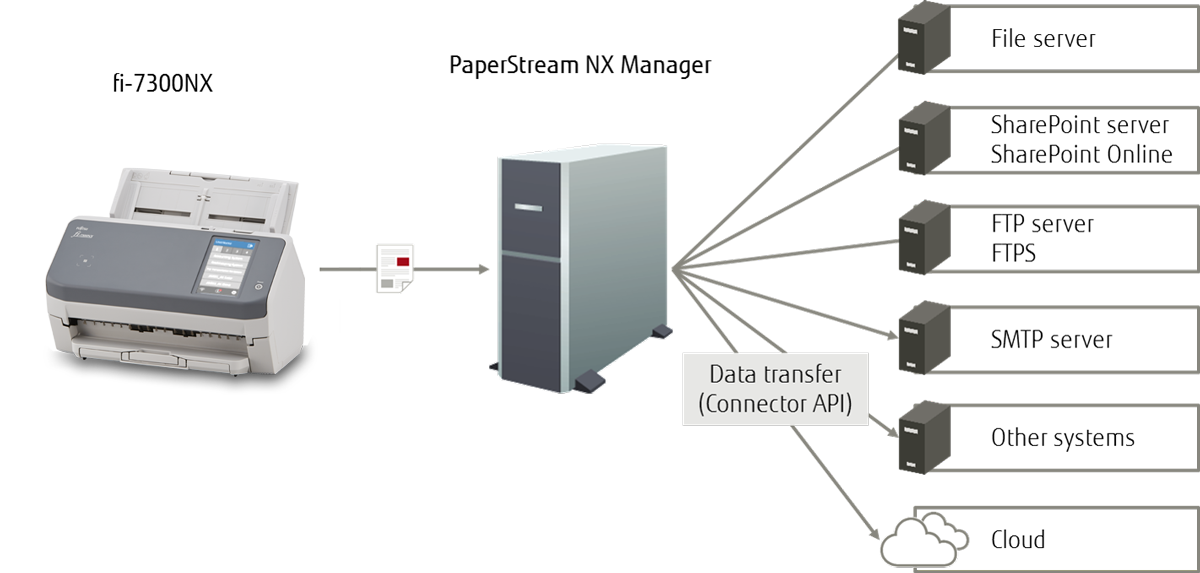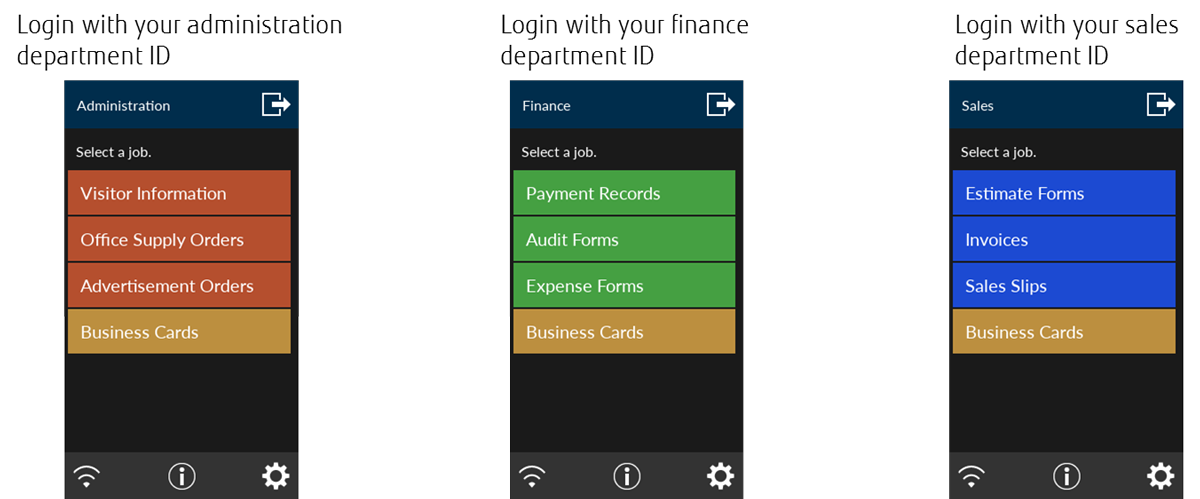 Scannen vanaf een mobiel apparaat naar zakelijke platforms
Met PaperStream NX Manager kunnen gebruikers scannen vanuit mobiele of webgebaseerde apps op mobiele apparaten en thin clients. Dankzij de naadloze integratie met bedrijfssystemen kunnen verschillende apparaten worden gebruikt voor scanwerkzaamheden.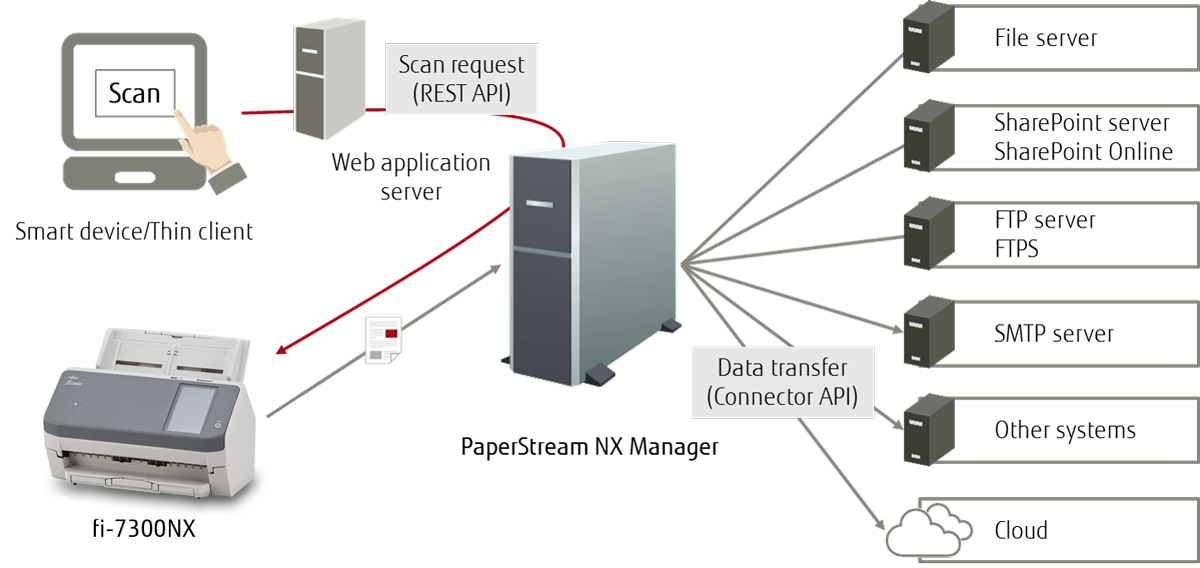 Drie soorten SDK's voor integratie met gebruikersomgevingen
De PaperStream NX Manager SDK wordt meegeleverd voor integratie met verschillende clientsystemen en -toepassingen. Ontwikkelaars kunnen deze SDK's gebruiken wanneer klanten hun eigen systemen willen gebruiken.
・REST API
Een interface voor de ontwikkeling van web-apps voor scanfuncties. Met de REST API kunnen web-apps de fi-7300NX aanroepen om papieren documenten te scannen.
・Authentication API
Een interface voor de ontwikkeling van toepassingen die gebruik maken van de verificatiefunctie van de fi-7300NX. De scanner kan niet alleen worden gekoppeld aan NFC, maar ook aan de verificatieserver die al wordt gebruikt.
・Connector API
Een interface voor de ontwikkeling van toepassingen om de PaperStream NX Manager te koppelen aan verschillende systemen. Via de Connector API kan verbinding worden gemaakt met de zakelijke systemen en OCR-/documentbeheersoftware.
Lagere bedrijfskosten dankzij gecentraliseerd beheer
De gebruikersverificatiefunctie, het taakmenu en de andere scaninstellingen worden allemaal centraal beheerd met PaperStream NX Manager en Scanner Central Admin. Dankzij de serversoftware van de fi-7300NX is het niet meer nodig om een omgeving met één clientcomputer per scanner te hebben en kan het systeembeheer op afstand worden uitgevoerd. Dit bespaart tijd en geld bij installatie*, uitbreiding, gebruik en beheer.
*Voor installatie zijn andere tools nodig, zoals de fi-7300NX Rollout Tool en de Network Setup Tool voor fi-7300NX.
De serversoftware regelt gebruikersverificatie, taakbeheer, beeldverwerking van gescande gegevens en gegevensoutput voor de fi-7300NX. Met PaperStream NX Manager kunt u tot 1000 fi-7300NX-scanners beheren. De verificatiemethoden en taakinstellingen kunnen automatisch worden ingesteld voor alle verbonden scanners.
De software is speciaal ontwikkeld voor gecentraliseerd beheer van meerdere scanners, inclusief batchupdates van scannerinstellingen en firmware. De software houdt ook in de gaten of er storingen zijn en wat de status is van verbruiksartikelen. Bovendien kunnen met de software tot wel 1000 scanners per server worden beheerd.
Gebruikersvriendelijke hardware
Consistent scannen op hoge snelheid
De fi-7300NX heeft de hoge snelheid en consistente papiertoevoer waar de fi-serie bekend om staat en haalt snelheden van 60 ppm/120 ipm voor documenten van A4-formaat*1. Dubbelgevouwen documenten en kopieën van kassabonnen zijn ook eenvoudig te scannen met de modus voor handmatige invoer. De fi-7300NX is de eerste standalone scanner ter wereld*2 die wifi met 5 GHz bandbreedte*3ondersteunt. Dit zorgt voor een snelle en probleemloze overdracht van gegevens.
*1 Verticaal ingevoerde A4-documenten, 200/300 dpi.
*2 Gebaseerd op een onderzoek door PFU Limited naar scanners met wifi-connectiviteit (4 september 2018).
*3 Beschikbaarheid van 5 GHz wifi verschilt per regio.

4,3 inch touchscreen
Dankzij het gebruiksvriendelijke touchscreen zijn het scanproces en de gegevenscontrole heel overzichtelijk en kunt u miniatuurweergaven van scans bekijken. Daarnaast worden op het scherm geïllustreerde meldingen en instructies weergegeven, zodat gebruikers storingen zelf kunnen oplossen.
Geschikte werkmethoden voor uw omgevingen
Als er computers gebruikt worden bij het scannen met de fi-7300NX , kunt u PaperStream IP gebruiken. Dit is een gespecialiseerd stuurprogramma voor Fujitsu-beeldscanners die verbonden zijn via wifi, een bekabeld netwerk of USB. Omdat het mogelijk is verbinding te maken zonder USB-kabels, kan de scanner geplaatst worden waar deze nodig is. Dit leidt tot hogere gebruikersproductiviteit, minder werkonderbrekingen en meer ruimte voor apparatuur die vaker gebruikt wordt.
Het geavanceerde stuurprogramma PaperStream IP en de software PaperStream Capture zorgen voor een eenvoudige scanproces en afbeeldingen van hoge kwaliteit. Zoals u ook gewend bent van de andere beeldscanners van Fujitsu.
Type scanner
ADF (automatische documentinvoer), duplex
Scansnelheid (1) (A4, staand)
(Kleur(2)/grijstinten(2)/monochroom(3))
Simplex:60 ppm (200/300 dpi)
Duplex:120 ipm (200/300 dpi)
Type beeldsensor
Kleur CCD x 2 (voor x 1, achter x 1)
Lichtbron
Witte ledlampen x 2 (voor x 1, achter x 1)
Optische resolutie
600 dpi
Optische resolutie (4)
(Kleur/grijstinten/monochroom)
50 tot 600 dpi (stapsgewijs aan te passen per 1
dpi), 1200 dpi (stuurprogramma)(5)
Outputresolutie
Kleur:24-bit, grijstinten:8-bit, monochroom:1-bit
Achtergrondkleuren
Wit/zwart (selecteerbaar)
Documentformaat
Maximaal(6)
216 x 355,6 mm (8,5 x 14 inch)
Minimaal(7)
50,8 x 54 mm (2 x 2,1 inch)
Lang papier scannen(8)
5588 mm (220 inch)
Papiergewicht (dikte)
Papier
27 tot 413 g/m² (7,2 tot 110 lb)(9)
Plastic kaart
1,4 mm (0,055 inch) of minder(10)
Capaciteit van papiergeleider (11)(12)
80 vellen (A4, 80 g/m2 of minder, 20 lb)
Verwacht dagelijks volume (13)
9 000 vellen
Detectie meervoudige aanvoer
Overlapdetectie (ultrasonische sensor), lengtedetectie
Papierbescherming
Vertragingsdetectie, geluidsdetectie (iSOP)(14)
Scherm
4,3 inch TFT-kleurentouchscreen
Verificatie
Toetsenbord (op touchscreen), NFC
Interface
USB
USB 3.1 Gen1 / USB 3.0 / USB 2.0 / USB 1.1
Ethernet
10BASE-T, 100BASE-TX, 1000BASE-T
Wi-Fi
IEEE802.11 b/g/n
Frequency band: 2.4 GHz (15)
Netwerkinterface
10BASE-T, 100BASE-TX, 1000BASE-T
Netwerkprotocollen
IPv4(16), TCP, UDP, ICMP, DHCP, HTTP/HTTPS, DNS
Voedingseisen
Wisselstroom 100 tot 240 V ±10 %
Stroomverbruik(17)
In gebruik
42 W of minder
Stroombesparing
2,4 W of minder
Uitgeschakeld
0,35 W of minder
Bedrijfsomgeving
Temperatuur
5 tot 35 °C (41 tot 95 °F)
Relatieve luchtvochtigheid
20 tot 80% (zonder condensatie)
Milieunormen
ENERGY STAR®, RoHS
Afmetingen(18) (B x D x H)
300 x 202 x 170 mm (11,8 x 7,9 x 6,6 in.)
Gewicht
4,9 kg (10,8 lb) of minder
Ondersteunde besturingssystemen
Windows® 10 (32-bit/64-bit), Windows® 8.1 (32-bit/64-bit), Windows® 7 (32-bit/64-bit), Windows Server® 2019 (64-bit), Windows Server® 2016 (64-bit), Windows Server® 2012 R2 (64-bit), Windows Server® 2012 (64-bit), Windows Server® 2008 R2 (64-bit)
Meegeleverde software/stuurprogramma's
PaperStream IP Driver (TWAIN/TWAIN x64/ISIS), WIA Driver(19), PaperStream Capture, ScanSnap Manager voor fi-serie(20), Software Operation Panel, Network Setup Tool, ABBYY FineReader voor ScanSnap™(20), Scanner Central Admin
Functies voor beeldverwerking
Foutdiffusie, rasteren
Meegeleverde artikelen
Papierklepeenheid, voedingskabel, AC-adapter, USB-kabel, installatie-dvd-rom
De daadwerkelijke scansnelheden worden beïnvloed door de tijd die nodig is voor gegevensoverdracht en verwerking door de software.

De vermelde snelheden zijn bij gebruik van JPEG-compressie.

De vermelde snelheden zijn bij gebruik van TIFF CCITT G 4-compressie.

De instelbare maximale dichtheid kan variëren afhankelijk van de lengte van het gescande document.

Er kunnen bepaalde beperkingen van toepassing zijn wanneer er op hoge resolutie wordt gescand (meer dan 600 dpi). Dit is afhankelijk van systeemomgeving.

Kan gevouwen documenten van maximaal 297 x 432 mm (11,7 x 17 inch) scannen met draagvel.

Kan zowel staande als liggende documenten scannen.

Kan documenten scannen die langer zijn dan A4-formaat (210 x 297 mm / 8,3 x 11,7 inch). Als PaperStream IP (TWAIN/ISIS) gebruikt wordt om te scannen bij 200 dpi, is de maximale scanlengte 5588 mm (220 inch).

Dikte van maximaal 128 tot 209 g/m2 (34 tot 56 lb) geldt voor scans van A8-formaat (52 x 74 mm / 2,1 x 2,9 inch).

Kan drie kaarten tegelijkertijd scannen (let op: ondersteunt niet meer dan één kaart met reliëf per keer).

Maximumcapaciteit is afhankelijk van papiergewicht en kan afwijken.

Het is mogelijk om extra documenten in te stellen tijdens het scannen.

Bij gebruik van 8 uur per dag.

Intelligent Sonic Paper protection.

Availability of 5 GHz Wi-Fi may vary depending on region.

IPv6 wordt niet ondersteund.

Scanner gaat automatisch over op de stroombesparingsmodus als deze niet wordt gebruikt en schakelt standaard uit als deze vier uur lang niet is gebruikt.

Exclusief de papierbaan en stapelaar van de automatische documentinvoer.

Mogelijk zijn bij het WIA-stuurprogramma geen gelijkwaardige functies aan die van PaperStream IP beschikbaar.

De software kan worden gedownload vanaf de website die is vermeld op de installatie-dvd-rom.
F1 reinigingsdoekjes voor scanner (72 Pakjeen)


Doos van 72 Reinigingsdoekjes voor scanners geïmpregneerd met F1-reinigingsvloeistof.
Geschikt om glas, plastic, rubber en metaal van Fujitsu-documentscanners te reinigen.
SKU: CON-CLE-W72

Set Verbruiksmaterialen: 3670-400K


2x invoerrollen en 2x remrollen.
Tot 400.000 scans.
SKU: CON-3670-400K

Carrier Sheets (Pack of 5)


Transparent sleeves for scanning A3, small or damaged documents
Enables damaged documents and receipts to be scanned as well as A3 with image stitching function.
SKU: PA03360-0013
1 Jaar Standaardgarantie


Advance Exchange - Binnen 1-2 dagen. Inbegrepen in de productprijs.

3 Jaar Verlengde Garantie


Advance Exchange - Binnen 1-2 dagen.
SKU: U3-EXTW-WKG

3 Jaar Brons Serviceplan


Onsite Service - 8 uur Reactie + 8 uur hersteld.
SKU: U3-BRZE-WKG