Overzicht
Biedt ongeëvenaarde prestaties en toonaangevende functies voor het scannen van documenten met hogere scansnelheden
Snel scannen aan 60 ppm/120 ipm in kleur, grijstinten en monochroom
ADF (Automatic document feeder) voor 80 vellen
Geavanceerde papierverwerkingstechnologie voor ultieme betrouwbaarheid bij documentinvoer
LED-lichtbron
Geïntegreerde flatbedmodule (216 x 297 mm / 8,5 x 11,69 inch)
Scanner Central Admin-suite
Scannen van gestanste kaarten (dikte 1,4 mm)
iSOP (Intelligent Sonic Paper Protection)
Geleverd met PaperStream IP (TWAIN/ISIS) en PaperStream Capture
Kenmerken
Scanprestaties
De fi-7260 scant uw documenten met een dubbelzijdige scansnelheid van 120 afbeeldingen per minuut bij 300 dpi in kleur, grijstinten en monochroom. Uw documenten worden beschermd met akoestische sensoren, uw gegevens worden vastgelegd met slimme ultrasone technologie en opnieuw scannen wordt beperkt doordat documenten automatisch in één keer worden opgeschoond. De betrouwbaarheid wordt nog verder verbeterd met de nieuwe technologie ter voorkoming van scheeftrekken, voor een uitzonderlijke papierverwerking.
USB 3.0 voor voorwaartse compatibiliteit
Continu scannen van harde en gestanste kaarten met een dikte van maximaal 1,4 mm
Ultrasone sensor voor detectie van dubbele invoer ter beveiliging tegen beeldverlies
Scannen van post-its, aangehechte bonnen en labels met bescherming tegen meervoudige invoer
Ondersteuning van lange documenten tot 5,6 m (18,3 ft) in PaperStream IP
PaperStream IP (32-bits/64-bits)
Het PaperStream IP-stuurprogramma vereenvoudigt het verbeteren van het beeld tijdens het scannen van facturen, identiteitspasjes, bonnen, formulieren of ander dagelijks papierwerk. PaperStream IP verbetert automatisch de beeldkwaliteit, verwijdert ongewenste achtergronden en optimaliseert uw gescande afbeeldingen voor optische tekenherkenning. Snel en gebruiksvriendelijk. Met onze nieuwste innovatie, Assisted Scan, kan de gebruiker afbeeldingen van slechte kwaliteit vervangen door de afbeelding visueel te selecteren. Kennis van de stuurprogramma-instellingen is hiervoor niet nodig. Als stuurprogramma-instellingen toch moeten worden aangepast voor het scannen van weinig voorkomende en lastige documenten, kunnen de scanoperators de aanpassingen met onze previewfunctie in realtime zien zonder het tijdrovende proces van opnieuw scannen. PaperStream IP werkt met ISIS- en TWAIN-toepassingen.
PaperStream Capture
Met PaperStream Capture is geavanceerd scannen met Fujitsu-scanners nog nooit zo eenvoudig geweest. PaperStream Capture biedt een gestroomlijnde gebruikersinterface die weinig leertijd vraagt en de productiviteit verhoogt. Niet alleen zijn de meestgebruikte profielen (zwart-wit, kleur en automatische kleuren) beschikbaar, maar de gebruiker kan bovendien snel nieuwe profielen maken of wijzigen via een wizard. We hebben het beginscherm zo ingedeeld dat batches snel kunnen worden onderbroken of hervat. PaperStream Capture is ook geïntegreerd met de functie voor ondersteund scannen van PaperStream IP, waarmee documenten visueel kunnen worden verbeterd. Door functies voor het lezen van streepjescodes en patchcodes is taakscheiding eenvoudig en wordt de ordening van documenten verbeterd.
Centrale efficiëntie
Of de infrastructuur nu vast is of wordt uitgebreid, efficiënt beheer van technologie in een organisatie is de sleutel tot lagere totale eigendomskosten. De Fujitsu-scanner biedt systeembeheerders geavanceerde software voor productiever en rendabeler centraal beheer van de scanner.
Extern scannerbeheer agent, console en server
Realtime inventarisatie Fujitsu-scanner
Bewaking van status en waarschuwingen
Centrale implementatie van stuurprogramma-updates
Beheer van verbruiksartikelen
Hoogwaardig en milieuvriendelijk scannen
Fujitsu heeft milieuvriendelijkheid al jaren hoog in het vaandel staan en de fi-7260 is de nieuwste bedrijfsscanner die tijdens het gehele productieproces voldoet aan de strengste milieucriteria. Het ontwerp en de fabricage van de fi-7260 voldoen aan de Energy Star-criteria voor energieverbruik en aan de regelgeving van de Europese Unie met betrekking tot de beperking van gevaarlijke stoffen en vluchtige organische verbindingen.
Specificaties
Model
fi-7260
Specificaties
Beeldsensortype
Kleur-CCD's (Charge Coupled Device)
Lichtbron
Wit LED-array
Optische resolutie
600 dpi
Uitvoerresolutie(1)
Kleur (24-bits)
50 tot 600 dpi
(in te stellen per dpi-toename, 1200 dpi(2))
Grijstinten (8-bits)
Zwart-wit
Kleurdiepte uitvoer
Kleur: 24-bits, grijswaarden: 8-bits, monochroom: 1-bit
Interne videoverwerking
65.536 niveaus (16-bits)
Functie voor beeldverwerking
Hardware
Rechtzetten en bijsnijden
Software
Meerdere afbeeldingen, lege pagina's overslaan, i-DTC, geavanceerde DTC, vereenvoudigde DTC, sRGB, automatische kleur, rechtzetten en bijsnijden, perforaties verwijderen, tab bijsnijden, scheiding tussen boven/onder, foutdiffusie, rasteren, moiré verwijderen, beeldbenadrukking, kleur verwijderen, drop-out kleur (R,G,B, geen, wit, gespecificeerd, verzadiging), randen herstellen, verticale strepen onderdrukken
Scansnelheid(3)
(A4, staand)
Kleur(4)
Grijstinten(4)
Monochroom(5)
ADF
Enkelzijdig: 60 ppm, dubbelzijdig: 120 ipm
(200 dpi/300 dpi)
Flatbed
1,7 seconden (200 dpi)
Capaciteit ADF(6)
80 vel (A4: 80 g/m² of 20 lb.)
Dagelijkse bedrijfscyclus
9.000 pagina's
Documentgrootte
ADF, minimum
50,8 x 54 mm (2 x 2,13 inch) (liggend / staand)
ADF, maximum(7)
216 x 355,6 mm (8,5 x 14 inch)
Lang document
210 x 5588 mm (8,27 x 220 inch) (18,3 ft.)(8)
Flatbed
216 x 297 mm (8,5 x 11,69 inch)
Invoer ADF
Papiergewicht
(dikte)
Letter
27 g/m² tot 413 g/m² (7,2 tot 112 lb.)
A8-vellen
127 g/m² tot 209 g/m² (34 tot 56 lb.)
Kaart(9)
Tot 1,4 mm staande en liggende invoer(10)
Interface(11)
USB 3.0 (achterwaarts compatibel)
Minimale specificaties pc
PaperStream IP i5-processor van 2,5 MHz, 4 GB RAM
Fysieke specificaties
Energievereisten
Wisselstroom 100 tot 240 V, ± 10%
Energieverbruik
41 W of minder; slaapstand: 1,8 W; stand-by: 0,35 W
Afmetingen (B x D x H)
300 x 577 x 234 mm (11,8 x 22,7 x 9,2 inch)
Gewicht
8,8 kg (19,4 lb.)
Milieunormen(12)
ENERGY STAR® / RoHS / EPEAT Silver
Gebruiksomgeving
Temperatuur
5 tot 35 °C (41 tot 95 °F)
Relatieve vochtigheid
20 tot 80% (zonder condensatie)
Inhoud doos
ADF-papierbaan, voedingskabel, AC-adapter, USB-kabel, installatie-dvd-rom,
snelstartgids
Meegeleverde software
PaperStream IP-stuurprogramma (TWAIN/ISIS), WIA Driver, softwarebedieningspaneel, foutherstelhandleiding, PaperStream Capture, ScanSnap Manager voor de fi-serie, ABBYY FineReader voor ScanSnap, Scanner Central Admin-agent
Opties
2D Barcode voor PaperStream, draagvel, zwart documentkussen
Ondersteunde besturingssystemen
Windows® 10 (32-bit/64-bit), Windows® 8.1 (32-bit/64-bit), Windows® 7 (32-bit/64-bit), Windows Server® 2019 (64-bit), Windows Server® 2016 (64-bit), Windows Server® 2012 R2 (64-bit), Windows Server® 2012 (64-bit), Windows Server® 2008 R2 (64-bit), Linux (Ubuntu)(1)
Functies voor invoerdetectie
Ultrasone sensor voor detectie van dubbele invoer, iSOP (Intelligent Sonic Paper Protection), intelligente functie voor multi-invoer (handmatige bypass)
Overige functies
Gestanste kaarten scannen, lange documenten scannen, Scanner Central Admin-beheer, ondersteuning USB 3.0, iSOP (Intelligent Sonic Paper Protection), automatisch: kleur herkennen, papierformaat herkennen, rechtzetten
De maximale uitgangsresolutie kan variëren. Dit hangt af van de grootte van het scangebied.
Er kunnen scanbeperkingen van kracht zijn als er in een hoge resolutie wordt gescand (600 dpi of hoger). Dit hangt af van de scanmodus, de documentgrootte en het beschikbare geheugen.
De daadwerkelijke scansnelheden worden beïnvloed door de tijd die nodig is voor gegevensoverdracht en verwerking door de software.
Afbeeldingen in JPEG-compressie
Afbeeldingen in TIFF-compressie
De maximumcapaciteit hangt af van het papiergewicht.
Documenten die groter zijn dan A4, maar niet groter dan A3, kunnen (enkelzijdig) worden gescand met een optioneel draagvel.
Het scannen van documenten die langer zijn dan 863 mm (34 inch) wordt beperkt tot het gebruik van PaperStream IP bij 200 dpi of minder. 300 dpi is 215 inches.
Ondersteunt ISO7810 gestanste kaarten.
Scant maximaal 3 kaarten per keer. (Opmerking: ondersteunt geen invoer van multi-gestanste kaarten.)
Voor verbinding met USB 3.0/2.0 moeten de USB-poort en de hub USB 3.0/2.0 ondersteunen. De scansnelheid is lager bij gebruik van USB 1.1.
PFU Limited, een onderneming van Fujitsu, heeft vastgesteld dat dit product voldoet aan de RoHS-vereisten (2002/95/EU)
Verbruiksartikelen en opties
Verbruiksartikelen
Reinigingssets
Sets met verbruiksartikelen
Opties
 
Onderdeel
Onderdeelnummer
Opmerkingen
Zwart documentkussen
PA03670-D801
Hiermee kunnen de 

fi-7240, fi-7260 en fi-728

0 een gescand document op een flatbed automatisch bijsnijden.
ScanSnap-draagvellen voor A3-scans
PA03360-0013
Elk pakket bevat 5 draagvellen. Het is raadzaam om een draagvel na 500 scans te vervangen.
Garantie
Standaardgarantie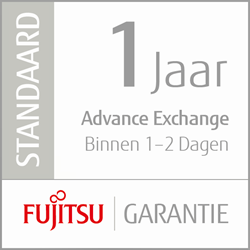 Beschrijving:
1 Jaar Standaardgarantie: Advance Exchange - Binnen 1-2 dagen.
Inbegrepen in de productprijs.

Verlengde Garantie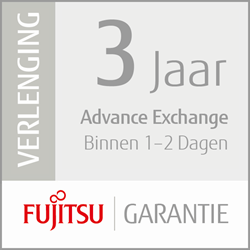 Beschrijving:
3 Jaar Verlengde Garantie: Advance Exchange - Binnen 1-2 dagen.

Bestellen op onderdeelnummer:
U3-EXTW-WKG
Brons Serviceplan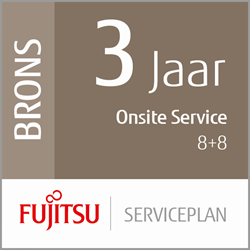 Beschrijving:
3 Jaar Serviceplan: Onsite Service - 8 uur Reactie + 8 uur hersteld.

Bestellen op onderdeelnummer:
U3-BRZE-WKG