Overzicht
De essentiële fi Series-scanner met uitzonderlijke bedrijfsprestaties
Scannen met 40 ppm/80 ipm in kleur, grijstinten en monochroom
ADF (Automatic document feeder) voor 80 vellen
Geavanceerde papierverwerkingstechnologie voor ultieme betrouwbaarheid bij documentinvoer
LED-lichtbron
Scanner Central Admin-suite
Scannen van gestanste kaarten (dikte 1,4 mm)
Geleverd met PaperStream IP (TWAIN/ISIS) en PaperStream Capture
Kenmerken
Uitmuntende papierinvoer zorgt voor betrouwbare scans van batches, ongeacht de staat van het document
Met de nieuwe scanners kan de gebruiker een grote verscheidenheid aan papierdiktes (27 tot 413 g/㎡) en plastic kaarten scannen via hetzelfde invoermechanisme waarmee onze topmodellen zijn uitgerust. Bovendien wordt met de papierbeschermingsfunctie de gehele lengte van een document continu gecontroleerd tijdens het scannen en wordt de papierinvoer automatisch gestopt als er een fout optreedt, zodat schade aan het document wordt voorkomen. Alles bij elkaar genomen ervaart u zo de betrouwbare scanervaring die u van Fujitsu verwacht.
Betrouwbare scheefheidsreductie bij het scannen van een gemixte batch

De fi-7140 detecteert tijdens het scannen van een gemixte batch automatisch de documentgrote. Bovendien zorgt de scheefheidsreductiefunctie ervoor dat de uitlijning van gescande documenten wordt gedetecteerd en dat scheve bladen worden gecorrigeerd om te voorkomen dat de rand van een gescand document ontbreekt. Gebruikers kunnen ervan uitgaan dat het resultaat net zo goed is als bij het scannen van netjes uitgelijnde documenten.
Compact ontwerp om snel te kunnen scannen op uw bureau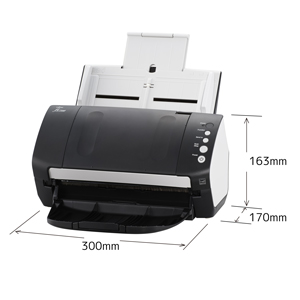 De fi-7140 is een compact bureaumodel voor balies en recepties of kantoren. De scansnelheid is 40 ppm (A4, kleur, 200/300 dpi). U hoeft alleen op de scanknop te drukken en het scannen start binnen een seconde. Als u scant met de fi-7140, hoeven uw klanten en u niet te wachten.
Genereert automatisch de meest geschikte beeldgegevens van hoge kwaliteit voor het OCR-proces
Het stuurprogramma van de PaperSteam IP-scanner ondersteunt TWAIN/ISIS en bespaart u de moeite van het aanpassen van de instellingen voor het OCR-proces. Het stuurprogramma zet de beelden automatisch om in uitzonderlijk duidelijke beelden voor nog snellere OCR, zelfs bij het scannen van gekreukelde/vuile documenten of documenten met een achtergrondpatroon.
Optie: post-imprinter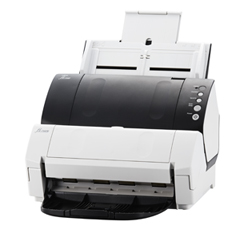 De optionele imprintereenheid drukt na het scannen identificatiemarkeringen zoals datums, alfanumerieke codes en symbolen af op de achterzijde van het originele document. Zo is het gemakkelijker om de originelen van een gescand document te vinden wanneer u deze wilt raadplegen.
Optie: draagvellen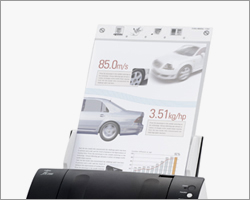 Met draagvellen kunt u documenten, foto's of knipsels scannen die groter zijn dan A4-formaat. Documenten die groter zijn dan A4 (zoals A3 of B4) of foto's en knipsels die snel kunnen beschadigen, kunnen met behulp van draagvellen worden gedigitaliseerd.
* Draagvellen worden afzonderlijk verkocht (5 bladen per set). (Vervang het draagvel na circa 500 scans)
Specificaties
Omschrijving
fi-7140
Ondersteunde besturingssystemen
Windows® 10 (32-bit/64-bit), Windows® 8.1 (32-bit/64-bit), Windows® 7 (32-bit/64-bit), Windows Server® 2019 (64-bit), Windows Server® 2016 (64-bit), Windows Server® 2012 R2 (64-bit), Windows Server® 2012 (64-bit), Windows Server® 2008 R2 (64-bit), Linux (Ubuntu 18.04 / 16.04 / 14.04 LTS), macOS Catalina v10.15, macOS Mojave v10.14
Sensortype
Automatische documentinvoer (ADF)
Scanmodi
Enkelzijdig / Dubbelzijdig, Kleur / Grijstinten / Monochroom
Beeldsensortype
Kleur-CCD (Charge Coupled Device) x 2 (1 aan voorzijde, 1 aan achterzijde)
Lichtbron
Witte led-array x 2 (1 aan voorzijde, 1 aan achterzijde)
Dubbele invoerdetectie
Ultrasone sensor voor dubbele invoerdetectie x 1, sensor voor papierdetectie
Documentgrootte
Maximum
216 x 355,6 mm (8,5 x 14 inch)
Minimum(

1

)
50,8 x 54 mm (2 x 2,13 inch) (liggend/staand)
Lang papier scannen(

2

)
216 x 5588 mm (8,5 x 220 inch)
Papiergewicht(

3

)
(dikte)
Papier
27 tot 413 g/m² (7,2 tot 112 lb.)
* A8-formaat: 127 tot 209 g/m² (34 tot 56 lb.)
Plastic kaart
1,4 mm of minder(4)
Scansnelheid(

5

)
(A4, staand)
Kleur(

6

)
Enkelzijdig: 40 ppm, dubbelzijdig: 80 ipm
(200/300 dpi)
Grijstinten(

6

)
Monochroom(

7

)
Dagelijkse bedrijfscyclus
6.000 pagina's
Capaciteit van papiergeleider
(A4 liggend)(

8

)
80 vel (A4: 80 g/m² of 20 lb. )
Achtergrondkleuren
Wit/zwart (selecteerbaar)
Optische resolutie
600 dpi
Outputresolutie(

9

)
Kleur (24-bits)
50 tot 600 dpi
(in te stellen per dpi-toename), 1200 dpi (stuurprogramma)(10)
Grijstinten (8-bits)
Monochroom (1-bit)
Formaat uitvoer
Kleur
24-bits
Grijswaarden
8-bits
Zwart-wit
1-bit
Interne videoverwerking
1,024 niveaus (10-bits)
Interface
USB 2.0
Vorm aansluiting
B-type
Functies voor beeldverwerking
Uitvoer van meerdere beelden, automatische kleurdetectie, blanco-paginaherkenning, dynamische drempel (iDTC), geavanceerde DTC, SDTC, foutdiffusie, halftoon, descreening, benadrukking, kleur verwijderen, drop-out kleur (geen/rood/groen/blauw/verzadiging), sRGB-uitvoer, perforaties verwijderen, tab van index bijsnijden, beeld splitsen, rechtzetten, randcorrectie, verticale strepen onderdrukken, automatische papierformaatherkenning
Voedingseisen
Wisselstroom 100 tot 240 V ±10%
Energieverbruik
In gebruik: 36 W of minder
In slaapstand: 1,8 W of minder
In automatische stand-bymodus (uit): 0,35 W of minder
Bedrijfsomgeving
Temperatuur: 5 tot 35 °C (41 tot 95 °F)
Relatieve vochtigheid: 20 to 80% (zonder condensatie)
Afmetingen: breedte x diepte x hoogte(

11

)
300 x 170 x 163 mm (11,81 x 6,69 x 6,42 inch)
Gewicht
4,2 kg (9,26 lb.) 
Meegeleverde software/stuurprogramma's
PaperStream IP (TWAIN/TWAIN x64/ISIS), WIA Driver, softwarebedieningspaneel, foutherstelhandleiding, PaperStream Capture, ScanSnap Manager voor de fi Series (12), Scannen naar Microsoft SharePoint(12), ABBYY FineReader voor ScanSnap™(12), Scanner Central Admin Agent
Milieutechnische naleving
ENERGY STAR®/RoHS
Bijbehorende items
ADF-papierbaan, voedingskabel, AC-adapter, USB-kabel, installatie-dvd-rom
Het minimum scangebied geldt alleen voor de ADF.
Kan documenten scannen die langer zijn dan Legal-formaat. Scannen van lange pagina's wordt ondersteund voor documenten met een lengte tot 5588 mm (220 inch) wanneer de resolutie is ingesteld op 200 dpi of minder.
Het papiergewicht geldt alleen voor de ADF.
Scant maximaal 3 kaarten per keer. (Opmerking: ondersteunt geen invoer van multi-gestanste kaarten.)
De daadwerkelijke scansnelheden worden beïnvloed door de tijd die nodig is voor gegevensoverdracht en verwerking door de software.
De vermelde snelheden zijn bij gebruik van JPEG-compressie.
De vermelde snelheden zijn bij gebruik van TIFF G4-compressie.
De maximumcapaciteit hangt af van het papiergewicht.
Instelbare maximale dichtheid kan variëren afhankelijk van de lengte van het gescande document.
Er kunnen scanbeperkingen van kracht zijn als er in een hogere resolutie wordt gescand (600 dpi of hoger). Dit hangt af van de scanmodus, de documentgrootte en het beschikbare geheugen.
Exclusief de papierbaan en stapelaar van de ADF.
De software kan worden gedownload vanaf de website waarvoor een koppeling op de installatie-dvd-rom te vinden is.
Verbruiksartikelen en opties
Verbruiksartikelen
Reinigingssets
Sets met verbruiksartikelen
Printcartridge (fi-C200PC) voor fi-718PR printkop, onderdeelnr. CA00050-0262. Levensduur: 4.000.000 afgedrukte tekens
Opties
Onderdeel
Onderdeelnummer
Omschrijving
Post-imprinter
(FI-718PR)
PA03670-D201
Postscan-imprinter / afdrukken op achterzijde van document
Draagvellen
PA03360-0013
Elk pakket bevat 5 draagvellen. Het is raadzaam om een draagvel na 500 scans te vervangen.
Garantie
Standaardgarantie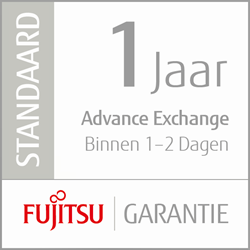 Beschrijving:
1 Jaar Standaardgarantie: Advance Exchange - Binnen 1-2 dagen.
Inbegrepen in de productprijs.

Verlengde Garantie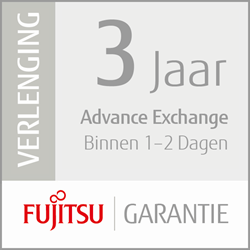 Beschrijving:
3 Jaar Verlengde Garantie: Advance Exchange - Binnen 1-2 dagen.

Bestellen op onderdeelnummer:
U3-EXTW-WKG
Brons Serviceplan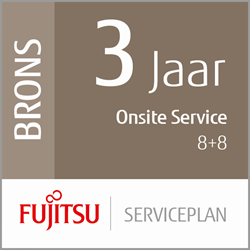 Beschrijving:
3 Jaar Serviceplan: Onsite Service - 8 uur Reactie + 8 uur hersteld.

Bestellen op onderdeelnummer:
U3-BRZE-WKG