Overzicht
Geëvolueerd instapmodel geschikt voor snel scannen
Scannen met 27 ppm/54 ipm in kleur, grijstinten en monochroom
ADF (Automatic Document Feeder) voor 50 vellen
Scanner Central Admin-suite
Scannen van gestanste kaarten (dikte 0,76 mm)
Nauwkeurig scannen van gemengde batches voor verschillende typen documenten
Geleverd met PaperStream IP (TWAIN/ISIS) en PaperStream Capture
Kenmerken
Ideaal voor scannen op uw bureau dankzij het compacte formaat en de mogelijkheid om kaarten te scannen
De fi-7030 kan betrouwbaar een breed scala aan documenten scannen, van dunne documenten tot dikke documenten (40-209 g/m2), en hij is geschikt voor het scannen van plastic kaarten waaronder gestanste kaarten. Lang papier tot 5 meter en meer kan eveneens worden gescand. En ook het scannen van A3-formaat is mogelijk met behulp van een draagvel dat optioneel met de scanner wordt meegeleverd.
Dankzij het compacte ontwerp kan het apparaat overal worden geplaatst
Het opvallende compacte formaat met een uitgekiend ontwerp past in uiteenlopende omgevingen. De scanner past in kleine ruimten, zelfs in ruimten op een bureau die nog kleiner zijn dan A4-formaat.
Snelle verwerking
De fi-7030 scant met een snelheid van 27 ppm/54 ipm (A4, staand, kleur, 200/300 dpi), wat 35% sneller is dan bij het vorige model. De scanner laat u of uw klanten niet wachten, met een korte opstarttijd van slechts een halve seconde en een hersteltijd van 1,0 seconde na terugkeer uit de slaapstand.
Nauwkeurig scannen van gemengde batches voor verschillende typen documenten
De scheefheidsreductiefunctie voorkomt scheefloop van de volgende documenten als het vorige document scheef is, waardoor wordt voorkomen dat het beeld onvolledig is wegens ontbrekende onderdelen, zelfs bij het in batches scannen van verschillende soorten documenten. Dit vermindert ook de belasting van opnieuw scannen.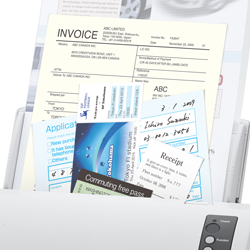 Zorgt automatisch voor de beste beeldkwaliteit zonder gedoe
Het stuurprogramma van de PaperStream IP-scanner ondersteunt TWAIN/ISIS en bespaart u de moeite van het aanpassen van de instellingen voor het OCR-proces. Het stuurprogramma zet de beelden automatisch om in uitzonderlijk duidelijke beelden voor nog snellere OCR, zelfs bij het scannen van gekreukelde/vuile documenten of documenten met een achtergrondpatroon.
Geavanceerde software voor efficiëntie van uw werk
PaperStream Capture - software voor het vastleggen van afbeeldingen
Dankzij de intuïtieve interface kunt u via de verschillende functies voor het scannen van batches van PaperStream Capture effectief en efficiënt papiergebaseerde informatie opnemen in de workflow van uw organisatie. Door vooraf een scanprofiel in te stellen, kan PaperStream Capture u helpen uw workflow te vereenvoudigen door gemakkelijk scannen.
Scanner Central Admin - centrale beheersoftware voor scanners
Met Scanner Central Admin kan de systeembeheerder een groot aantal scanners in het netwerk beheren door middel van gelijktijdige updates van stuurprogramma's en instelinformatie van scanners, of door de status van verbruiksartikelen en storingen via het netwerk te bewaken.
Optie: draagvellen
Met draagvellen kunt u documenten, foto's of knipsels scannen die groter zijn dan A4-formaat. Documenten die groter zijn dan A4 (zoals A3 of B4) of foto's en knipsels die snel beschadigd kunnen raken, kunnen met behulp van het draagvel worden gedigitaliseerd.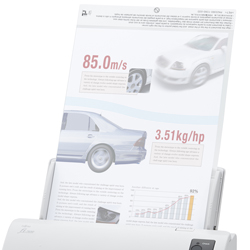 * Draagvellen worden afzonderlijk verkocht (5 bladen per set). (Vervang het draagvel na circa 500 scans)
Specificaties
Model
fi-7030
Specificaties
Beeldsensortype
Kleur-CIS (Contact Image Sensor) x 2 (voor / achter)
Lichtbron
3-kleurige LED (rood/groen/blauw) x 2 (1 aan voorzijde, 1 aan achterzijde)
Optische resolutie
600 dpi
Uitvoerresolutie(1)
Kleur (24-bits)
50 tot 600 dpi
(in te stellen per dpi-toename), 1200 dpi (stuurprogramma)(2)
Grijstinten (8-bits)
Zwart-wit
Kleurdiepte uitvoer
Kleur: 24-bits, grijswaarden: 8-bits, monochroom: 1-bit
Interne videoverwerking
1024 niveaus (10-bits)
Functie voor beeldverwerking
Rechtzetten, bijsnijden, beeldbenadrukking, foutdiffusie, rasteren, zwart-witmethode, dynamische drempel (iDTC), statische drempel, geavanceerde DTC, SDTC, descreening, drop-out kleur (rood/groen/blauw/wit/geen/verzadiging/aangepast), automatische kleurdetectie, uitvoer van meerdere beelden, blanco-paginaherkenning, sRGB-uitvoer, beeld splitsen, voorwaarts/achterwaarts samenvoegen
Scansnelheid(3)
(A4, staand)
Kleur(4)
Grijstinten(4)
Monochroom(5)
ADF
Enkelzijdig: 27 ppm, dubbelzijdig: 54 ipm
(200 dpi/300 dpi)
Capaciteit ADF(6)
50 vel (A4: 80 g/m² of 20 lb. )
Dagelijkse bedrijfscyclus
4.000 pagina's
Documentgrootte
ADF, minimum
50,8 x 50,8 mm (2 x 2 inch)
ADF, maximum
216 x 355,6 mm (8,5 x 14 inch)
Lang document(7) 
216 x 5.588 mm (8,5 x 220 inch)
Invoer ADF
Papiergewicht
(dikte)
Papier
40 g/m² tot 209 g/m² (11 lb. tot 56 lb.), A8-formaat: 127 g/m² tot 209 g/m² (34 lb. tot 56 lb.)
Plastic kaart
0,76 mm of minder, gestanste kaart: bruikbaar, er kunnen niet meerdere kaarten tegelijk worden ingesteld
Interface
USB2.0 / USB1.1
Minimale specificaties pc
PaperStream Capture, i5 2,5GHz-processor, 4 GB RAM
Fysieke specificaties
Energievereisten
Wisselstroom 100 tot 240 V, ± 10%
Energieverbruik
17 W of minder Slaapstand: 1,1 W; automatisch stand-by (UIT): 0,15 W of minder
Afmetingen (B x D x H) ( 8 )
290 x 146 x 130 mm (11,41 x 5,74 x 5,11 inch)
Gewicht
2,9 kg (6,4 lb) of minder
Milieunormen(10)
ENERGY STAR®/RoHS
Gebruiksomgeving
Temperatuur
5 tot 35 °C (41 tot 95 °F)
Relatieve
vochtigheid
20 tot 80% (zonder condensatie)
Inhoud doos
ADF-papierbaan, voedingskabel, AC-adapter, USB-kabel, installatie-dvd-rom,
Beknopte installatiehandleiding, veiligheidsvoorschrift
Meegeleverde software
PaperStream IP-stuurprogramma (TWAIN/ISIS), WIA Driver, softwarebedieningspaneel, foutherstelhandleiding, PaperStream Capture, ScanSnap Manager voor de fi Series (12), Scannen naar Microsoft SharePoint(12), ABBYY FineReader voor ScanSnap(12), Scanner Central Admin Agent
Opties
2D Barcode voor PaperStream, draagvel
Ondersteunde besturingssystemen
Windows® 11, Windows® 10, Windows® 8.1, Windows® 7, Windows Server® 2022, Windows Server® 2019, Windows Server® 2016, Windows Server® 2012 R2, Windows Server® 2012, Windows Server® 2008 R2, macOS, Linux (Ubuntu)
Instelbare maximale dichtheid kan variëren afhankelijk van de lengte van het gescande document.
Bij het scannen met hoge resolutie (meer dan 600 dpi) gelden bepaalde beperkingen voor de grootte van het document dat kan worden gescand, afhankelijk van de systeemomgeving.
De daadwerkelijke scansnelheden worden beïnvloed door de tijd die nodig is voor gegevensoverdracht en verwerking door de software.
De vermelde snelheden zijn bij gebruik van JPEG-compressie.
De vermelde snelheden zijn bij gebruik van TIFF G4-compressie.
De maximumcapaciteit hangt af van het papiergewicht.
Kan documenten scannen die langer zijn dan Legal-formaat. Scannen van lange pagina's wordt ondersteund voor documenten met een lengte tot 5588 mm (220 inch) wanneer de resolutie is ingesteld op 200 dpi of minder.
Exclusief de papierbaan en stapelaar van de ADF.
De software kan worden gedownload vanaf de website waarvoor een koppeling op de installatie-dvd-rom te vinden is.
PFU Limited, een onderneming van Fujitsu, heeft vastgesteld dat dit product voldoet aan de RoHS-vereisten (2002/95/EU)
Accessoires
Verbruiksartikelen
Reinigingssets
Sets met verbruiksartikelen
Opties
| Onderdeel | Onderdeelnummer | Omschrijving |
| --- | --- | --- |
| 2D Barcode voor PaperStream | PA43404-A433 | Met deze optie kan de scanner 2D-barcodes herkennen. (PDF417, QR code, Data Matrix, Aztec Code) |
| Draagvellen | PA03360-0013 | Elk pakket bevat 5 draagvellen. Het is raadzaam om een draagvel na 500 scans te vervangen. |
Garantie
Standaardgarantie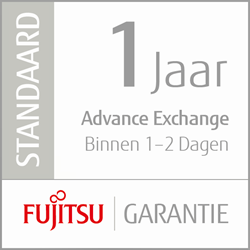 Beschrijving:
1 Jaar Standaardgarantie: Advance Exchange - Binnen 1-2 dagen.
Inbegrepen in de productprijs.

Verlengde Garantie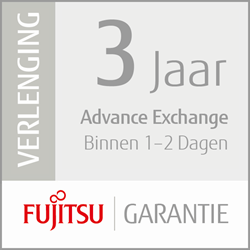 Beschrijving:
3 Jaar Verlengde Garantie: Advance Exchange - Binnen 1-2 dagen.

Bestellen op onderdeelnummer:
U3-EXTW-WKG
Brons Serviceplan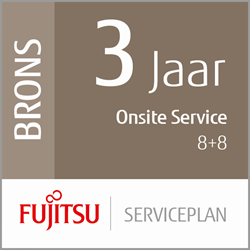 Beschrijving:
3 Jaar Serviceplan: Onsite Service - 8 uur Reactie + 8 uur hersteld.

Bestellen op onderdeelnummer:
U3-BRZE-WKG