Overzicht
A6 scannen voor draagbaarheid en compacte ruimten
Eenvoudig scannen met één druk op de knop
Scannen in één seconde met 300 dpi
Ware optische resolutie van 600 dpi
Geleverd met PaperStream IP (TWAIN/ISIS) en PaperStream Capture
Optionele voeding via USB voor draagbaarheid
Kenmerken
De juiste oplossing voor het scannen van kleine documenten
De snelle, compacte, lichtgewicht scanner fi-65F is ideaal voor front-offices, balies, patiëntopnamen en verkooppunten. Alle gangbare typen identiteitskaarten en pasjes worden snel gescand, zoals rijbewijzen, paspoorten, militaire id's, verzekeringspasjes, creditcards, foto's en kleine formulieren.
Snelle, betrouwbare scanprestaties voor een hogere productiviteit
High-speed USB 2.0-connectiviteit zorgt voor uitstekende prestaties en installatiegemak. PaperStream IP Cleanup-stuurprogramma's (TWAIN en ISIS®) en PaperStream Capture-scansoftware worden meegeleverd om direct de integratie te vereenvoudigen en de productiviteit te verhogen.
Geen tijd, geen klep, geen probleem
De fi-65F-scanner verhoogt uw productiviteit met snel scannen zonder klep in één seconde bij 300 dpi. Bij scannen zonder klep hoeft u de klep niet steeds voor en na elke scan te openen en te sluiten, terwijl het document wel automatisch wordt rechtgezet, bijgesneden en geroteerd. De scanknop aan de voorzijde van de scanner zorgt voor een nog snellere verwerking van meerdere documenten.
Leg de details die u nodig hebt in één seconde vast
De fi-65F-scanner levert vlekkeloze, scherpe scans tot 105 x 148 mm (5,83 x 4,13 inch) -- in kleur, grijstinten en monochroom met een ware optische resolutie van 600 dpi. Als de tijd dringt, kunt u in één seconde documenten bij 300 dpi in monochroom of 8-bits grijstinten scannen. En 24-bits kleurenscans bij 200 dpi neemt niet meer dan 1,7 seconde in beslag.
PaperStream IP (32-bits/64-bits)
Het PaperStream IP-stuurprogramma vereenvoudigt het verbeteren van het beeld tijdens het scannen van facturen, identiteitspasjes, bonnen, formulieren of ander dagelijks papierwerk. PaperStream IP verbetert automatisch de beeldkwaliteit, verwijdert ongewenste achtergronden en optimaliseert uw gescande afbeeldingen voor optische tekenherkenning. Snel en gebruiksvriendelijk. Met onze nieuwste innovatie, Assisted Scan, kan de gebruiker afbeeldingen van slechte kwaliteit vervangen door de afbeelding visueel te selecteren. Kennis van de stuurprogramma-instellingen is hiervoor niet nodig. Als stuurprogramma-instellingen toch moeten worden aangepast voor het scannen van weinig voorkomende en lastige documenten, kunnen de scanoperators de aanpassingen met onze previewfunctie in realtime zien zonder het tijdrovende proces van opnieuw scannen. PaperStream IP werkt met ISIS- en TWAIN-toepassingen.
PaperStream Capture
Met PaperStream Capture is geavanceerd scannen met Fujitsu-scanners nog nooit zo eenvoudig geweest. PaperStream Capture biedt een gestroomlijnde gebruikersinterface die weinig leertijd vraagt en de productiviteit verhoogt. Niet alleen zijn de meestgebruikte profielen (zwart-wit, kleur en automatische kleuren) beschikbaar, maar de gebruiker kan bovendien snel nieuwe profielen maken of wijzigen via een wizard. We hebben het beginscherm zo ingedeeld dat batches snel kunnen worden onderbroken of hervat. PaperStream Capture is ook geïntegreerd met de functie voor ondersteund scannen van PaperStream IP, waarmee documenten visueel kunnen worden verbeterd. Door functies voor het lezen van streepjescodes en patchcodes is taakscheiding eenvoudig en wordt de ordening van documenten verbeterd.
Hoogwaardig en milieuvriendelijk scannen
Fujitsu heeft milieuvriendelijkheid al jaren hoog in het vaandel staan en de fi-65F is de nieuwste bedrijfsscanner die tijdens het gehele productieproces voldoet aan de strengste milieucriteria. Het ontwerp en de fabricage van de fi-65F voldoen aan de Energy Star-criteria voor energieverbruik en aan de regelgeving van de Europese Unie met betrekking tot de beperking van gevaarlijke stoffen en vluchtige organische verbindingen.
Specificaties
Model
fi-65F
Beeldsensortype
Kleur-CIS (Contact Image Sensor)
Resolutie(1)
50-600 dpi (aanpasbaar in stappen van 1 dpi)
Halftoonpatronen
Rasteren en foutdiffusie
Grijswaarden
8-bits / pixel (uitvoer)
Kleur
24-bits / pixel (uitvoer)
Scansnelheden(2)
Snelheid(1)(2)
AC-adapter

Monochroom
Grijstinten
Kleur
1,0 seconde (200/300 dpi)

(Kleur) 1,7 seconden (200 dpi), 2,5 seconden (300 dpi)
Snelheid(1)(2)
Voeding via USB

Monochroom
Grijstinten
Kleur
2,0 seconde (200/300 dpi)

(Kleur) 2,0 seconden (200 dpi), 2,5 seconden (300 dpi)
Scanmodus
Enkelzijdig
Documentinvoermodus
Flatbed
Documentgrootte
Flatbed, maximum
A6 (105 x 148 mm of 5,83 x 4,13 inch)
Interface
High-speed USB 2.0
Ondersteunde softwarestuurprogramma's
PaperStream IP (TWAIN en ISIS)
Achtergrond
Zwart
Voedingsvereisten (automatisch wisselen)
Wisselstroom 100-200 V, 50/60 Hz
Voedingseisen
Aangesloten voedingskabel
In gebruik: 8 W of minder
In slaapstand: 2 W of minder
In automatische stand-bymodus (uit): 0,5 W of minder
Voedingseisen
Aangesloten voedingskabel via USB
In gebruik: 5 W of minder
In slaapstand: 2 W of minder
In automatische stand-bymodus (uit): 0,5 W of minder
Afmetingen (H x B x D)(3)
40 x 234 x 145 mm (1,6 x 9,2 x 5,7 inch)
Gewicht
0,9 kg (1,98 lb.)
Inhoud doos
AC-kabel, AC-adapter, USB-kabel, voedingskabel via USB, installatie-dvd-rom, beveiligingvoorzorgsmaatregelen
Meegeleverde software
PaperStream IP-stuurprogramma (TWAIN/ISIS), WIA Driver, softwarebedieningspaneel, PaperStream Capture
Ondersteunde besturingssystemen
Windows® 11, Windows® 10, Windows® 8.1, Windows® 7, Windows Server® 2022, Windows Server® 2019, Windows Server® 2016, Windows Server® 2012 R2, Windows Server® 2012, Windows Server® 2008 R2
Opties
2D Barcode voor PaperStream
Kenmerken
Automatisch rechtzetten, automatisch bijsnijden en verwijderbare documentklep
Vereist pc met Intel® Pentium® 4 1,8 GHz of hoger, 1 GB geheugen of meer en 5400 rpm of sneller vaste-schijfstation. (Pc met Intel® Core (TM) i5 2,5 GHz of hoger, 4 GB geheugen of meer en 7200 rpm of sneller wordt aanbevolen.) 10 GB beschikbare vaste-schijfruimte wordt aanbevolen voor installatie.
De daadwerkelijke scansnelheden worden beïnvloed door de tijd die nodig is voor gegevensoverdracht en verwerking door de software.
Projectie-items zijn niet inbegrepen in deze afmetingen.
Accessories
Part Number
Description
fi-65F Options
2D Barcode for PaperStream
PA43404-A433
This option enables the scanner to recognize 2D Barcode. (PDF417, QR code, Data Matrix)
PaperStream Capture Pro Scan Station (WG)
PA43404-A665
PaperStream Capture Pro optional license for fi-65F
Garantie
Standaardgarantie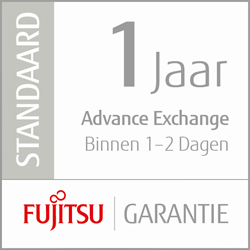 Beschrijving:
1 Jaar Advance Exchange: Binnen 1-2 dagen.
Inbegrepen in de productprijs.

Verlengde Garantie
Beschrijving:
3 Jaar Verlengde Garantie: Advance Exchange - Binnen 1-2 dagen.

Bestellen op onderdeelnummer:
U3-EXTW-PAS