Fujitsu PalmSecure™
PalmSecure™, our market-proven biometric authentication technology based on palm vein pattern recognition, has been shown to be one of the most accurate biometric authentication solutions currently available.
PalmSecure™ provides a high level of accuracy, is easy to implement and uses - a non-intrusive and contactless reader. This ensures virtually no physiological user restrictions while proving to be extremely hygienic as no contact to the skin is required. As veins are internal and have a wealth of differentiating features, attempts to forge an identity are extremely difficult, thereby enabling a high level of security.
Fujitsu PalmSecure Palm Vein Authentication Technology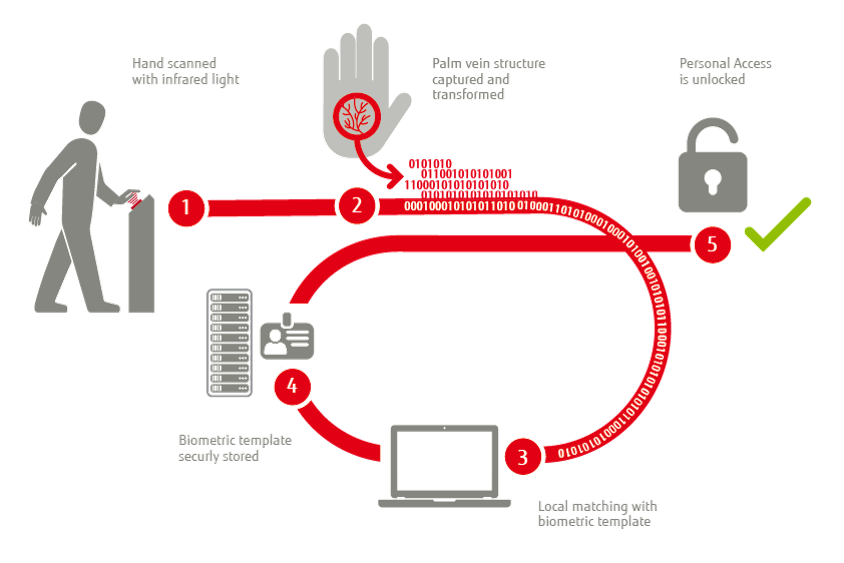 Fujitsu PalmSecure business applications
Easily secured with PalmSecure™.
PalmSecure™ recognizes the complex and unique palm vein patterns hidden under our skin, which remain unchanged throughout our entire lifetime. This makes the method suitable for almost everyone and offers secure, yet exceptionally simple protection.
Contact us

To find out more about Fujitsu's Enterprise & Cyber Security services and how they protect your business, please complete this form.