Customer Interview
Transformation process toward a "Smart Factory" Furukawa Electric Co., Ltd. envisioned
- Field Innovation backing up the evolution of MONOZUKURI -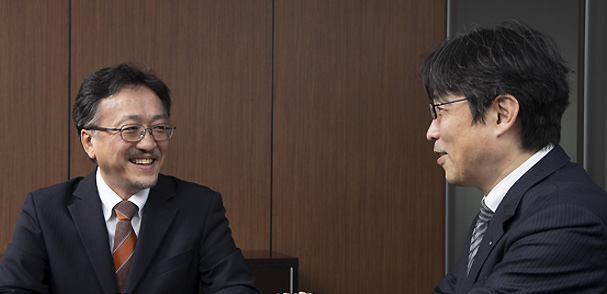 Fujitsu's Field Innovation (FI) visualizes field challenges and solves them from the perspective of "People," "Process" and "ICT" while considering the relationship between them. FI activities have achieved many significant outcomes even in the manufacturing industry, which faces fierce global competition. Mr. Yoshinori Ishida who is responsible for MONOZUKURI Innovation at Furukawa Electric Co., Ltd. (Furukawa Electric) and Yasuharu Yoshida, a Fujitsu Field Innovator (FIer), talked about the value brought by FI to the manufacturing industry.
To introduce and utilize the IoT,
it is important to streamline operations first.
Yoshida: I would like to thank you for utilizing FI. Fujitsu started this activity in 2007 and Furukawa Electric has been using it in various fields since then. In addition, you worked on improving the business process of Mie Works. First, I would like to ask you about your objectives.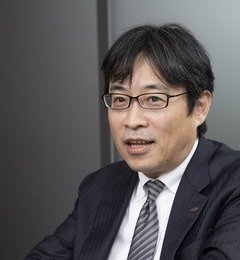 Yasuharu Yoshida
Fujitsu Certified Senior Field Innovator
General Manager, Industrial Finance Department
Fujitsu Limited

Ishida: Our company has been working on field improvement based on the concept of "NF (New Furukawa) Production System" for a long time and has been implementing various measures according to changes of the times. For example, these days we're focusing on improving inventory. What we've found is that we need to make the field more visible. Because of our long company history and varied product line, there are some fields where things can be seen clearly, while others are not so clear. In the future, utilizing the IoT will become an urgent challenge, so we decided to get help from Fujitsu, an expert in the digital field.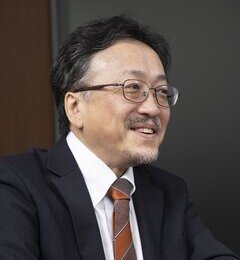 Yoshinori Ishida
General Manager
NF Production System Department
MONOZUKURI Innovation Division
Furukawa Electric Co., Ltd.
Yoshida: So, that is why you think objective data is important for improvement and reformation.
Ishida: Well, in order to solve a challenge, it is necessary to have an accurate view of the field. But there is a limit if we just manually input data into a spreadsheet using software. Therefore, we thought about utilizing the IoT. But surprisingly, FIers' proposal had a slightly different perspective. This was unexpected.
Yoshida: Furukawa Electric and Fujitsu are both members of the Furukawa Group. So, the mindset of support activity reflects a mixture of familiarity and tension. The first consideration in this initiative was how to design the transformation process toward achieving a Smart Factory which Furukawa Electric envisions. Furukawa Electric's "TSUNAGERU MONOZUKURI" aims to create an environment that automatically optimizes production, taking into consideration the condition of equipment and materials. However, many divisions are involved in MONOZUKURI. If each field looks in different directions, or there's room for improvement in existing work processes, the introduction of the IoT will not make any difference at all. Therefore, I thought we should start by organizing our work so that it flowed correctly.
Ishida: If we just start with IoT-based measures, it is true that we would end up with processes and systems that are not optimal for the field. As Mr. Yoshida said, we must start with reviewing the workflow first. Initially, we thought we'd be recommended Fujitsu's IoT solution, but after FIers pointed this out, our understanding significantly changed.
Unanimous recognition of challenges through discussions with all members
Visualization through digital technology has also become a major driving force
Yoshida: As part of these efforts, we spent nearly a year visualizing the workflow of Mie Works. The people working in the field go about their work every day, but there were many cases where they weren't aware of things they weren't responsible for. Through grasping the big picture of the workflow, they were able to see which parts needed to be improved, so some people said it was good that they didn't rush to introduce a system.
Ishida: We really appreciated that. It was also significant that FIers asked us to consider the "Want To-Be State" of the plant based on the results of Fujitsu's own plant line maturity assessment service. The various departments and section managers in the field also have varied opinions and ideas. However, through discussing the "Want To-Be State" with everyone, the awareness and direction they should aim for was collected and put together as a Goal and Measure System Diagram. This became a great asset for the organization. I realized that the difference between FI and general consulting is that FIers think together with people in the field of user companies like us.
Yoshida: We've always said that FI consists of "Activities". It's exactly the reason you pointed out. We offer a variety of improvement techniques and tips, but the role of FIers is to support how to achieve what you want to do. Through working steadily on these activities, the customer will be able to see how to gradually tackle these challenges. In this sense, to achieve real results, we need time to change the corporate culture of customers so that they'll be able to improve and reform by themselves.
Ishida: Visualization of equipment operation time and worker movement at the plant gives impetus to data-based improvements.
Yoshida: FI offers a variety of visualization techniques and tools for the manufacturing industry. This time, we collected and analyzed operation information of manufacturing equipment, and we asked the workers to wear a beacon to check their actual flow. Other methods of visualization include video analysis using cameras. The data obtained this way is an asset for advancing the sophistication of the manufacturing field.
Ishida: There is no doubt that visualization using digital technology will become more and more important. However, these efforts tend to require a rather massive data collection and analysis platform and take too much money and time. In this respect, it was good to take an approach of starting from where we could work on it immediately. Once we start small by saying "Let's start with this line", we can get results faster, and new ideas are generated.
Improvement and reform promotion without deviation
Grow together as partners
Yoshida: I was deeply impressed by the fact that members of Mie Works kept their focus on their activities without deviation. I think it's probably because of Furukawa Electric's company culture, but what view do you hold for the future?
Ishida: Once a certain level of success is achieved with the activities of Mie Works, we would like to use it globally as a model case for the entire company. Different Works produce different products, but if we can build a solid foundation, we can go forward with improvements based on the same concept. By doing so, we hope to gather the necessary data without any additional cost, reduce the burden in the field, and shift to more creative work. In addition, it is important to continue activities even if personnel change, so I would like to focus on developing human resources responsible for improvement and reform.
Yoshida: It is true that there are cases in which the activities of FI stagnate due to change of ownership and leaders. This can be most unfortunate and a missed opportunity for our customers. In this respect, Furukawa Electric has been promoting these activities for a long time, so I am grateful for that. In order to respond to this, we will maintain our original intention and a sense of urgency and will try to develop new visualization techniques and further devise improvement and reform methods.
Ishida: I asked Fujitsu to support the reform of Hiratsuka Works and the Thai plant, and I realized that the FI method itself was evolving. I got the impression that we have been growing together, so we want to continue to work together as good partners.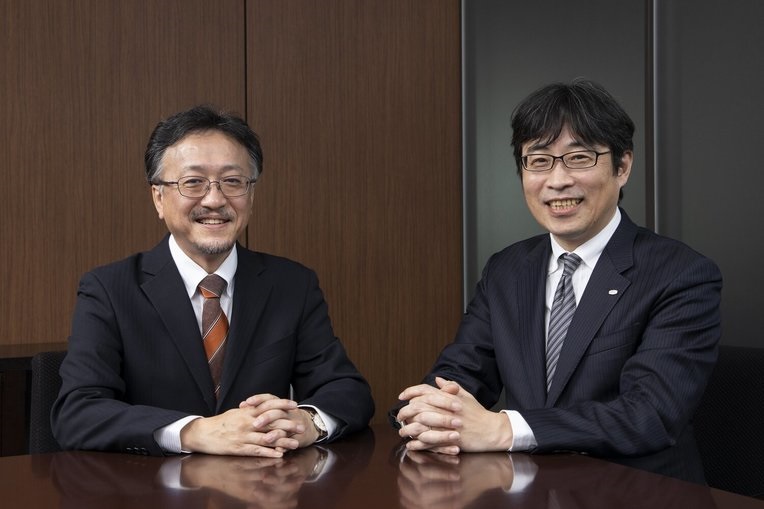 フィールド・イノベーションに関するお問い合わせ
Webでのお問い合わせ
入力フォームへ

当社はセキュリティ保護の観点からSSL技術を使用しております。