How does everyone feel about announcements related to VMworld 2019 US

?
No doubt you have seen various information related to the event including the official announcements

, videos of the keynote speech that have been released

, and Internet news articles. I have been involved with VMware since its infancy in 2005 when server virtualization was just starting to enter the world of business, and after listening to the VMware announcements I got the impression that new virtualization platforms will start to appear again. I think we can consider this as the second dawn of virtualization platforms for the digital era.
We held two internal report meetings on September 6 while the impact of this realization was still vivid. When you think about what kind of world will be achieved from VMware's vision and strategy as well as the kind of impact and opportunities this will bring about for business, there is a wide range of new technologies to discuss and associated business opportunities. In this blog, I would like to share some information related to this event that I have carefully selected.
Current and Future VMware Hybrid Cloud Platform: From VMworld 2019 US
First, I would like to clarify something. The topics and slides discussed at the VMworld sessions are confidential. In particular, we were promise to refrain from showing slides or images to people other than VMworld participants. I have only used information and images released through the VMware official website (including links) for this blog. Thank you for your understanding.
The vision that was told in the keynote speech, "Any Cloud, Any Application, Any Device", remains unchanged since 2012.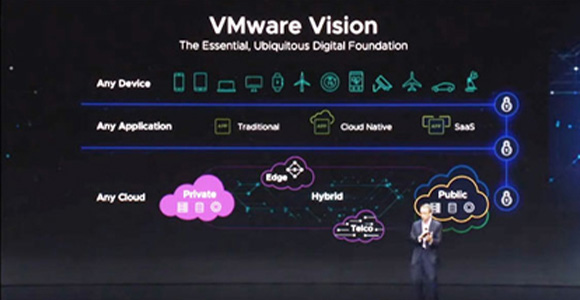 This keynote speech confirmed the fact that there is steady expansion on products and services to realize this vision.
There are many interesting things that can be observed if you look back on this vision. I would like to introduce two points that I noticed.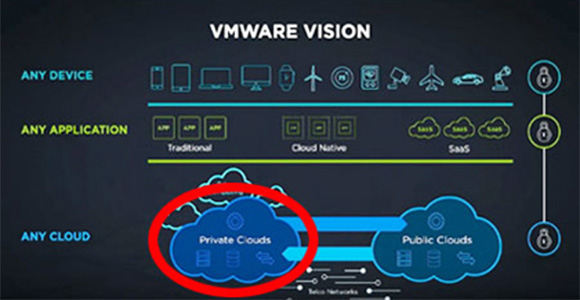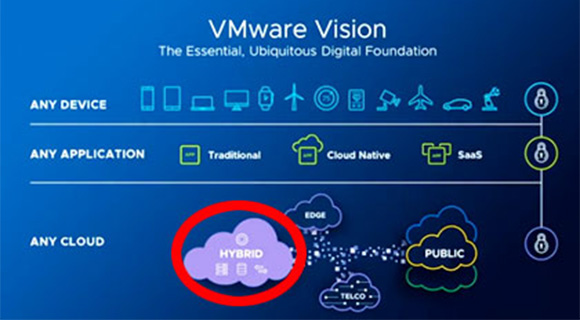 The private cloud seen in 2017 disappeared from the image for 2018 and was changed into a hybrid cloud, and this private cloud was brought back for the image for 2019. What happened to hybrid then? If you look carefully, you can see that "hybrid" is stated in small letters in the center. The cloud for hybrid cloud is gone right? With letters alone, it looks like it is omnipresent.
I think what this means is that VMware-based platforms have advanced universally for on-premise private, public, Edge, and Telco clouds, and no matter where the customer's workload is, management using the same platform, same operations, and same policy is possible. In this sense, the VMware Hybrid Cloud Platform is everything; which was really impressing in my opinion.
In other words, it looks like a declaration is being made that VMware has conquered the cloud.
Let me tell you about another thing that I noticed.
In the vision for 2017, there are lines between private clouds and public clouds. This conveys the message that VMware serves as a bridge between private clouds and public clouds, and products and services that achieved this bridge function were announced. Similarly, in 2018, there is a bridge between hybrid and other clouds. What happened in 2019? You can see that "hybrid" is stated in small letters in the center. There is no line. It has totally disappeared. This makes you wonder "for what VMware will serve as a bridge this year", right?
This year, VMware announced that it would focus on application development platforms for digital transformation (DX).
Look at the image carefully.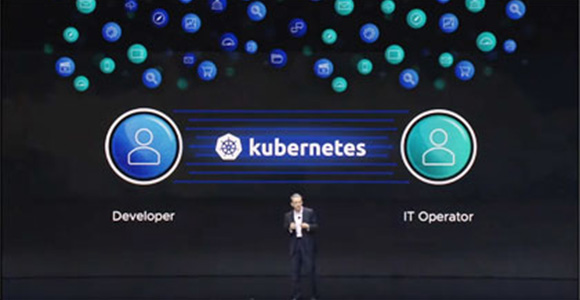 There are lines between developers and IT operators, and Kubernetes

is written on these lines. What this means is that the message has changed from being a bridge between IT platforms to being a bridge between people and people. Moreover, because there are many more lines than before, it seems that a message is being made based on the strong belief that Kubernetes is a technology that can serve as a bridge between both parties.
Fujitsu has also released a message of strong support for customers aiming to achieve DX in the FUJITSU Technology and Service Vision . What we are looking at is the same thing, success for the business of customers through DX.
To migrate or to modernize?
The approaches of either migrating or modernizing the IT assets of customers to achieve DX were mentioned in the keynote speech this year. Two examples of contrasting approaches were introduced: that of migration to a VMware-based cloud platform as is and gradual cloud native modernization, and that of cloud migration after modernization with on-premise Pivotal Cloud Foundry.


These two use cases suggest that the right approach is not migration or modernization. We can decide which approach is best for our company based on the characteristics of the customer's system and the concept of cloud journey.
The final destination for both is Journey to DX.
"To migrate or to modernize?" question is, ultimately, both migrate and modernize.
Announcement on migration
It was announced that the choice of migration candidates for customers will be expanded. The VMware Cloud Foundation platform can be used with Azure

or GCP

. The names of these solutions are Azure VMware Solution

and Google Cloud VMware Solution

. The reason "VMware Cloud" is not included in the names of these solutions like VMware Cloud on AWS is that the service provider is Microsoft for Azure and Google for GCP. VMware was the service provider for AWS, and this is one of the major differences.
For customers who would like to have cloud-like operation qualities on-premise but are not able to migrate to the cloud due to factors such as differences in handling of critical data or service level requirements, managed services that can be shipped and installed in the customer's data center are available, such as VMware Cloud on DellEMC and VMware Cloud on AWS Outposts, which was announced last year.
Announcement on modernization
This announcement at this year's VMworld that had the most impact on me. The announcement was on the Project Pacific

that integrates Kubernetes

with the VMware ESXi hypervisor.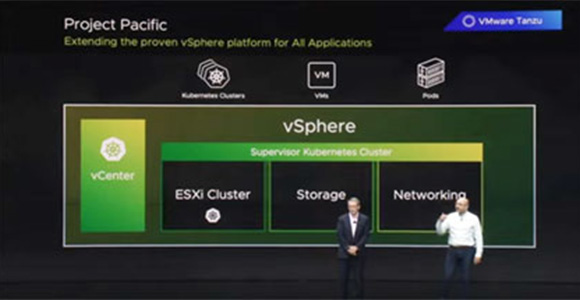 This means that a VMware virtualization platform can be transformed into a container platform for developing digital applications. IT operators and developers can now accelerate innovation by converging Kubernetes, containers and VMs into vSphere's platform.
Of course, it can be used for either applications because it is an integration.
I never imagined that we would live in a world wherein it would be possible to create a Kubernetes container environment from the familiar vCenter in the same manner as a virtual machine.
VMware Tanzu Mission Control

that operates and manages Kubernetes clusters was also announced. This can be used to manage not only Kubernetes integrated with ESXi, but also Kubernetes running on something like an AWS native environment, based on the any cloud vision.
At the beginning, I mentioned the VMware Hybrid Cloud Platform that makes it possible to manage the customer's workload based on the same platform, same operations, and same policy no matter where it is, and this Kubernetes development platform also has been implemented based on the same vision.
In relation to this, it was announced that thanks to the acquisition of Avi Networks

, it would be possible to provide application (L7) layer load balancing that could not be covered with conventional NSX

. It was also announced that with the acquisition of Carbon Black

, security could be ensured for clouds, application, devices, and networks that link them. In addition, there was an announcement on the acquisition of Bitfusion

that achieve a GPU resource pool. If you wanted to use a GPU in the VMware environment, you could use it directly with DirectPath I/O

or use NVIDIA's Virtual GPU

. However, there is now the option of Bitfusion that makes it possible to go beyond the server hardware to network and use GPU resources from a virtual machine or container.
The reason the term "GPU resource pool" has been used is because it has a feature that makes assignment from a newly established GPU resource server possible even if there is no GPU in the existing virtual environment. Please refer to the Solution Brief for an overview of the Bitfusion.
It is possible to achieve scale-out operations by increasing the number of GPUs assigned from the GPU resource pool when performance is needed, rather than the approach of boosting the performance of each GPU. Of course, even for server models for which only a low number of GPUs can be installed on the server, it is possible to increase the number of servers and create a GPU resource pool. For example, instead of placing a huge server in which 16 GPUs can be installed on a server rack, if you have eight inexpensive servers in which 2 GPUs can be installed, it is possible to use 16 GPUs from one virtual machine or container.
I would like to ask if you remember something.
In my previous blog called No. 15 Highlights from VMworld 2019 US and Enhancements to Fujitsu Products (Operations Related), my prediction was that they will make a full-fledged advance into AI and deep learning environments, and that such business will be positioned as a pillar of their business strategy.
I also said: "Something that gives a premonition of infrastructure a bit in the future are containers and Kubernetes. There are nearly 40 sessions each for these topics. I recognize this as meaning that advances have been made in the use of AI and deep learning environments and that these are fields that we should watch."
Listening to the VMworld announcements this year, it turns out that this prediction was not off the mark. I felt relieved that I still have some foresight.
Above all, to achieve the world aimed for in accordance with its vision and strategy, VMware is developing products, making acquisitions in areas where it lacks, and is thoroughly integrating these products and acquisitions in its existing products. I marvel every time at VMware's incredible speed. The reason these achievements are possible is because people with an understanding of the company's vision and strategy are properly laying down the overall architecture. That is why the products and services always fit in the right place and they are able to search for and acquire the best companies for areas where they lack. I also aspire to be able to envision this kind of high-level architecture.
The future of virtualization platforms
The future of virtualization platforms that can be visualized from this year's announcements is one in which Kubernetes is integrated with hypervisors and virtualization platforms are synonymous with container platforms.
By building an AI or deep learning inference environment on a container platform and using it after Bitfusion assigns a GPU, opportunities for use in digital business application development will be realized. This means that VMware virtualization platforms of customers could be transformed into Kubernetes container platforms in the future, and be reborn as-DevOps

platforms that use AI and deep learning for achieving DX. Even if everything is not put in the cloud, with on-premise modernization based on the same platform, same operations, and same policy would be possible.
A future in which it is possible for the IT department to select from a service catalog that contains deep learning frameworks such as Jupyter and TensorFlow from the vRealize Automation

marketplace used for virtualization platforms may not be too far away. A container environment would then be deployed, Bitfusion would assign a GPU, and data scientists could then use a deep learning environment.
For this reason, I recommend that customers start private cloud management using a tool like vRealize and accumulate know-how so that they can use a virtualization platform as a DevOps platform for DX in the future.
Feel free to contact Fujitsu for more information on this.
This blog post was limited to the VMworld announcements this year, so in my next post I would like to provide some information on Fujitsu's virtualization related products.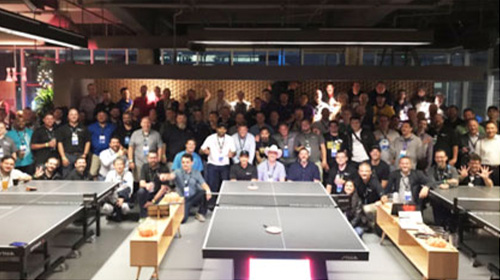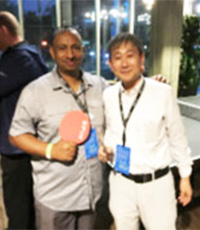 Contact
富士通の仮想化への取り組みに関するお問い合わせ
Webでのお問い合わせ

当社はセキュリティ保護の観点からSSL技術を使用しております。

お電話でのお問い合わせ

富士通コンタクトライン(総合窓口)

受付時間 9時~17時30分
(土曜・日曜・祝日・当社指定の休業日を除く)