FUJITSU Construction Industry Solution 
Building Facilities CAD CADEWA Smart V2.0 English Edition
CADEWA Smart V2.0 English Edition can efficiently draw drawings of building equipment such as electricity, air conditioning, and sanitary systems.
Fujitsu's Building Facilities CAD is equipped with a full 3D system, which enables further productivity improvement and quality assurance.
Currently, DX and BIM, which make full use of digital technology, are attracting attention in the construction industry all over the world.
In the new version of CADEWA Smart V2.0, we have strengthened the "Smartness" that contributes to BIM support and quality improvement.
We will continue to develop from a customer-oriented perspective and support the realization of solutions to issues related to the construction industry.
Smart, Fast, Easy!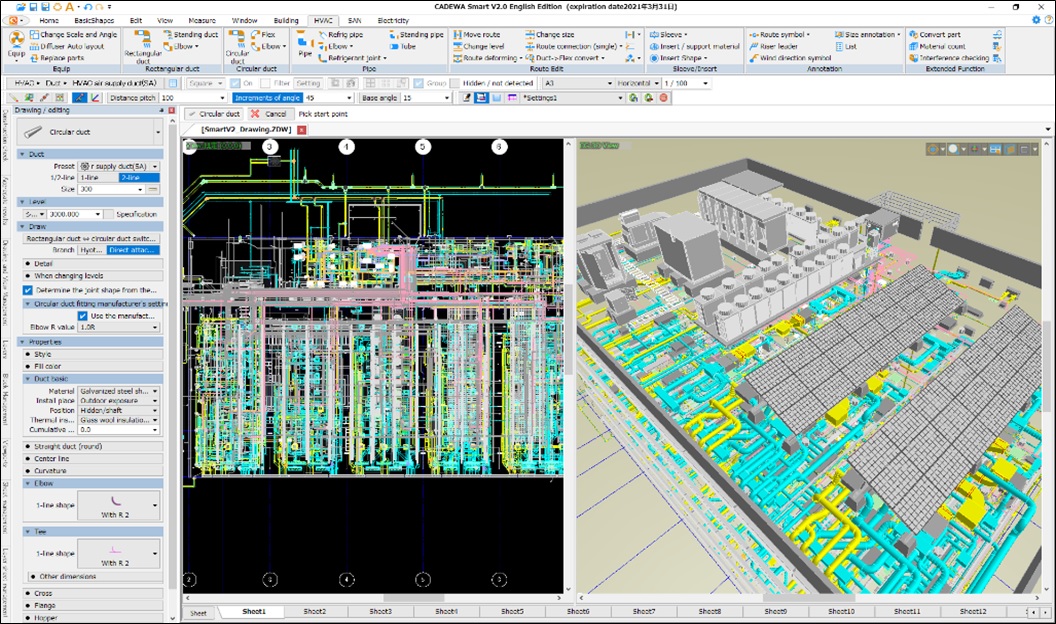 CADEWA Smart Main functions
Screen layout Redesigned UI. Free layout of operation panel etc.
Commands Consolidated functions: reduced the number of commands and clicks compared to the previous series
Handle Expanded handle function : realised Intuitive drawing / editing, not starting from finding a command.
Large-capacity high-speed processing Reduced file size while having a realistic shape. Multithreaded basic structure.
Real-time counting members Grasp the number of parts in real time from drawn / edited drawings
Automatic member generation Draw the required parts automatically ex. pump
Construction check Check inconsistencies and construction possibility from the drawings at once
Advanced interference check Highly accurate interference check by judging the opening / closing area and opening space of members
CADEWA Smart Compatibility with Revit®
Compatible with Revit®
Reads / outputs Autodesk® Revit® * native files (.rvt) directly without using intermediate data. Revit® and Smart allow you to check for mutual interference for drawing and integrated adjustment. In addition, the Consistency Check Tool (Revit® add-in) is provided that allows you to check for missing shapes that occur during data compatibility on an object-by-object basis. Therefore, it contributes to shortening the time by highly accurate integrated adjustment.
Contact
FUJITSU SHIKOKU INFORTEC LIMITED
CAD Solutions Dept.


E-mail: contact-asia-cadewa@cs.jp.fujitsu.com
Address:
Fujitsu Solution Square
1-17-25, Shinkamata, Ota-ku, Tokyo, 144-8588, Japan