High Density Interconnect PCBs
We provide total PCB solutions tailored to our customers needs and requirements for High-end Servers, Network systems and Infrastructure systems.
Best Solutions for Customer Problems

PCB Application Fields & Specification Outline
​
Best Solutions for Customer Problems
Placing different high pin-count BGAs, on both side of the PCB
We propose high-density and high-reliability multilayer PCBs for large pin-count BGA, placement on both sides of PCBs, applying technologies of conventional and sequential lamination. Our extended IVH technology enables to apply sequential lamination technology even for large PCBs over 500mm size.
MV-3* structure

28 layers(14+14)
Note: *1) High density PCB fabrication technology for hybrid layer structure composed of HDI technology and sequential lamination process.
Maximization of wiring capacity on large PCBs
F-ALCS technology, which uses no plating process for vias forming, maximizes wiring capacity with its any layer IVH structure. This technology also enables to shorten fabrication lead-time with its one-time lamination process.
We propose best solutions for customer needs for high-density PCBs with huge wiring
capacity like organic Probe Card applications.
Fine Pitch through-hole-type multilayer PCBs
Narrow pitch PTH VIAs are available for high-density LSI testing boards and 0.4mm / 0.5mm pitch BGA burn-in boards. Moreover, high density PTH placements are available with our high-aspect PTH plating technology. General specifications about PCB thickness and their related PTH Via diameter are listed as below.
We propose for customer needs beyond general specifications. Please contact our sales for further requirements.
<Design Rule>
 
≦1.6mm
≦4.0mm
≦5.0mm
≦6.5mm
≦8.0mm
Via Diameter
(Drill diameter)
φ0.15mm
φ0.20mm
φ0.25mm
φ0.30mm
φ0.35mm
Land Diameter
φ0.35mm
φ0.40mm
φ0.45mm
φ0.50mm
φ0.55mm
Line/Space
0.05mm / 0.05mm ~ 0.09mm / 0.09mm (depends on Cu thickness)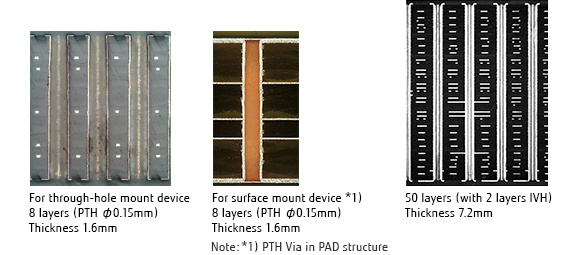 Cross section of PCBs
We can solve the problem with total PCB solutions!
PCB Application Fields & Specification Outline
IVH PCBs for High performance Servers
| | |
| --- | --- |
| Layer Construction | 50 Layers (2 L with IVH) |
| PCB Size, Thickness | 568mm×470mm, 7.3mm |
| L/S, Via diameter | 90µm/110µm, φ350µm |
PCBs for 0.4mm pitch CSP burn-In tests
| | |
| --- | --- |
| Layer Construction | 8 Layers (for DIP type sockets) |
| PCB Size, Thickness | 480mm×580mm, 1.6mm |
| Via diameter (PTH) | φ150µm |
PCBs for Organic Probe Cards
More details for PCB specifications and application cases