Wiring specification at 0.5mm pitch pad distribution area
FIN diameter
φ0.100
Drill diameter
φ0.200
Surface
Land diameter
φ0.420
Line width
Layout disabled
Pad-Line space
Layout disabled
Inner layer
Land diameter
φ0.450
Line width
0.080
Pad-Line space
Layout disabled
Hole-Line space
0.085
relief diameter
口0.420
Solder mask relief diameter
of Via in Pad
Area
Total thickness

≦4.8

We recommend copper plating or electroless gold plating as the surface finishing.
Please feel free to contact us for the specification other than the above.
Surface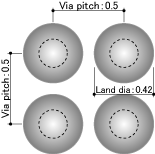 Except the most outsided pads in the 0.5mm pitch pad array, the trace can not be connected to pads on the surface layer.
Inner layer (signaling layer)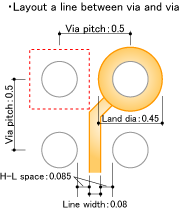 When trace is placed between 0.5mm pitch vias, the pad can be placed only the point where the trace connected to via.