F-ALCS
Our F-ALCS advanced structure technology enables both high speed signal transmission and high density wiring capacity for a better product competitiveness.
Fujitsu Interconnect Technologies (FICT) challenged the limits of printed wiring board technology!
We have developed the innovative technology, F-ALCS which maximizes wiring capacity of printed wiring boards. These boards with high wiring flexibility have knocked the bottom out of product development.
Do you think there are too many restrictions for PWB manufacturing?
When it comes to motherboards of main network devices or probe cards for semiconductor testing, improved high-speed signal transmission or better wiring density are always required because the transmission speed of motherboards has been evolving and complicated wiring is required for testing semiconductors. These requirements are usually met by a combination of high layer count and the use of the IVH structure multiple times, however, there will be some issues such as complication of process flow or longer manufacturing time.
We want to reduce restrictions in designing printed wiring boards with complicated rules
We want higher wiring density without adding more layers
We want to shorten the product development cycle
We want printed wiring boards for higher speed signal transmission
We want to develop small, thin, light and high-performance products at a lower cost
We want to minimize the use of toxic substances as much as possible in plating from an environmental point of view
F-ALCS will solve all of these problems!
F-ALCS
F-ALCS ensures highly reliable connections between vias thru paste filling and metal bonding which allow more than two times higher wiring density than before. It is optimal for difficult designs which were previously considered to be impossible.
F-ALCS Image
The 5 common challenges in PWB manufacturing are now solved by F-ALCS
1. Reduce restrictions in design and enable high performance!
All you have to do is to place vias on a layer only where you need them. This innovation and using smaller via pads make it possible to place parts with less restrictions because they leave a lot more space for mounting and wiring on a printed wiring board. F-ALCS is applicable to large-sized printed wiring boards such as the any layer IVH structure with the maximum seventy-two layers. This means it can hold the same amount of wiring as one hundred forty layers.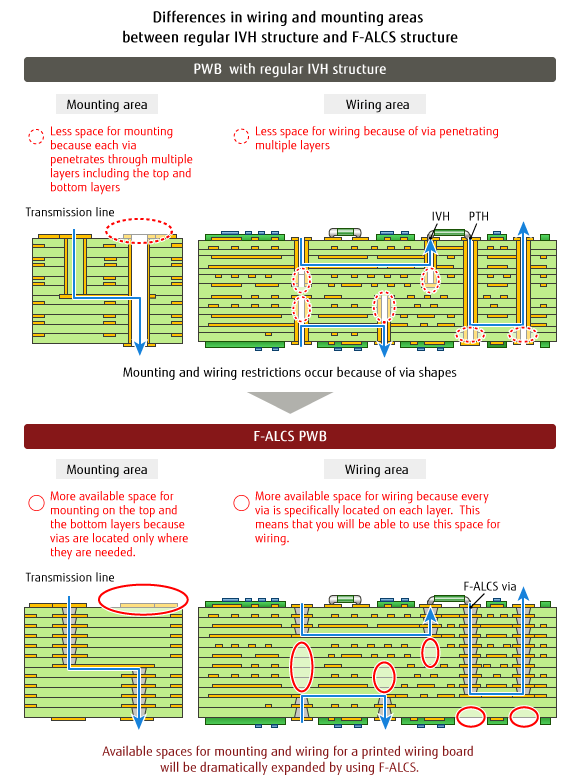 2. Reduce the number of open circuited stubs and perform high-speed signal transmission!
The transmission loss of high-speed signal caused by open stubs is solved by the any layer IVH structure. This reduces return loss and helps printed wiring boards to have good transmission characteristics even for high frequency, which results in high-speed signal transmission.
3. Reduce process steps by 50% and shorten delivery time!
By using the any layer IVH with one-time lamination, F-ALCS allows you to decrease the manufacturing process steps by 50%. F-ALCS also reduces restrictions in printed wiring board design which eventually reduces the number of designing process steps. This means it shortens manufacturing lead time drastically and it leads to short delivery times.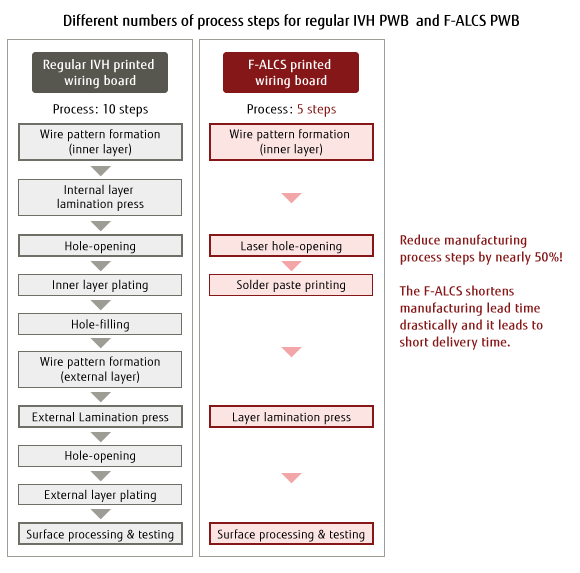 4. Applied to any material and meet a wide range of requirements
F-ALCS allows you to choose from many resins from regular FR-4 to low loss materials. Since it can be used in various ways for various uses, F-ALCS enables printed wiring board manufacturing to meet your needs and expectations.
5. No need to plate and easy on the environment
Because the plating process is not necessary for connecting vias which sometimes requires using toxic substances, printed wiring board manufacturing is easy on the environment. This also enables to shorten manufacturing time.
The F-ALCS allows reduced product development costs,
short delivery times and high functionality of your product.
This technology has been long-awaited in the industry.
Comprehensive strength of the Fujitsu group
Fujitsu Interconnect Technologies, as one of the Fujitsu group companies, has been improving printed wiring boards by responding to customers' needs and requirements while we keep the final images of finished printed circuit boards in mind. We have been manufacturing printed wiring boards with various materials for any types of products from supercomputers to smart devices. Through this experience and expertise in manufacturing, the F-ALCS technology has been created.
Business environment has been changing radically. Reasonable development cost, short delivery time and printed wiring boards which enable to pursue high functionality with any materials are absolutely necessary for product development to survive in this environment. We strongly support you across all stages of product development with the comprehensive resources of the Fujitsu group and the F-ALCS that promises reduced cost in total manufacturing processes from product development to high volume production.
Customer feedback
Here are some testimonials from our customers who used the F-ALCS technology.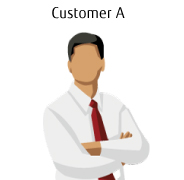 Managed one of the newest semiconductors with high density wiring
As the integration of semiconductors increased, the amount of required wiring in a printed wiring board for wafer test has also increased. We were having trouble with the former printed wiring board design because the wiring density had reached its limit.
By using the F-ALCS, we were able to have higher wiring density on the printed wiring board which made it possible to have our semiconductor test done.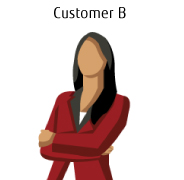 Shortened delivery time by shortening development time
We often had to adjust our work schedule with our client due to the fact that we couldn't make the deadline they required, because we had to wait for the former high layered, high density printed wiring boards to be supplied.
Printed wiring boards with the F-ALCS technology has made it possible for us to meet the deadline our client sets because it doesn't require as much design and production time as the former printed wiring boards.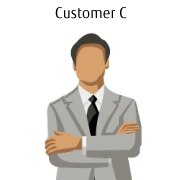 Enable high frequency transmission without open circuited stubs
The speed of signal transmissions on our printed wiring board needed to be increased because the speed of network systems has been accelerated. However, the solution to this issue was difficult to resolve because reducing the open circuited stubs in vias was quite challenging.
With the F-ALCS technology that adopts the all layer build up structure, designing a printed wiring board has become easier because we don't have to worry about creating open circuited stubs.
Product outline
For high density wiring (F-ALCS)
Specification
PWB size:φ480mm
Construction:76 layers
Pad pitch:495µm
Pad diameter:φ300µm
Via diameter:φ180µm
Dielectric thickness:100µm
Thickness:7.4mmt
Structure
For high density mounting (F-ALCS + build-up structure)
Specification
PWB size:☐150mm
Construction:28 layers
Pad pitch:280µm
Pad diameter:φ170µm
Via diameter:φ110µm
Dielectric thickness:60µm
Structure