Corporate Profile
Greetings from the President
Fujitsu Client Computing was founded in February 2016 to "enrich clients' lifestyles by meeting all computing needs everywhere".
Since first launching FM-8 in 1981, we have stood out from our competitors by planning, developing, designing, manufacturing, selling and supporting our own solutions and swiftly responding to client needs at the highest level.
In recent years, big data analysis has greatly benefited customers and brought innovation to the world. Our role has been to serve as a ubiquitous interface providing database administrators with ease of operation and clients with analysis results for real-world applications.
We aim to continue providing valuable products that benefit clients and dealers and greatly appreciate your continued support.
Kuniaki Saito
President & CEO
Fujitsu Client Computing Limited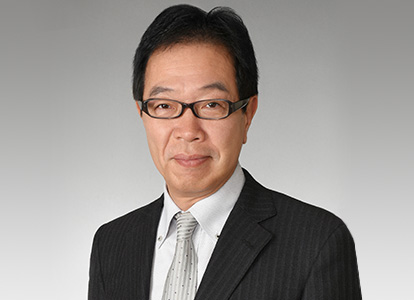 Corporate Profile
Company Name
Fujitsu Client Computing Limited
Location
Headquarters
Shinkawasaki Mitsui Building (West Tower) 1-1-2 Kashimada, Saiwai-ku, Kawasaki, Kanagawa 212-0058, Japan[Map]
Business Sites
Hokkaido [Sapporo], Tohoku [Sendai], Kanto  [Minato Ward(Mita), Saitama], Hokuriku [Kanazawa], Tokai [Nagoya], Kinki [Osaka], Chugoku [Hiroshima, Okayama], Kyushu [Fukuoka], etc.
Representative
Representative director and president Kuniaki Saito
Capital
400 million yen
Foundation
February 1, 2016
Shareholders

Lenovo Group Limited 51%
Fujitsu Limited 44%
Development Bank of Japan Inc. 5%

Major Businesses
Planning, R&D, designing, manufacturing, sales, maintenance and support of notebook PCs, desktop PCs, etc.
Employees
1,060 employees(as of March 2019)
Group Companies
Shimane Fujitsu Limited
Number of PC Shipments
3.7 million units(worldwide total in 2018)
0fficers
Kuniaki Saito

Representative Director
President & CEO

Hiroyasu Takeda

Senior Executive
Vice President & COO
Head of Business
Operations Unit

Felix Chu

Board of Director
Executive Vice President & CFO
Head of Business
Management Unit

Masashi Yamada

Executive Vice President
Head of Consumer
Business Unit

Susumu Nikawa

Senior Vice President
Product Management Unit
New Business Unit

Toshihisa Takashima

Executive Officer
Head of New Business Unit
Vice Head of Consumer Business Unit

Nanahiro Kida

Executive Officer
Head of Corporate Unit

Yoji Hirosue

Executive Officer 
Head of Product
Management Unit

Shinji Yoshida

Executive Officer
Vice Head of Consumer
Business Unit
 
Non-executive Director Chairman

Ken Wong

Non-executive Directors

Wai Ming Wong
Jammi Tu
Kazuo Yuasa
Tatsuya Takagi

Statutory Auditor

James Lo
Kenji Mizuno