Panoramica
L'applicazione ScanSnap Connect è uno strumento di scansione mobile, in grado di supportare un utilizzo intensivo. Grazie alla possibilità di eseguire la scansione sul dispositivo mobile iOS o Android, rappresenta un modo affidabile ed efficiente per eliminare l'uso della carta. Se si è in viaggio, a casa o in ufficio, è possibile organizzare le immagini PDF e JPEG sottoposte a scansione con ScanSnap su qualsiasi dispositivo. È possibile accedere ai file acquisiti durante gli spostamenti, per ottenere la massima flessibilità.
L'applicazione ScanSnap Connect consente di avere sempre a portata di mano tutti i documenti tramite ScanSnap Sync*, una funzione integrata che permette di sincronizzare i file per l'accesso sui dispositivi mobili. ScanSnap Sync collega automaticamente i documenti acquisiti tramite l'applicazione ScanSnap Connect a ScanSnap Organizer, consentendo di gestire le informazioni ovunque e in qualsiasi momento.
Per ulteriori informazioni, consultare la scheda Caratteristiche.
*ScanSnap Sync utilizza i servizi cloud di terze parti Google Drive, OneDrive e Dropbox per sincronizzare i dati tra l'applicazione Connect e Organizer. Per il servizio cloud, è necessaria la registrazione iniziale dell'account.
Caratteristiche
Miglioramento della mobilità per una migliore produttività
Senza un computer fisso, l'applicazione ScanSnap Connect consente allo smartphone o al tablet di azionare lo scanner dei documenti personali ScanSnap e di gestire le immagini acquisite.
Modalità di connessione al punto di accesso
L'applicazione ScanSnap Connect può essere utilizzata per collegare un computer tramite un punto di accesso Wi-Fi connesso come quello domestico o del proprio ufficio.
Aumento dell'efficienza tramite la scansione con ScanSnap iX500 mediante connessione LAN wireless.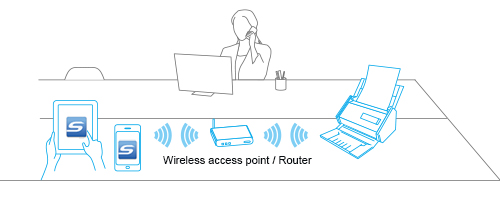 Modalità di connessione diretta
L'applicazione ScanSnap Connect può avviare una connessione diretta con iX100 in luoghi in cui non è presente una rete Wi-Fi. Impostando la rete Wi-Fi integrata di ScanSnap iX100 su "Direct Connect Mode" (Modalità di connessione diretta), è possibile eseguire la scansione da iX100 direttamente alla cartella dei dispositivi in mobile.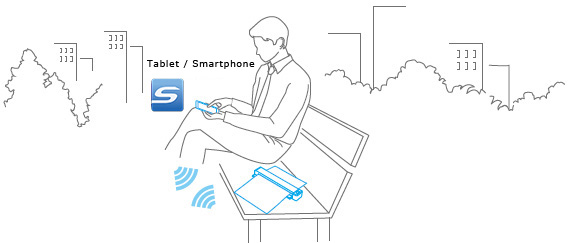 ScanSnap Sync
Grazie alla funzione ScanSnap Sync, utilizzando i servizi cloud * (per eseguire la sincronizzazione dei documenti), lo stesso documento può essere visualizzato da un dispositivo mobile tramite l'applicazione ScanSnap Connect o da un computer tramite ScanSnap Organizer indipendentemente dal luogo in cui ci si trovi o dal dispositivo che si sta utilizzando. Con la funzione ScanSnap Sync, è ora possibile modificare i documenti acquisiti dai dispositivi mobili tramite le funzioni di ScanSnap Organizer quali OCR o rotazione carta.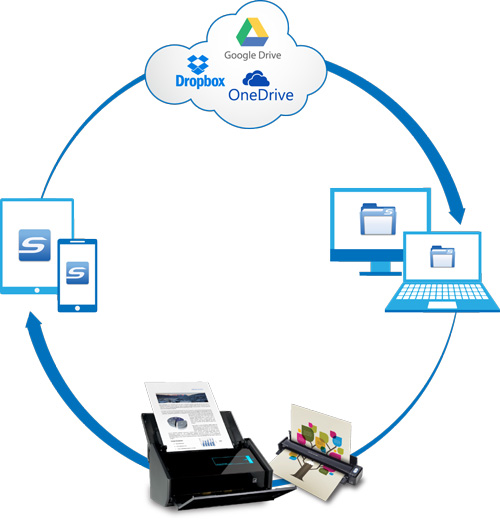 * I servizi cloud supportati sono Dropbox, Google Drive e Microsoft OneDrive.
Specifications
Product Name
ScanSnap Connect Application
Supported Scanners
Current
iX1600, iX1500, iX1300, iX100
Discontinued*1
iX500
Discontinued products cannot be repaired.
System Requirement for iOS / iPadOS
| | |
| --- | --- |
| Operating System | iOS 12.0 or later / iPadOS 13.0 or later |
| Other Requirements | Wi-Fi environment |
System Requirements for Android™ / Fire Tablet / Chromebook
Operating System
Android 6.0 or later
Fire OS 6.0 or later
Chrome OS 88.0.4324.186 or later
Other Requirements
Wi-Fi environment
Functions available in ScanSnap Home and ScanSnap Connect Application
Functions
ScanSnap Home
(PC)
ScanSnap Connect Application
(Mobile)
Automatic color detection
Yes
Yes (1)
Auto resolution mode
Yes
Yes
Blank page removal
Yes
Yes
Automatic size detection
Yes
Yes
De-skew
Yes (2)
Yes
Automatic rotation
Yes
No
Bleed-through reduction
Yes
Yes
Convert to searchable PDF
Yes
No
Folded A3 stitching
Yes
No
Auto format recognition
Yes
No
Auto name
Yes
No
Long paper scanning
Yes
Yes (3)
Multi-feed detection (4)
Yes
Yes (5)
Streak reduction
Yes
No
Save to preset folder
Yes
No
Send via email
Yes
No
Print
Yes
No
Covert to Word/Excel/PowerPoint®
Yes
No
Document/receipt/business card/photo management
Yes
No
ScanSnap Cloud (6)
Yes
No
Available only with color and grayscale.

Also capable of recognizing skewed text.

Available only with the ScanSnap iX1600, iX1500 and iX1300. For iX1600 and iX1500, capable of scanning up to 863 mm in duplex and 1,726 mm in simplex. For iX1300, capable of scanning up to 863mm in duplex and 1,117 mm in simplex.

Available with the ScanSnap iX1600, iX1500 and iX1300.

Overlap detection only.

Availability of ScanSnap Cloud may vary depending on region.
Modalità di esecuzione del download
Download dell'applicazione ScanSnap Connect

L'applicazione ScanSnap Connect (iOS) è disponibile come download gratuito su App Store.

L'applicazione ScanSnap Connect (Android™) è disponibile come download gratuito su Google Play.

L'applicazione ScanSnap Connect (Android™) per Kindle Fire è disponibile come download gratuito su Amazon Appstore.