Ireland fi-6800: Real value for the money
Newest Fujitsu production scanner
PFU Imaging Solutions Europe
PFU Imaging Solutions Europe Limited (formerly Fujitsu Europe Limited), a market leader in document imaging scanners, today announced its next generation mid-volume production scanner fi-6800. The newest Fujitsu-branded model is the best performing A3 image scanner within its price range, offering businesses improvements on automation, productivity and reduction of costs. The device supports new automatic functions that make scanner operating tasks easy, fast and energy efficient. With this precision, high speed-scanning offer, businesses will see their work productivity clearly rise.
The fi-6800 offers fast scanning rates of up to 130 ppm and 260 ipm. Its A8 to A3 ranges and long document scanning at up to 3,048 mm provide added versatility. The scanner has a completely new, compact design, which incorporates advances in paper feed technology for hassle-free, optimum-performance results time after time. And its ergonomic, low profile architecture permits the operator's easy, comfortable use - even while seated.
A revolutionary, green design
The fi-6800 has been constructed from carefully selected raw materials in favour of ecology. The recovery time from the extra-bright LED light source is less than six seconds and the device has a power consumption of less than 4W while in sleep mode, meaning that demands on energy are kept as low as possible. The new ultra-bright LED lamp technology incorporated into the design helps decrease power consumption while reducing the warm-up time before starting to scan. Upon power-on, the scanner is ready to start operating within seconds, making it ideal when small batches of documents need to be scanned at frequent intervals throughout the day.
The small footprint of the device is a first amongst mid-volume production scanners, as the fi-6800's compact design allows for desktop placement in a departmental environment. This design makes the fi-6800 the smallest document scanner in its class, measuring-up at three times less than other competitors able to produce up to 60,000 documents a day at 130 ppm and 260 ipm.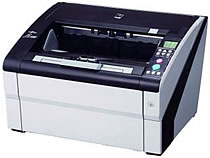 Unrivalled performance and value for money
The fi-6800 comes factory-equipped with a dedicated Colour Graphics Adapter (CGA) and VRS Professional imaging software, enabling incredibly advanced image processing at high speed. With an excellent quality lens and extra-bright LED light source on board, end users will receive a complete high performance capture device that efficiently supports simple batch scanning jobs right out of the box. For more sophisticated capture requirements, the fi-6800 integrates seamlessly into Enterprise Content Management and Document Management solutions.
"One of the greatest challenges facing IT managers is how they can provide their business with the best performance while delivering value for money," explains Klaus Schulz, Manager Product Marketing EMEA, Imaging Systems Division, PFU Imaging Solutions Europe Group. "The new fi-6800 takes advantage of innovative technological developments in order to boost automation and productivity, resulting in a scanner which is quick, accurate, quiet, reliable and environmentally-friendly, making it very suitable for integrating into efficiently streamlined business processes."
Hassle-free usability
The fi-6800 has been designed with usability in mind, and allows the user or operator to conveniently adapt the scanner to their habits, processes and preferences. Scanner status and settings are presented and changed on an easy to navigate LCD panel, which allows even complex capture routines to be completed from pre-defined and panel assigned profiles. Near-silent operation allows for both back and front office placement, while the scanner's simple yet sturdy construction and wide flip-up cover allow for easy access and obstacle-free cleaning.
The fi-6800 allows for a huge bandwidth of documents within the same batch to be scanned reliably and without interruption. Document weights can range from 20 g/m² up to 209 g/m², supported by new rubber roller materials used for picking, separating and transporting document batches sheet-by-sheet. The hassle of post-scan tasks is drastically reduced by the "Automatic Stacker" function, while files can be routed easily by utilising the Patch Code and Barcode-supported "Job Separation" function.
Operators can choose to make the most of the brand new "Automatic Image Quality Checker", which allows for uninterrupted processing of document batches. This function virtually marks images of potentially poor quality and those that might show multi-feed incidences, allowing the user to then check through these earmarked images and either validate or re-scan to the same position in the image order.
Advances in paper-feed technology
The fi-6800 features a reliable paper-feed mechanism, which has been evolved from Fujitsu's top-of-the-line fi-5900C model. The device's Paper Protection and Multi-feed Protection functions identify and tackle paper-feed problems before they happen, ensuring maximum uptime for the scanner. By adjusting the ejection speed for each sheet on the fly, the risk of scattered paper is removed, allowing document batches to pile up neatly and subsequently be quickly removed from the hopper. Furthermore, the Automatic Image Quality Checker detects any image irregularities after scanning, such as folds or tears in the scanned document.
A new intelligent multi-feed function (iMFF) allows for instant interruption of the paper transport process upon detection of a multi-feed or multilayer document. This function transports the document that has caused the alert to the exit path of the scanner, and present both the physical document as well as the scanned front and back side images to the user in order that they can decide whether rescanning is required.
Availability
The fi-6800 will be available in EMEA from mid-December 2009 at a recommended retail price of 15,995.00 Euro (plus VAT).
About PFU Limited
PFU Limited, a subsidiary of Fujitsu Limited, is a $1 billion global enterprise that designs, develops, manufactures and markets globally computer hardware, peripheral products, enterprise software and systems. PFU Limited has been engaged in document imaging scanner business over 20 years.
About PFU Imaging Solutions Europe Limited
Operating in Europe / Middle East / Africa, PFU Imaging Solutions Europe Limited is a market- leading provider of document image scanners for professional desktop, workgroup and high volume production environments; biometric authentication sensors and dot-matrix printers. Established in the United Kingdom in 1981, PFU Imaging Solutions Europe Limited, a subsidiary of PFU Limited (Japan), has its head office in the UK with subsidiaries in Germany and Italy.
PFU Imaging Solutions Europe Limited
Address: Enquiries
Company:PFU Imaging Solutions Europe Limited

Date: 02 December, 2009

Top of Page