World's New Smallest LPWA-Compliant IoT Device That Eliminates Battery Replacement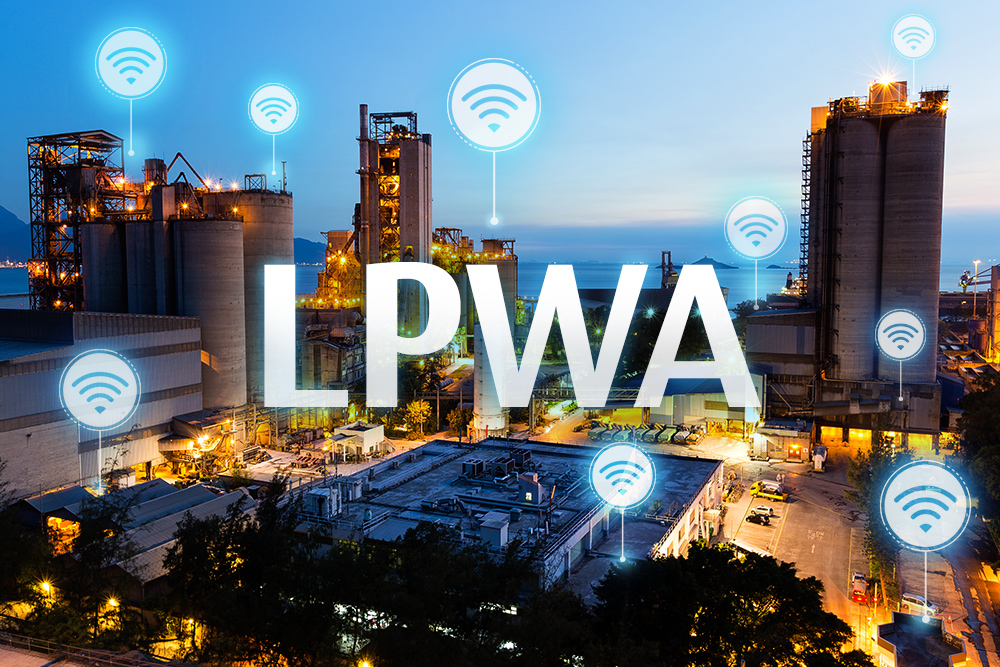 The Number of IoT Devices is Already at Least Twice the World Population
The so-called Internet of Things (IoT) relies on IoT devices, which collect data and send it to servers. According to the 2017 White Paper on Information and Communications in Japan published by the Ministry of Internal Affairs and Communications, there are already nearly 20 billion IoT devices worldwide and they are collecting various sensing data and sending it to servers over the internet.
Many recent IoT devices use Bluetooth Low Energy (BLE) technology. Since IoT devices are basically required to operate for a long time, from a convenience and cost perspective, BLE that operates with low power consumption has been widely accepted.
However, BLE has the drawback of short communication distance. The communication distance of BLE is as short as 10 meters, which is insufficient in cases where, for example, IoT devices are installed outdoors or in a large factory to measure temperature and humidity and collect data on them. Although there is long-range wireless communication technology, namely cellular radio (3G and LTE as of now) used by cellphones and smartphones, applying it to a wireless communication involving many IoT devices will cause enormous communication fees.
LPWA Standards for Low-Power, Long-range Communication
Low Power Wide Area (LPWA) is attracting attention as a communication technology for the IoT. LPWA is a wireless technology that enables low-power, long-range communication. Fujitsu Laboratories Ltd. proposed the world's smallest sensor device that operates with only energy from a solar power without battery replacement. We actually confirmed an experimental demonstration where temperature and humidity data was transmitted from a device seven kilometers away from a base station. By the LPWA technology, sensing data can be obtained from devices installed across a wide area without a large investment for constructing a communication network.
Two Technologies That Overcomes the Drawback of LPWA
LPWA, however, has a drawback. Although the sleep power is very small, its power consumption in the transmitting mode is approximately 1,500 times of the BLE due to its long transmission time. For this reason, the conventional power control technology for BLE operation is insufficient to a solar-powered transmission with LPWA. Fujitsu Laboratories solved this problem by developing two power control technologies for solar-powered operation.
One is to determine the timing of transmission correspond to the characteristics of solar cells. The transmission timing which varies depending on the temperature ensures enough supply voltage for the LPWA transmission.

The other is voltage monitoring technology. Since the voltage required for operating a temperature sensor is monitored with less power than the solar cell generation, it becomes possible to operate the temperature sensor reliably.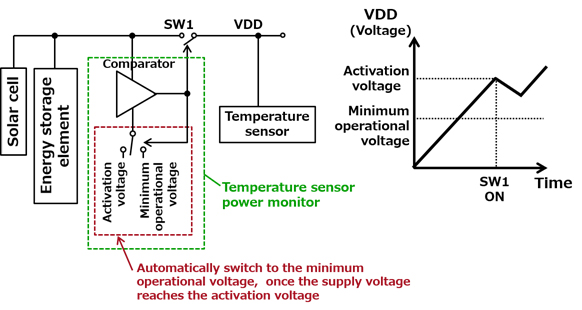 The combination of these two technologies suppresses the variation of solar-power generation caused by temperature fluctuation and reduces the number of storage elements by half with the efficient use of electric power. Fujitsu Laboratories produced a small module (82 x 24 x 6 mm) that performs communication in compliance with Sigfox, one of the LPWA standards. In a demonstration experiment, seven days' worth of temperature and humidity measurement data was transmitted to a base station approximately seven kilometers away once every 10 minutes, at 4,000 lux of illuminance (same brightness as outdoors on a cloudy day). That data was successfully visualized through the FUJITSU Cloud Service K5 IoT Platform, Fujitsu's platform service for leveraging IoT data.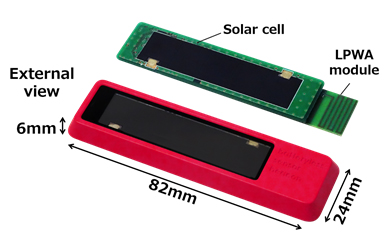 Sigfox is already available as a commercial service in 36 countries worldwide and, in Japan, is offered by KYOCERA Communication Systems Co., Ltd. They announced that the service would be rolled out nationwide by March 2020.
The proposed technology of Fujitsu Laboratories helps acquisition of the sensing data even in an outdoor environment where secure-power supply is difficult, by simply installing the sensor device there. Of course, the proposed device that eliminates battery replacement allows long-time and maintenance-free operation.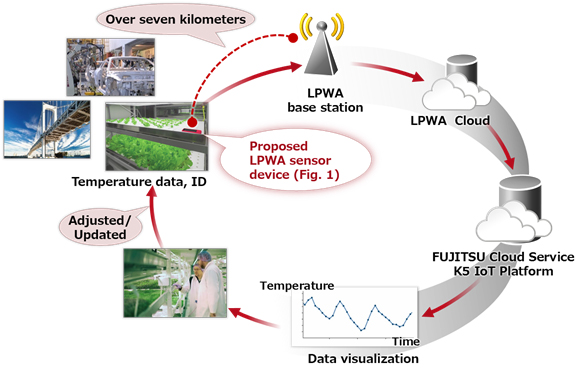 Going forward, Fujitsu Laboratories will conduct demonstration experiments for commercialization, incorporating this technology into the Fujitsu Cloud Service K5 IoT Platform and Fujitsu Frontech Limited's sensor solutions as connected devices in fiscal 2018. In addition, Fujitsu Laboratories will develop technology for even smaller devices.

Contact
We want to hear from you.
| | | | |
| --- | --- | --- | --- |
| Share this page | | | |
Top of Page