Can I connect ScanSnap SV600 and other ScanSnap scanners at the same time?
---
Yes, you can use ScanSnap SV600 and another ScanSnap scanner which are connected to the computer. You can use them alternately when both ScanSnap models are connected and turned on. (*1)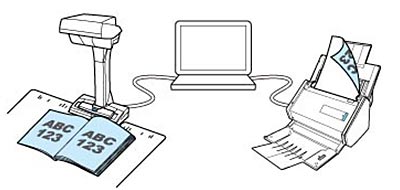 The following ScanSnap models can be connected to a computer and used together with ScanSnap SV600:
iX500 (*2)/S1500/S1500M/S1300i/S1300/S1100/S510/S300
(*1)
You cannot scan a document with two ScanSnap scanners simultaneously. Before switching the ScanSnap scanners to use, make sure that a series of operations (from scanning a document to linking the ScanSnap with an application) has been completed.
(*2)
ScanSnap Manager to connect ScanSnap SV600 and ScanSnap iX500 (via Wi-Fi) to a computer will be available on autumn, 2013.
---
Target ScanSnap:
SV600