I cannot log in Salesforce CRM linkage through CardMinder.
---
If your problem is as below, please find a solution at the end of this page:
Problem Description
The following message appears when pressing the [OK] button on the Login screen of Salesforce CRM linkage:
[Windows®]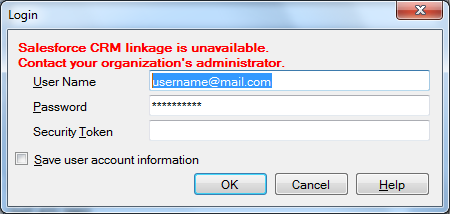 [Mac]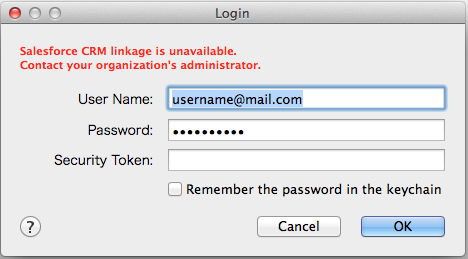 Operating System where the problem occurs
Windows® : all editions
Mac : OS X v10.8 or earlier
Cause
Transport Layer Security (TLS) 1.0, a cryptographic protocol that is used in CardMinder for
accessing Salesforce, is not available now.
Refer to the following webpage for about salesforce disabling TSL 1.0:
Salesforce disabling TLS 1.0
Solution
For ScanSnap iX500/iX100/S1300i/S1100i/SV600 users:
Use the latest version of CardMinder.
It can be downloaded from:
Windows® : CardMinder V5.3L30 or later
Mac : CardMinder for Mac V5.3L40 or later

For ScanSnap S1500/S1500M/S1300/S1100 users:
Install a patch file that perform the following steps:

Downlaod the patch file (WinCardMinderPatch1.exe) onto the hard disk.

Patch for CardMinder (for Windows®)

[Download] WinCardMinderPatch1.exe (3.02MB)

Quit CardMinder and any other applications that are running on the computer.

Run the downloaded "WinCardMinderPatch1.exe".

The following message appears once installation is successfully completed:


[Reference]
There are other messages that may appear:

No need to apply the patch.

This message appears in the following cases:

CardMinder is not installed.
The patch is already installed.
The patch is earlier than the installed one.

This patch cannot be run...



The target version of CardMinder is not installed; or
The version and level of CardMinder is earlier than V4.1L52.

The installation failed...



Quit other applications that are running on the computer and try again.
---
Target ScanSnap:
iX500 / iX100 / S1300i / S1100i / SV600 / S1500 / S1500M / S1300 / S1100