"Scan to Google Docs(TM)" function does not work.
---
When using ScanSnap, and perform "Scan to Google Docs(TM)" with ScanSnap Manager or ScanSnap Organizer, the error message "The information entered in [Email] or [Password] is incorrect." appears and the data cannot be scanned to Google Docs™, even if the correct information has been input in [Email] and [Password].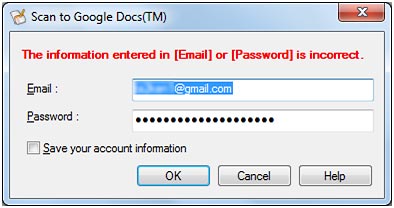 Countermeasure
The update that corrects this malfunction is now available. Please refer to the following website to download the update.
For ScanSnap Manager
http://www.fujitsu.com/global/ssupport/products/computing/aperipheral/scanners/ss/software/mg51.html
For ScanSnap Organizer
http://www.fujitsu.com/global/ssupport/products/computing/aperipheral/scanners/ss/software/org41.html
---
Target ScanSnap:
S1100 / S1300 / S1500 / S1500M