Can I use my ScanSnap with software other than the software that it comes bundled with?
---
Because the ScanSnap does not support TWAIN or ISIS™ drivers, scans cannot be made from TWAIN or ISIS™ supporting applications. You can make a scan by either pressing the Scan button on the ScanSnap or by clicking [Scan] from the ScanSnap Manager pop-up menu. Access the pop-up menu from ScanSnap Manager icon in the Task tray (Windows® users) or from Dock (Mac users).
[Note]
Be sure the icon indicates that ScanSnap Manager is running.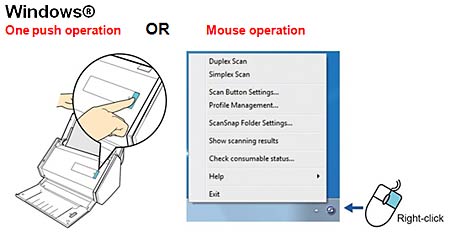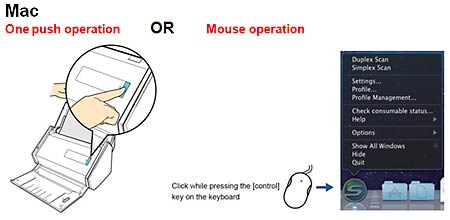 Since scanned images can be saved as PDF or JPEG files, image data produced by ScanSnap can be used with any application software that supports either file format.
Relevant Q&A
Why is ScanSnap not listed as a TWAIN or ISIS™ source in the application software that I use?
---
Target ScanSnap:
SV600 / iX500 / iX100 / S1100i / S1100 / S1300i / S1300 / S1500 / S1500M / S300 / S300M / S510 / S510M / S500 / S500M / fi-5110EOX2 / fi-5110EOX / fi-5110EOXM