FUJITSU Storage ETERNUS LT270 S2
FUJITSU Storage ETERNUS LT270 S2
ETERNUS LT270 S2 is an open systems tape library that employs highly reliable, large-capacity LTO Ultrium tape drives. With the capability to back up data from multiple servers into a single tape library, this model achieves efficient utilization of storage assets while reducing operating costs and TCO.

ETERNUS LT270 S2 provides high reliability with the duplicate cartridge carrier robots and other mechanisms. If one robot has a malfunction, the other one takes over tasks to continue system operation. A faulty robot can be hot-swapped during operation. Moreover, power supply and fans are in a redundant configuration, enabling uninterrupted operation even during hot swapping in the unlikely event of a malfunction.

Having been improved many times and repeatedly in its long history, tape media technology provides much higher reliability than other comparable technologies. The LTO Ultrium tape drive built into ETERNUS LT270 S2 uses a newly designed tape threading mechanism to further stabilize tape winding, and its variable-speed tape operation eliminates movement for tape repositioning, thereby preventing early tape deterioration and ensuring increased tape reliability.
More Details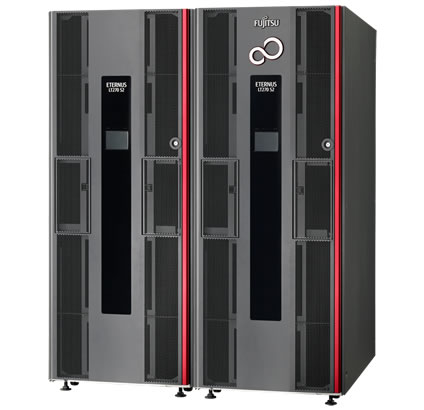 High Speed, Large Capacity and High Reliability
Up to 5,644 tape cartridges with 67,728TB (LTO-8) storage capacity
Cartridge memory (LTO-CM)
Dual-robot technology

Excellent Connectivity
Available with major Fibre Channel interface
Connects to a wide variety of UNIX and industry standard servers
Tape library sharing among OS - Logical Library function

Easy Operation Management
Cartridge Access Station with up to 20 tape cartridges
Operator friendly large LCD touch panel
Web based remote management

Enhanced Security
WORM technology using LTO 6, LTO 7 and LTO 8
Hardware encryption function using LTO 6, LTO 7 and LTO
Tech Specs
Base cabinet
Max Configration (8 cabinets)
Type
Tape system with LTO technology
Drive Types
LTO Ultrium 6 FH
LTO Ultrium 7 FH
LTO Ultrium 8 FH
Max.Total capacity (native)
LTO Ultrium 5
1,069.5TB
8,466TB
LTO Ultrium 6
1,782.5TB
14,110TB
LTO Ultrium 7
4,278TB
33,864TB
LTO Ultrium 7 Type M
6,417TB
50,796TB
LTO Ultrium 8
8,556TB
67,728TB
Number of cartridges
138 - 713
5,644
Number of tape drives
2-20
128
Tape system interface
Fibre Channel
Resources
Data Sheets
Brochures & Flyers
Videos