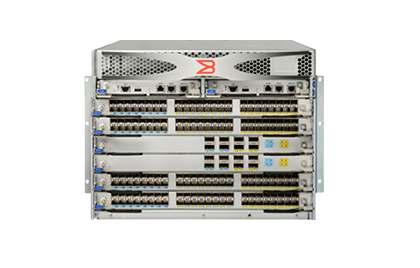 Brocade X6 Directors
Scale to 512 ports with industry-leading port density and consolidate infrastructure with 128 Gb/s Brocade UltraScale ICL connectivity for simpler, flatter, low-latency fabrics

Accelerate application response time by up to 71% across 32 Gb/s links

Simplify end-to-end management and accelerate operations of large-scale environments with Fibre Channel automation

Seamlessly integrate next-generation NVMe into the storage fabric and optimize the performance of NVMe with real-time latency monitoring
| | | | |
| --- | --- | --- | --- |
| | | | |
| Purpose-Built for Enterprise Deployments | Increased Productivity with Automation | Enhanced Operational Stability | Simplified, Scale-put Network Design |
| Built for large enterprise networks, the 14U Brocade X6-8 has eight vertical blade slots to provide up to 512 32 Gb/s Fibre Channel device ports and 32 additional 128 Gb/s Brocade UltraScale Inter-Chassis Link (ICL) ports. Built for midsize networks, the 8U Brocade X6-4 has four horizontal blade slots to provide up to 256 32 Gb/s Fibre Channel device ports and 16 additional 128 Gb/s UltraScale ICL ports. | By introducing REST APIs directly into its switch and management products, Broadcom offers a broad range of choices to enable any SAN management solution. IT organizations that couple Broadcom's robust data collecting capabilities with automation and orchestration tools (such as Ansible) gain the ability to automate configuration tasks and the visibility to monitor and detect any performance or health changes. | The Brocade X6 Director with Fabric Vision technology provides a breakthrough hardware and software solution that helps simplify monitoring, increase operational stability, and dramatically reduce costs. Brocade Fabric Vision technology includes IO Insight and VM Insight, which provides organizations with deeper visibility into the performance of their environment and individual VMs. This enhanced visibility enables quick identification of degraded application or VM performance at the host and storage tiers, reducing time to resolution. | Organizations need to adapt to continuous data growth and seamlessly scale-out their storage environments. Brocade UltraScale chassis connectivity leverages optical Inter-Chassis Links (ICLs), which provide 128 Gb/s bandwidth through a QSFP link. These links can support up to 2 kilometers and connect up to 12 Brocade X6 Directors, enabling flatter, faster, and simpler fabrics that increase consolidation while reducing network complexity and costs. |
Purpose-Built for Enterprise Deployments

Built for large enterprise networks, the 14U Brocade X6-8 has eight vertical blade slots to provide up to 512 32 Gb/s Fibre Channel device ports and 32 additional 128 Gb/s Brocade UltraScale Inter-Chassis Link (ICL) ports. Built for midsize networks, the 8U Brocade X6-4 has four horizontal blade slots to provide up to 256 32 Gb/s Fibre Channel device ports and 16 additional 128 Gb/s UltraScale ICL ports.

Increased Productivity with Automation

By introducing REST APIs directly into its switch and management products, Broadcom offers a broad range of choices to enable any SAN management solution. IT organizations that couple Broadcom's robust data collecting capabilities with automation and orchestration tools (such as Ansible) gain the ability to automate configuration tasks and the visibility to monitor and detect any performance or health changes.

Enhanced Operational Stability

The Brocade X6 Director with Fabric Vision technology provides a breakthrough hardware and software solution that helps simplify monitoring, increase operational stability, and dramatically reduce costs. Brocade Fabric Vision technology includes IO Insight and VM Insight, which provides organizations with deeper visibility into the performance of their environment and individual VMs. This enhanced visibility enables quick identification of degraded application or VM performance at the host and storage tiers, reducing time to resolution.

Simplified, Scale-put Network Design

Organizations need to adapt to continuous data growth and seamlessly scale-out their storage environments. Brocade UltraScale chassis connectivity leverages optical Inter-Chassis Links (ICLs), which provide 128 Gb/s bandwidth through a QSFP link. These links can support up to 2 kilometers and connect up to 12 Brocade X6 Directors, enabling flatter, faster, and simpler fabrics that increase consolidation while reducing network complexity and costs.
Tech Specs
Fibre Channel ports
Brocade FC32-48 port blade: F_Port, E_Port, EX_Port, M_Port, SIM, and D_Port
NOTE: Self-discovery is based on switch type (U_Port) with an optional port-type control.

Scalability
Full-fabric architecture with a maximum of 239 switches

ISL trunking
Frame-based trunking with up to eight 32 Gbps ports per ISL trunk ; up to 256 Gbps per ISL trunk
Exchange-based load balancing across ISLs with DPS included in Brocade FOS

Maximum frame size
2,112-byte payload

Frame buffers
15,000 per switching ASIC

Classes of service
Class 2, Class 3, Class F (inter-switch frames)

Data traffic types
Brocade FC32-48 port blade: Supports hot-pluggable Brocade Fibre Channel SFP+ at 32 Gbps SWL/LWL and SFP+ at 16 Gbps SWL/LWL
Core Routing (CR) blades, Brocade CR32-4 and CR32-8: Support hot-pluggable Brocade Fibre Channel QSFP at 4×32 Gbps SWL, 4×16 Gbps SWL QSFP for ICL connections

USB
One USB port per control processor for firmware download, support save, and configuration upload or download

Fabric services
Adaptive Networking (Traffic Isolation, QoS); BB credit recovery; Brocade Advanced Zoning (default zoning, port/WWN zoning, peer zoning, target-driven zoning, broadcast zoning); Dynamic Path Selection (DPS); Extended Fabrics; FDMI; Flow Vision; Frame Redirection; FSPF; Integrated Routing; ISL Trunking; Management Server; Monitoring and Alerting Policy Suite (MAPS); Configuration and Operational Monitoring Policy Automation Services Suite (COMPASS); N_Port Trunking; NPIV; NTP v3; Port Fencing; Registered State Change Notification (RSCN); Reliable Commit Service (RCS); Simple Name Server; Virtual Fabrics (Logical Switch, Logical Fabric)

Chassis
Single chassis: The Brocade X6-8 provides up to 384 32 Gbps ports or a 512-port equivalent with 128 Gbps (4×32 Gbps) UltraScale ICL ports (32 Gbps×4 QSFP ports). The Brocade X6-4 provides up to 192 32 Gbps ports or a 256-port equivalent with 16 UltraScale ICL ports.
Each provides support for (E, F, D, M, SIM, AE, and EX) Fibre Channel ports using 48-port 32 Gbps Fibre Channel blades.

Control processor
Redundant (active/standby) control processor modules
Brocade FC32-48 port blade provides 48 ports of 32 Gbps Gen 6 Fibre Channel

Ethernet ports
Fibre Channel:
4 Gbps line speed, full duplex
8 Gbps line speed, full duplex
16 Gbps line speed, full duplex
32 Gbps line speed, full duplex
Autosensing of 4, 8, 16, and 32 Gbps port speeds depending on SFPs used. Speed matching between 4, 8, 16, and 32 Gbps port speeds. 10 Gbps port speeds with dedicated SFPs.

UltraScale ICL trunking
Chassis-to-chassis linkage through connectors on the Core Routing (CR) blade Can configure the following maximum QSFPs per trunk depending on blade type, connecting:
Up to four 4×32 Gbps QSFP ports in a trunk group to form a 512 Gbps trunk between two Brocade CR32-4 blades. For trunks containing four or fewer QSFP ports, ports in a trunk must be located in the same port group on each blade
Up to four 4×32 Gbps QSFP ports in a trunk group to form a 512 Gbps trunk between a Brocade CR32-4 and CR32-8 blade. For trunks containing four or fewer QSFP ports, ports in a trunk must be located in the same port group on each blade. A minimum of two QSFP connections are required for a trunk, and up to four 4×16 Gbps QSFP trunks between pairs of Brocade CR32-8 (CR32-4) and CR16-8 (CR16-4).

Multichassis with UltraScale ICL ports
Up to 4,608 non-blocking 32 Gbps Fibre Channel ports; UtraScale ICL ports (32 for 8-slot or 16 per 4-slot chassis, optical QSFP) connect up to nine chassis in a full mesh topology or up to 12 chassis in a core-edge topology.

UltraScale ICL bandwidth
Brocade X6-8: 4.096 Tbps; 32 UltraScale ICL ports provide the equivalent of 128 32 Gbps ports. Each UltraScale ICL port provides 128 Gbps bandwidth over a QSFP (32 Gbps×4) link.
Brocade X6-4: 2.048 Tbps; 16 UltraScale ICL ports provide the equivalent of 64 32 Gbps ports. Each UltraScale ICL port provides 128 Gbps bandwidth over a QSFP (32 Gbps×4) link.
Both models: Frame-based trunking is enabled between four UltraScale ICLs. DPS distributes exchanges across all frame trunks

Chassis bandwidth
Brocade X6-8: 12.2 Tbps per chassis (384 ports×32 Gbps) data rate + 4.096 Tbps UltraScale ICL bandwidth (32×128 Gbps)
Brocade X6-4: 6.1 Tbps per chassis (192 ports×32 Gbps) data rate + 2.048 Tbps UltraScale ICL bandwidth (16×128 Gbps)

Slot bandwidth
1,536 Gbps (line rate)32 Gbps: Brocade G620 requires Brocade hot-pluggable SFP+, LC

Switch latency
Brocade FC32-48 blade at Gen 6 32 Gbps speeds: x‹900 ns (including FEC); any-port-to-any-port local switching and 2.7 ms blade to blade at 32 Gbps, cut-through routing

Service Weblink
http://www.fujitsu.com/global/services

Support Pack Options
Available in major metropolitan areas:
9x5, Next Business Day Onsite Response Time
9x5, 4h Onsite Response Time (depending on country)
24x7, 4h Onsite Response Time (depending on country)
Recommended Service
24x7, Onsite Response Time: 4h
Support Pack Options
Available in major metropolitan areas:
9x5, Next Business Day Onsite Response Time
9x5, 4h Onsite Response Time (depending on country)
24x7, 4h Onsite Response Time (depending on country)
Recommended Service
24x7, Onsite Response Time: 4h