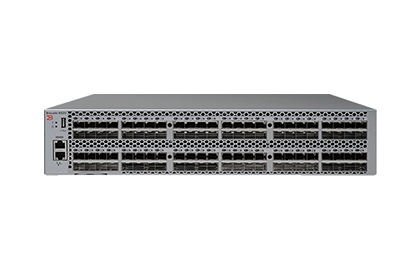 Brocade 6520
Provides high scalability in an ultra-dense 96-port switch to support highly virtualized, private cloud storage and data center consolidation

Enables "pay-as-you-grow" flexibility from 48 to 96 ports with speeds up to 16 Gbps

Leverages Brocade Fabric Vision technology's powerful monitoring, management, and diagnostic tools to simplify administration, increase uptime, and reduce costs

Helps pinpoint problems faster and simplify SAN configuration and management with Brocade Network Advisor
| | | | |
| --- | --- | --- | --- |
| | | | |
| High Scalability and Flexibility | Industry-Leading Performance | Simplified Management and Robust Network Analytics | Virtualized, private cloud storage environment |
| Organizations can quickly, easily, and cost-effectively scale from 48 to 96 ports in 24-port increments, each supporting 2, 4, 8, 10, or 16 Gbps. For maximum flexibility, the switch also features dual-direction airflow options to support the latest hot aisle/cold aisle configurations. | The switch delivers exceptional performance for growing and dynamic workloads through a combination of market-leading throughput and bandwidth utilization. With 96 ports, the Brocade 6520 provides an aggregate 1,536 Gbps full-duplex throughput. Exchange-based Dynamic Path Selection (DPS) optimizes fabric-wide performance and load balancing by automatically routing data to the most efficient, available path in the fabric. | Brocade Fabric Vision™ technology provides a breakthrough hardware and software solution that helps simplify monitoring, maximize network availability, and dramatically reduce costs. It enables administrators to avoid problems before they impact operations, helping their organizations meet Service Level Agreements (SLAs). | The Brocade 6520 simplifies server virtualization and Virtual Desktop Infrastructure (VDI) management while meeting the high-throughput demands of Solid State Disks (SSDs). It supports multitenancy in cloud environments through Virtual Fabrics, Quality of Service (QoS), and fabric-based zoning features. |
High Scalability and Flexibility

Organizations can quickly, easily, and cost-effectively scale from 48 to 96 ports in 24-port increments, each supporting 2, 4, 8, 10, or 16 Gbps. For maximum flexibility, the switch also features dual-direction airflow options to support the latest hot aisle/cold aisle configurations.

Industry-Leading Performance

The switch delivers exceptional performance for growing and dynamic workloads through a combination of market-leading throughput and bandwidth utilization. With 96 ports, the Brocade 6520 provides an aggregate 1,536 Gbps full-duplex throughput. Exchange-based Dynamic Path Selection (DPS) optimizes fabric-wide performance and load balancing by automatically routing data to the most efficient, available path in the fabric.

Simplified Management and Robust Network Analytics

Brocade Fabric Vision™ technology provides a breakthrough hardware and software solution that helps simplify monitoring, maximize network availability, and dramatically reduce costs. It enables administrators to avoid problems before they impact operations, helping their organizations meet Service Level Agreements (SLAs).

Virtualized, private cloud storage environment

The Brocade 6520 simplifies server virtualization and Virtual Desktop Infrastructure (VDI) management while meeting the high-throughput demands of Solid State Disks (SSDs). It supports multitenancy in cloud environments through Virtual Fabrics, Quality of Service (QoS), and fabric-based zoning features.
Tech Specs
Fibre Channel performance
Auto-sensing of 2, 4, 8, and 16 Gbps port speeds

Fibre Channel ports
Switch mode (default): 48-, 72-, and 96-port configurations (24-port increments through Ports on Demand [PoD] licenses); (E, F, M, D, EX) ports

Scalability
Full fabric architecture with a maximum of 239 switches

Certified maximum
6000 active nodes; 56 switches, 19 hops in Brocade Fabric OS® fabrics; larger fabrics certified as required

ISL trunking
Frame-based trunking with up to eight 16 Gbps ports per ISL trunk; up to 128 Gbps per ISL trunk. Exchange-based load balancing across ISLs with DPS included in Brocade Fabric OS.

Aggregate bandwidth
1536 Gbps end-to-end full duplex

Fabric latency
Latency for locally switched ports is 700 ns; latency between port groups is 2.1 msec, cut-through routing at 16 Gbps between locally switched groups.
Encryption/compression is 5.5 msec per node; Forward Error Correction (FEC) adds 400 ns between E_Ports (enabled by default).

Maximum frame size
2112 byte payload

Frame buffers
8192 dynamically allocated

Classes of service
Class 2, Class 3, Class F (inter-switch frames)

Port types
D_Port (Diagnostic Port), E_Port, EX_Port, F_Port, M_Port (Mirror Port); optional port type control

Data traffic types
Fabric switches supporting unicast

Media types
Hot-pluggable, industry-standard Small Form-Factor Pluggable (SFP+), LC connector; Short-Wavelength (SWL), Long-Wavelength (LWL); Extended Long-Wavelength (ELWL); distance depends on fiber optic cable and port speed. Supports SFP+ (2, 4, 8, 16 Gbps) optical transceivers.

USB
One USB port for system log file downloads or firmware upgrades

Fabric services
Brocade Advanced Performance Monitoring (APM) (including Top Talkers for E_Port, F_Port, and Fabric mode); Brocade Adaptive Networking (Ingress Rate Limiting, Traffic Isolation, QoS); Bottleneck Detection; Brocade Advanced Zoning (default zoning, port/WWN zoning, broadcast zoning); Dynamic Fabric Provisioning (DFP); Dynamic Path Selection (DPS); Brocade Extended Fabrics; Enhanced BB credit recovery; Enhanced Group Management (EGM); Brocade
Fabric Watch; FDMI; Frame Redirection; Frame-based Trunking; FSPF; Integrated Routing; IPoFC; Brocade ISL Trunking; Management Server; NPIV; NTP v3; Port Fencing; Registered State Change Notification (RSCN); Reliable Commit Service (RCS); Server Application Optimization (SAO); Simple Name Server (SNS); Virtual Fabrics (Logical Switch, Logical Fabric)

Extension
Fibre Channel, in-flight compression (Brocade LZO) and encryption (AES-GCM-256)

Service Weblink
http://www.fujitsu.com/global/services

Support Pack Options
Available in major metropolitan areas:
9x5, Next Business Day Onsite Response Time
9x5, 4h Onsite Response Time (depending on country)
24x7, 4h Onsite Response Time (depending on country)
Recommended Service
24x7, Onsite Response Time: 4h
Support Pack Options
Available in major metropolitan areas:
9x5, Next Business Day Onsite Response Time
9x5, 4h Onsite Response Time (depending on country)
24x7, 4h Onsite Response Time (depending on country)
Recommended Service
24x7, Onsite Response Time: 4h